Salesforce Implementation Guide for 2023
Table of Contents
If you're seeking growth and success like industry giants Spotify, Canon, and Toyota, look no further than Salesforce. With this powerful tool, teams have seen a 25% increase in revenue, a 35% boost in customer satisfaction, and decision-making that's 38% quicker. Lucky for you, you've landed on the right page to learn how to implement Salesforce properly. With just a little knowledge, you can join the ranks of successful leaders. So why wait? Let's get started!
Here you'll get answers to the following core questions:
How to prepare for a successful Salesforce implementation?
What are the implementation strategies?
What editions does Salesforce offer?
How to build an implementation team?
Who can implement Salesforce, and for how much?
How to train your team to improve the product's effectiveness?
What is product testing, and how to measure the implementation success?
Preparing for Successful Salesforce Implementation
Preparing for Salesforce implementation is like planning a trip: you need to know your destination point and have a well-defined map that puts you on the fast track. In other words, it's crucial to discover the ultimate goal of Salesforce implementation and know how to maximize the benefits of this customer relationship management solution.
Let's approach CRM implementation with confidence! We'll guide you through vital steps, ensuring you prepare in the best way possible before you implement Salesforce.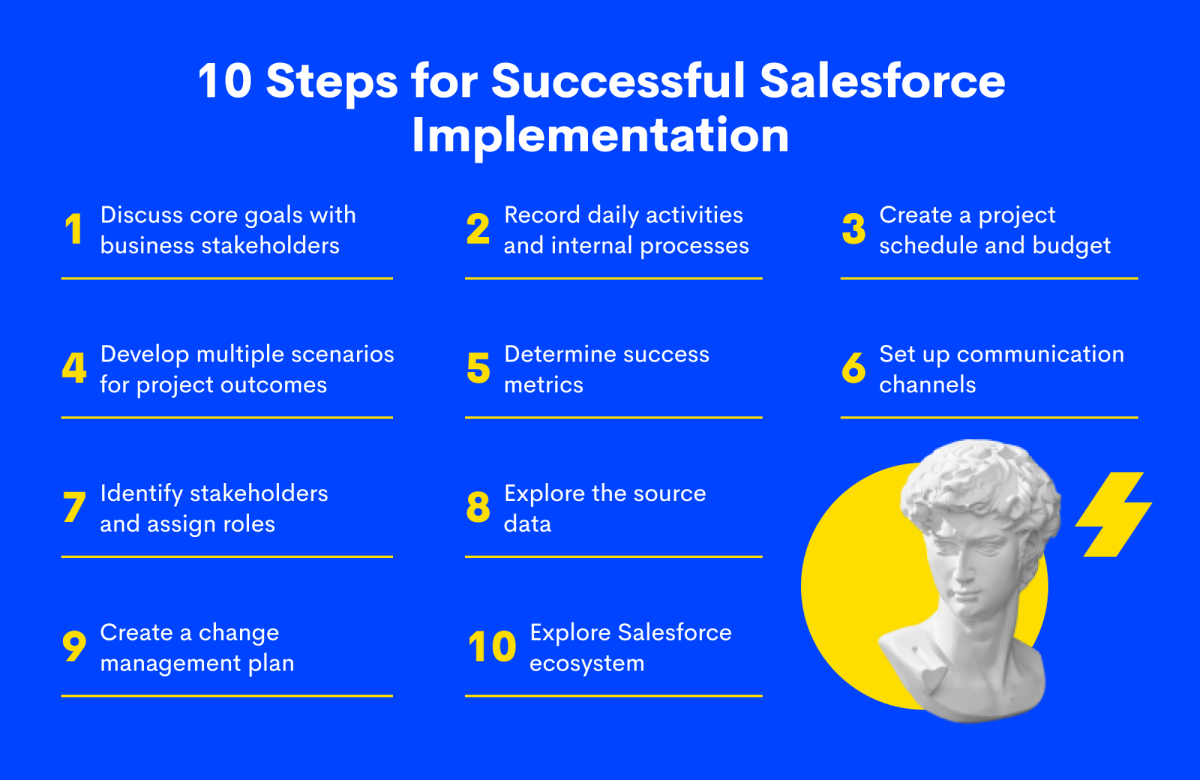 Step 1: Discuss core goals with business stakeholders
Discuss and identify internal challenges and day-to-day issues with your business stakeholders. This way, you determine what will be accomplished with CRM implementation and outline priorities and realistic system goals.
Step 2: Record daily activities and internal processes
Dedicate some time to comprehend the daily tasks and workflows of your teams. Specifically, encourage each department in your company to put down their processes on paper and pinpoint opportunities for improvement. It will help specify optimization areas and align Salesforce solutions with your business needs.
Step 3: Create a project schedule and budget
To prevent any shortage of resources, make sure your Salesforce project doesn't clash with other major projects. Set up a timeline and plan out key implementation phases, testing, and organizational meetings. Also, sync your needs and expectations with an estimated budget.
Tip: If you want a more accurate budget projection, consult experienced Salesforce consultants.
Step 4: Develop multiple scenarios for project outcomes
Salesforce project estimation highly depends on the organization's size, the amount of documentation, and the need for customization. Therefore, you need to develop an optimistic, a pessimistic, and a most likely scenario to anticipate implementation risks.
Step 5: Determine success metrics
Define specific and measurable objectives to assess the effectiveness of your initial Salesforce implementation plan. These objectives may include reducing case resolution time by 40% or increasing lead flow by 30%. This way, you enable goal tracking and strategic adaptation.
Step 6: Set up communication channels
Transparent and consistent team collaboration is pivotal to achieving CRM implementation goals. Therefore, the more effective communication between implementers, internal teams, and stakeholders, the higher the chance for a successful Salesforce implementation and adoption.
Step 7: Identify stakeholders and assign roles
In the Salesforce implementation process, it is important to assign core roles, even if resources are limited. The stakeholders involved in this process typically include senior management, CRM users, sales, marketing teams, partners, clients, and IT specialists. These roles can be fulfilled by different individuals or by a single person who can handle multiple functions.
In addition, it is essential to identify the primary stakeholder who will oversee the preparation of the CRM project, the internal overseer who will serve as the primary point of contact, and the technical resource who will manage the integration of existing systems or the transition to Salesforce.
Step 8: Explore the source data
Before Salesforce CRM implementation, ensure your data is accurate and error-free to smooth the import process. Also, you need to define guidelines for naming conventions and avoiding data duplication.
Step 9: Create a change management plan
Before initiating the Salesforce implementation process, check whether you have a comprehensive change management strategy that goes beyond the initial launch date. This plan should consider any potential roadblocks and proactively address them, keeping disruption to a minimum.
Step 10: Explore the Salesforce ecosystem
Last but not least, it's vital to understand Salesforce's look, feel, and organization. This way, you get a clearer idea of what the system can do and how you can tailor your business processes to fit seamlessly into the new platform.
Completing these key steps brings you closer to a successful CRM system implementation. Keep going!
Salesforce Implementation Strategy: Self-Managed or Managed Approach?
When considering implementing Salesforce, it's important to carefully evaluate the three main implementation models available to determine the best fit. Each model has pros and cons, so take the time to weigh these factors before choosing.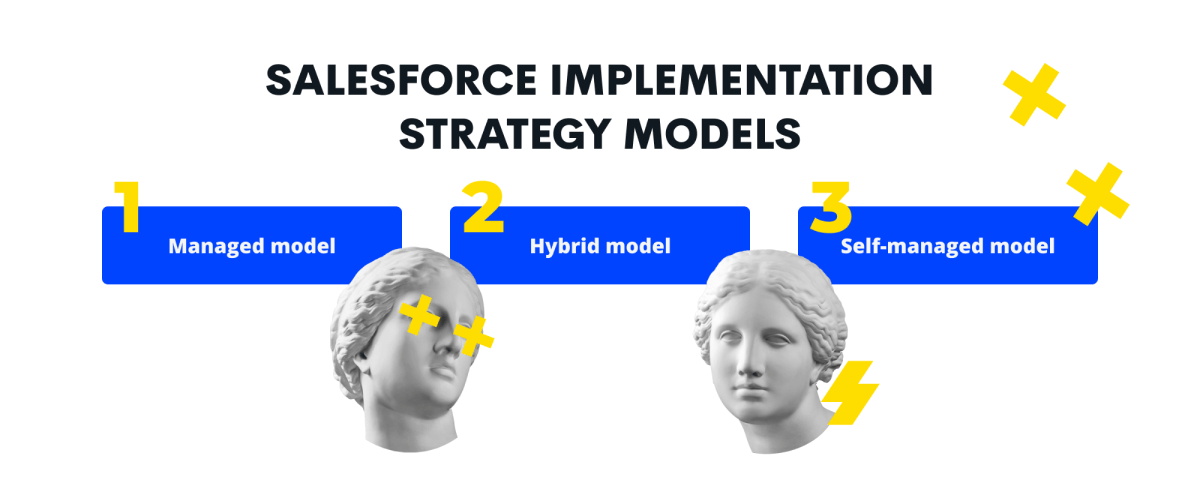 Managed model
This model implies that a consulting partner does the majority of Salesforce implementation.
pros
Technical work is carried out with deep knowledge of the platform and industry
You get an efficient link between the business process and the expected outcome
Salesforce implementation partners have a wide range of implementation techniques
cons
More expensive than other options
Hybrid model
With this approach, you share responsibilities with a Salesforce implementation partner.
pros
Reduced cost of Salesforce implementation
Practical experience in setting up and customizing the solution for your team
Additional training for post-implementation CRM support
cons
Longer implementation time
Self-managed model
Here you carry out Salesforce implementation and take responsibility for the results. At the same time, you are guided by a Salesforce implementation consulting partner.
pros
Low Salesforce implementation cost
Independence in the implementation process
cons
Longer implementation time
If you're feeling a bit lost on how to approach Salesforce implementation, take a moment to evaluate your current knowledge and skillset. But don't worry if you need more confidence - expert Salesforce implementation partners are always ready to help you!
A Brief Overview of Salesforce Editions
The next important step towards a successful Salesforce CRM deployment and adoption is choosing the appropriate edition. So, let's check which one suits your team best.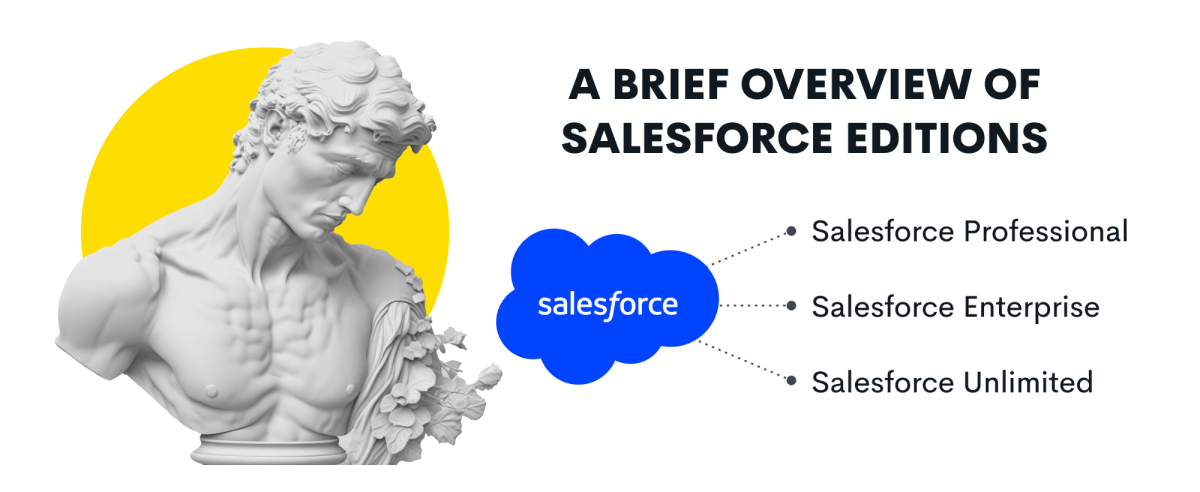 Salesforce Professional
Although Salesforce Professional is the most budget edition listed here, it provides a full range of features for complete sales management from one place, saving time on administrative tasks. It is also worth noting that this package is well-suited for B2C organizations since it allows them to store individual accounts.
Top Features
Account, Contact, Lead, and Opportunity management
Simplified management of the entire sales cycle, from lead and opportunity tracking to optimized account and individual contact management in a centralized space.
Email integration with Gmail or Outlook
A complete picture of your customer interactions gained through syncing Salesforce CRM data with your email.
Forecast management with the ability to improve forecast accuracy using customizable KPIs and real-time signals.
Salesforce Enterprise
As the most popular edition, Salesforce Enterprise includes advanced enterprise setup and management tools that cover all departments and functions. Furthermore, it provides the Salesforce API to simplify integrating with legacy or back-office software easily. In addition to the advanced sales and marketing consoles, Salesforce Enterprise allows users to create a custom platform and bespoke apps.
Top features - everything in Salesforce Professional +
Pipeline management and tracking
Reliable pipeline health maintenance in a consolidated view with the ability to track critical metrics, immediately detect changes, and reduce deal-related risks with actionable insights.
Workflow and process automation
Creation and automation of scalable business processes that contribute to the efficiency and empowerment of users.
Salesforce Unlimited
As the name suggests, this subscription includes all features and customizations available in other packages. The only restrictions are functional, such as custom fields per object and validation rules, but even a limited number is enough for users.
Top features - everything in Salesforce Professional +
Enhanced sales efficiency with built-in lead and opportunity scoring and insights into interactions, calls, and deal health.
Expert support and personal guidance
Premier's expert guidance, global 24/7/365 support, and tailored resources for an excellent user experience.
Explore more details about Salesforce editions and find valuable tips on choosing the best one here.
How to Build a Salesforce Implementation Team?
The next milestone we should hit is assembling a skilled Salesforce implementation team. Whether it's your trusted employees or a knowledgeable consulting partner, this group doesn't have to be big. In fact, one person can handle multiple roles with ease.
The structure and responsibilities of this team are typically as follows: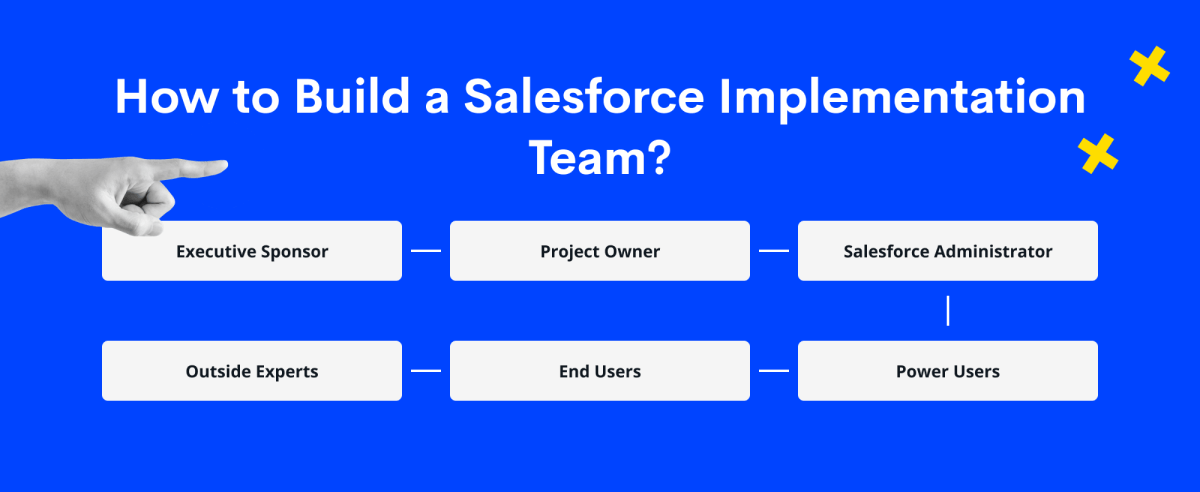 Executive Sponsor
This person is the driving force behind the Salesforce implementation process, being responsible for allocating resources and successfully implementing the platform.
Project Owner
Ensuring the smooth operation of Salesforce, project management, and optimized alignment of business processes with the system is in the hands of a project owner.
Salesforce Administrator
This person is in charge of post-launch maintenance of Salesforce CRM system, user training and adoption, and support for new features.
Power Users
The tasks of power users are testing the platform during implementation, helping end users with troubleshooting, and providing insightful feedback.
End Users
These are the people who will use Salesforce CRM on a daily basis.
Outside Experts
These professionals are dedicated to implementing advanced features and acting as knowledge mentors.
As a final note, we recommend appointing a project manager to oversee the deal and ensure everything runs smoothly. This way, you find peace of mind knowing that all aspects of the Salesforce implementation project plan are managed effectively from the inside.
Salesforce Implementation, Subscription, and Consulting Costs
Now that you have completed the necessary preparations, we'll touch on other important issues, including the Salesforce implementation cost and who can manage the Salesforce CRM implementation project.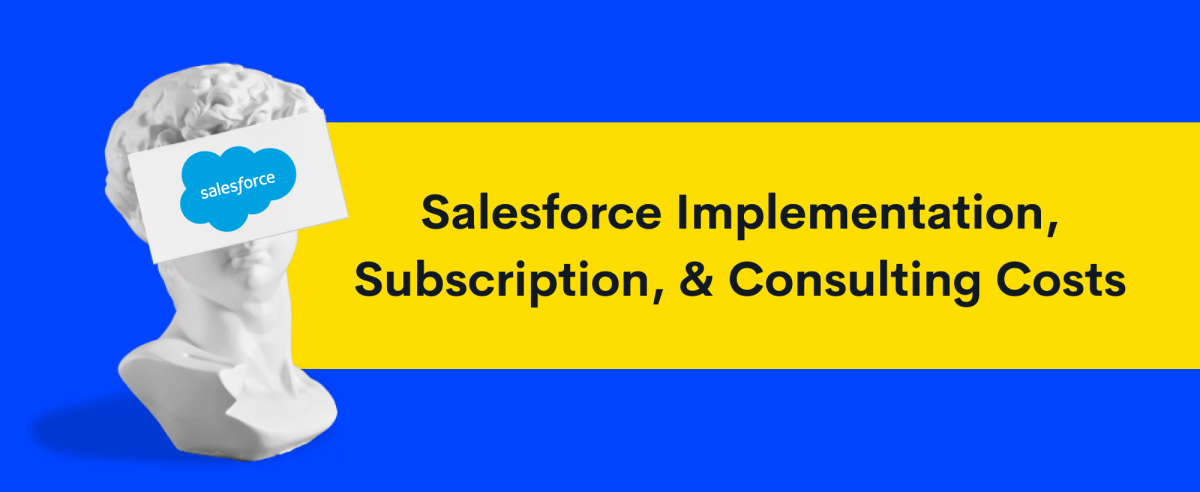 Salesforce Implementation Costs
Implementing the Salesforce platform may cost from $5,000 to over $100,000. This range is so wide because the costs depend on several factors, including the following:
Selected products and editions
The scope and complexity of the project
Number and cost of licenses
Number and cost of integrations
Data migration costs
CRM consulting costs
Training charges
Customization charges
Post-launch support costs
In addition to the above, it is essential to consider indirect costs. These are the man-hours your team spends on implementing and adopting the solution.
Tip: If you implement Salesforce on a budget, prioritize your spending. Decide what your business operations need now and what is of secondary importance.
Next, we will analyze subscription and service fees – the main components of Salesforce deployment cost.
Salesforce Subscription Costs
The subscription price depends on the Salesforce Cloud you choose, its edition, and the number of licenses.
The four main editions of Sales and Service Clouds are Starter, Professional, Enterprise, and Unlimited, which cost $25, $100, $175, and $325 per month per user, respectively.
Consulting Service Costs
Salesforce consulting service supports you in sales, customer service, and marketing. The cost depends on the following:
Size and complexity of the project
Type of employment
Technical specialization
Expertise and seniority
Industry experience
Location
Who Can Lead a Salesforce Implementation Project?
Fortunately, there are several options that may suit you, depending on your needs and budgetary constraints. Below, we will explore these options to make your decision reasonable.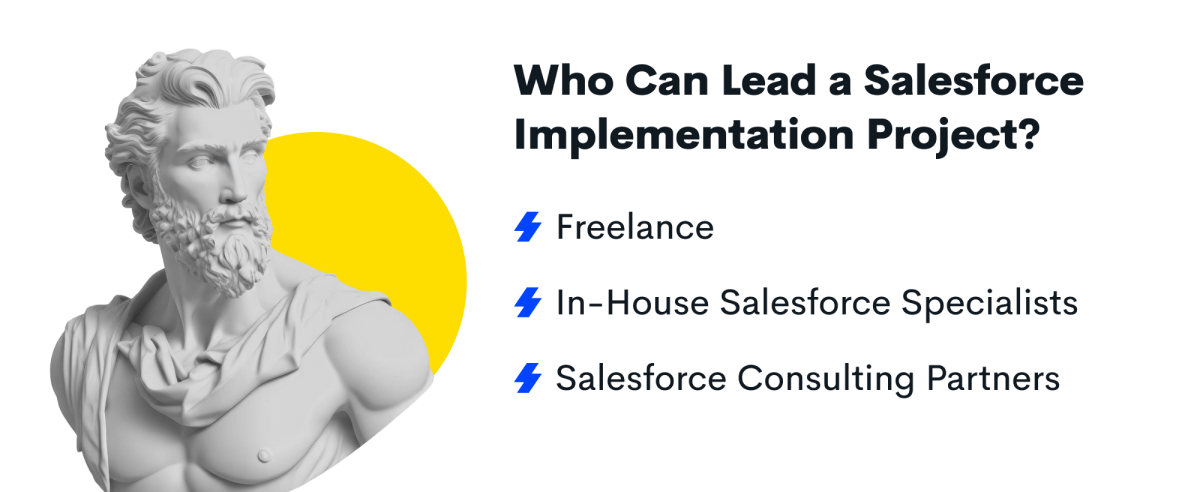 Freelance
Freelance Salesforce consulting is one of the most cost-effective alternatives for a simple CRM implementation that doesn't require special skills. Therefore, it is a good option for smaller teams on a tight budget.
However, we have to tell you about some risks too. For example, limited project management experience and insufficient technical knowledge can jeopardize large projects. As a result, the implementation may take longer or even not be completed. Another thing to note is that organizations typically book freelancers in advance, which causes scheduling problems.
pros
Budget-friendly
Good culture fit (the same time zone and language)
cons
Experience may not be as promised
Limited services due to lack of experience
Longer project lead time
Price: Based on our research of offers on Upwork, we can state that freelancers charge an hourly rate ranging from $4 to $250.
In-House Salesforce Specialists
The in-house Salesforce team is the right solution for those willing to invest in the experience. But first, ensure your team has sufficient technical skills and is committed to the company's projects.
As for the costs, businesses should allocate funds for recruitment, onboarding, taxes, salary costs, leave benefits, provision of workplaces, etc., in addition to the annual salary.
pros
Time saved with the ability to discuss issues face to face (no calls, chatting, or online conferences)
Employees are always available (they only work on your project)
cons
The need to upgrade a team non-stop
On-going expenses
Spending a lot of time managing a team
Price: In this case, it isn't easy to estimate the costs since they depend on your tasks, goals, and the allocated budget.
Salesforce Consulting Partners
Salesforce consulting partners are certified firms authorized by Salesforce. In addition to Salesforce implementation services, they can provide custom apps or CRM solutions.
Here is what a Salesforce implementation consultant can do:
Advising on choosing the right Salesforce and Clouds editions
Assessing current business processes and sales
Providing optimal implementation strategies
Training on setup and configuration
Guiding on working adoption strategies for improved user experience
Consultants should have Salesforce-certified employees and maintain regular engagement with the ecosystem. This way, firms ensure they adhere to the Salesforce standards.
pros
Similar business models
Advantageous price without compromising on quality
cons
Price: $80 - $250 per hour.
Take some time to peruse the rankings of top-notch professionals and handpick the perfect Salesforce implementation partner for your team!
Training and User Adoption Approaches to Boost Salesforce Implementation Success
If you choose self-managed Salesforce implementation, the next crucial step is preparing your users for successful CRM adoption. Just like you had an implementation plan, creating a thoughtfully crafted user adoption strategy is essential. It will help shorten the learning curve and minimize potential disruptions or downtime in the future.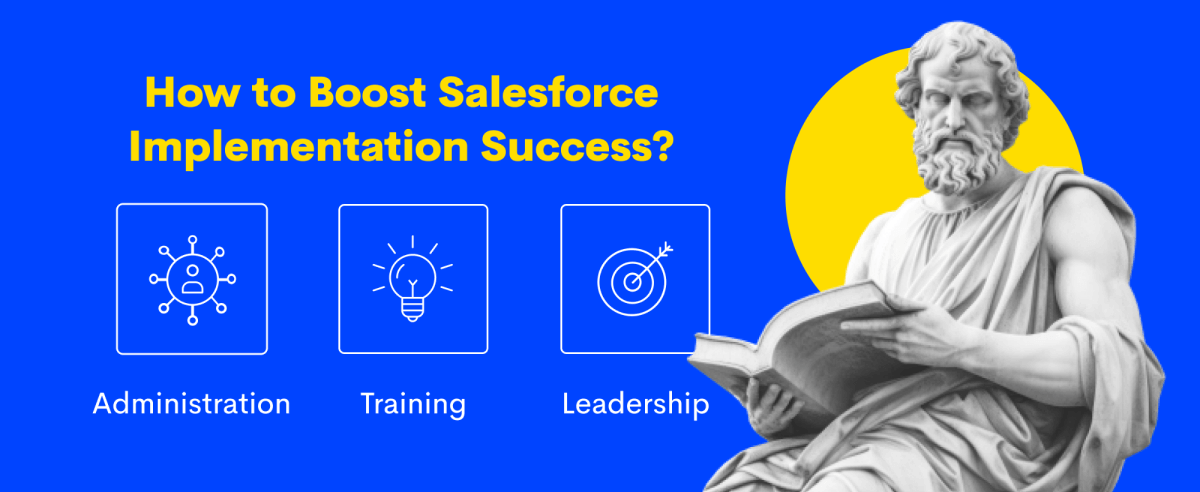 Training
Ensure proper training for your users to use Salesforce CRM system effectively. Tailor the content based on their distinct roles and goals, making it engaging with hands-on exercises. You can use various materials such as slide shows, reference cards, and guides.
Leadership
Demonstrate leadership's accountability, responsibility, and buy-in during and after the implementation journey. Appoint a champion at the management level and have power users available to address users' questions beyond the training.
Administration
Assign a Salesforce administrator to manage the platform, modify user data, install new apps, and generate reports. Depending on your organization's size and complexity, you may need more than one admin to handle specific tasks. Consider hiring a full-time employee or working with a Salesforce implementation partner in this case.
Through all these steps, you establish effective communication with your users to address challenges proactively and maintain ongoing engagement. It will help ensure your seamless transition to Salesforce CRM solution.
Further, you may have an obvious question on how to ensure your Salesforce implementation goes off without a hitch. Well, let's tackle that right now!
Testing Salesforce Quality Assurance to Gauge Effectiveness
The importance of Salesforce testing and quality assurance is hard to overestimate since this procedure helps you check how the platform supports the functionality you expected. In more detail, QA testing includes several essential aspects.
Code and configuration confirmation
Checking the system for the ability to support all business processes
Identification of quality problems at an early stage
Confirmation that the initial build of the system complies with the approved requirements
Improving the overall quality of the platform to enhance customer experience
Checking system behavior and operating conditions
While testing ensures the system's functionality, measuring success goes beyond that to evaluate the real impact of your implementation efforts. How to measure success? Easy!
5 Ways to Measure the Success of the Salesforce CRM Implementation
The curtain rises. The system starts up. How do you gauge if your performance is hitting all the right notes? Here are six essential metrics for the art and science of measuring the success of a Salesforce implementation.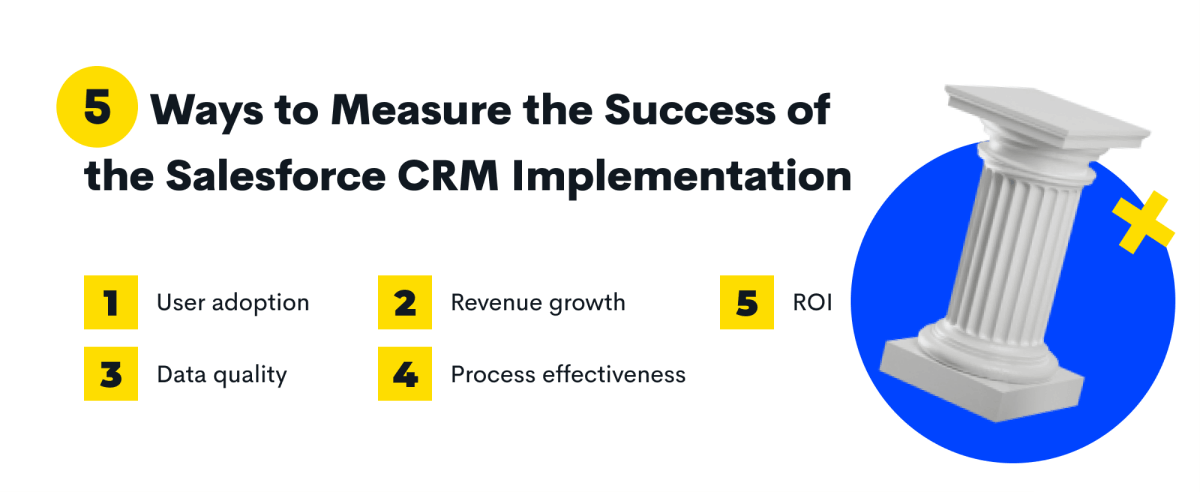 User adoption
The implementation success largely depends on user adoption. After all, if they use the Salesforce system not as intended or with partial efficiency, you may not achieve the expected benefits.
Promising practices you can employ for measuring adoption are tracking login frequency, data entry rate, and people's satisfaction with the tool. Also, you can offer additional employee training, including through gamification of the process and rewarding high performers.
Revenue growth
Boosting revenue to support a mission is one of the leading goals of nonprofit organizations and associations. And since Salesforce contributes so much to revenue growth, you need to track the donations of volunteers and employees who are Salesforce users compared to those who are not. This analysis's value lies in understanding the effectiveness of fundraising efforts and identifying areas for improvement.
Data quality
Data quality is essential to CRM because it forms the bedrock of reliable insights and informed decision-making. When data is accurate, consistent, and up-to-date, businesses can better understand their customers, preferences, and needs. Thus, Salesforce provides data quality reports that help you identify and troubleshoot common data quality issues. Low error rates indicate higher data quality and successful implementation.
Process effectiveness
Since Salesforce implementation is supposed to simplify business processes, you need to measure how it works for you. To do this, track the time allocated to complete a particular task and compare it with the previous average. In addition to identifying bottlenecks, you can find effective ways to optimize business processes and improve results.
ROI
Salesforce return on investment refers to measuring and assessing the benefits of implementing Salesforce. Thus, calculating ROI can help you see if your investment in a CRM deployment paid off. It's easy to do if you know the factors to consider, which are the following:
➡ Sales
Assess the efficiency of the sales cycle, total lead count, time taken to close deals, close rate, revenue increase, margin rate, and number of products per customer.
➡ Marketing
Analyze the correlation between the number of planned and executed campaigns and their resultant revenue, the volume of generated leads, and the cost incurred per lead.
➡ Customer Service
Evaluate the number of cases handled per agent, the average time taken to resolve issues, customer satisfaction levels, the incidence of complaints and issues, and the cost of service and support.
➡ IT Departments
Measure the deployment, configuration, integration times, coding productivity, and associated IT costs.
➡ Collaboration
Gauge improvements in employee satisfaction, engagement, and overall productivity resulting from enhanced collaboration facilitated by Salesforce integration.
Correctly measuring the factors above is crucial in choreographing Salesforce implementation that can take your business to unprecedented heights!
Go-Live and Post-Implementation Support
Successful Salesforce implementation is definitely worth the effort, but don't be fooled into thinking that everything will magically fall into place on its own. It's a common misconception that can lead to frustration later on. Instead, take a few simple post-implementation steps to ensure a smooth transition and maximize the benefits of this powerful tool.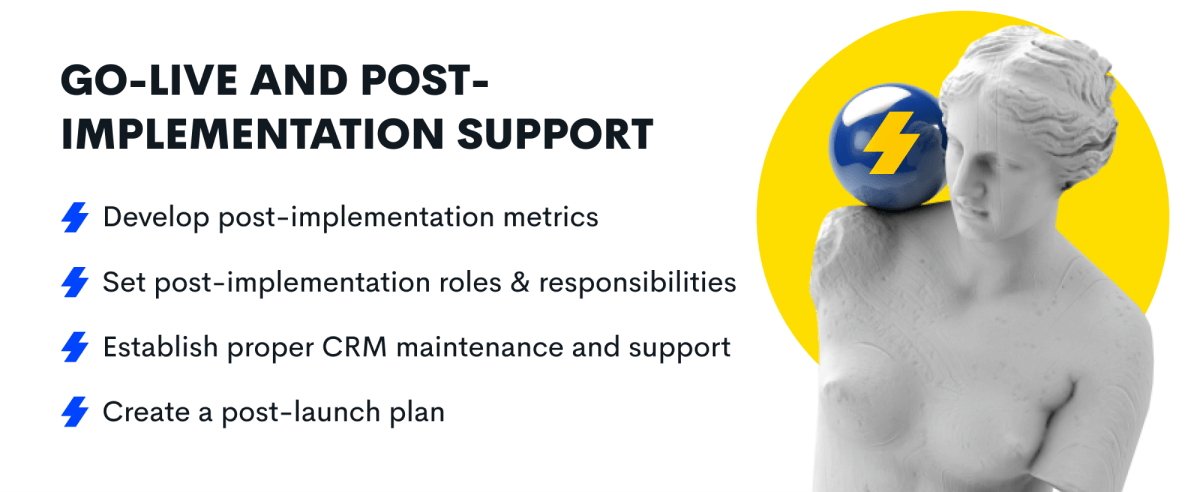 Develop post-implementation metrics
First and foremost, ask yourself whether you are reaching the goals you originally had in mind when you decided to implement Salesforce CRM. Additionally, think about how you achieve more value with your investment in Salesforce. It may involve taking a closer look at your people, processes, and technologies and identifying improvement areas.
It would be best to re-evaluate these metrics at least every six months or after every new release with input from your steering committee. This way, you ensure that your strategy remains effective.
Set post-implementation roles and responsibilities
After deployment, your steering committee has to oversee the Salesforce system, while Salesforce administrators deliver tactical support daily.
In addition, you can engage a Salesforce consulting partner, which is especially helpful when developing and updating the Salesforce Roadmap.
Establish proper CRM maintenance and support
Your administrator and steering committee will be responsible for various daily and strategic activities to ensure user adoption, continuous improvement, and effective reporting.
With a focus on user adoption, they should work to ensure that the Salesforce functionality is being used as intended and that support is available for training and assistance. Also, communication and feedback mechanisms should be in place to facilitate new enhancements while reporting tools provide insights into adoption and ROI.
Another critical point is continuous improvement, which involves identifying and implementing new processes and technical resources as needed. As a part of this ongoing enhancement, develop and update Salesforce Roadmap with future phases included and analyzed for ROI. Also, establish implementation plans, corrective actions, and budgets for additional phases or requirements.
Finally, your ultimate goal should be to provide managers and executives with the reports they need to make informed decisions relying on data in Salesforce.
Create a post-launch plan
Since Salesforce implementation projects go further than the product implementation itself, you should create a post-implementation plan with the following:
Usability test. Some challenges may arise for users when dealing with the Salesforce CRM platform. So, you need to interview them and learn more about their experience. Then, implement the necessary modifications to make the Salesforce solutions as effective as possible.
Performance comparison. Comparing your success with the Salesforce platform to others gives you food for thought and insight into how you can improve. You can use the Salesforce Success Community to conduct this analysis, view research on the official Salesforce website, and post questions to user groups.
Feedback system. Enable users to connect with those responsible for post-implementation. Gaining insight from individuals who regularly utilize new processes and technologies can be highly advantageous.
Resource center. Fortunately, you don't need to create instructional materials to get information on CRM program usage. You can find everything online, including excellent knowledge, practices, and tips that greatly enhance your team's user experience.
Through these post-implementation actions, you can ensure that Salesforce becomes a dynamic asset that drives your team's efficiency, productivity, and success.
Conclusion
To wrap things up, let's break down the Salesforce implementation guide into a handy to-do list.
First things first, make sure you've covered all ten preparation steps to make sure you're fully prepped before diving into your Salesforce implementation project.
Next up, it's time to choose your implementation model (managed, hybrid, or self-managed). Keep in mind your level of knowledge and expertise when making your decision, and remember that the Salesforce gurus are there to help you.
Now, it's time to select the perfect Salesforce edition. If you need help matching your business objectives with platform functionality, feel free to consult a Salesforce implementation consultant for guidance.
Once your Salesforce CRM implementation is up and running, it's time to measure its success using our provided metrics.
Finally, consider creating a post-implementation plan to keep things running smoothly and maximize the benefits of Salesforce.
And remember, you can always use Salesforce implementation services, which typically include setup, data migration, customization, integration, support, and more. This way, you choose a reliable solution to improve sales, marketing, and customer service.