Salesforce for Nonprofits: 5 Features You Need to Know
Table of Contents
Salesforce, a popular nonprofit solution, has established itself as one of the most comprehensive CRM software. You've probably heard of Salesforce as a tool for businesses in sales, marketing, and other functions—but do you know that your nonprofit can benefit from the complete set of Salesforce features?
Leveraging Salesforce for nonprofits can improve your strategies in a variety of ways. From donor management to fundraising, see how these tools can help!
In this post, you'll discover what benefits and features Salesforce offers nonprofits to perform organizational activities and which Nonprofit organizations are using it to improve their operations and fundraising campaigns. Moreover, you'll see the list of the best Salesforce applications and their characteristics.
Understanding of Nonprofits Problem
With over 150 000 companies using its technology, Salesforce is the first cloud CRM platform designed for nonprofits, with all the standard CRM features you would expect for your organization.
Most people do not consider nonprofits to be businesses. Similarly, companies provide products and services to a specific group of customers; nonprofits serve a community where they have identified demand that is not being met by the government or private sector.
A nonprofit organization needs a sustainable development model to function effectively. When it feels as if you're up against the world, nonprofits must create a business framework to provide growth and creatively leverage existing assets.
What is Salesforce Nonprofit CRM Software?
Salesforce Nonprofit CRM Software is an enterprise solution to help non-profits maximize their fundraising efforts. It's in use by over 1.2 million people, and over 7000 non-profits are part of the Salesforce ecosystem.
Nonprofit Organization doesn't share income between members or investors; they've started on purpose to help society. It allows users to automate fundraising processes, gather donations, integrate data, boost donor retention, and manage events, all from a central location that is accessible in real-time.
Salesforce's efficient management, organization, and customizability options have enabled it to work together in all fields and achieve success. Salesforce in Nonprofit Organization is integrated software connecting an organization's functional departments through fundraising, marketing, promotional activities, programs, or grants. The Salesforce app is intended to make non-profit organizations' daily operations effortless.
Yes, Salesforce is enormous, and its scale can be intimidating for beginners, but keep on reading, and you'll see how useful it can be for your non-profit.
Top Benefits of Salesforce for Nonprofits
Cost-Effective
Salesforce is made affordable for businesses through numerous discounts and reasonable prices. There is a free trial and multiple offers to assist the non-profit organization in purchasing and using it.
Organized
The Salesforce nonprofit includes creating and designing customized workspaces for each individual involved to reduce mess and build more actionable and organized tech plans for fundraising, grants, and workforce.
Moreover, the platform enables the creation of personalized dashboards for various teams to assist the team members in efficiently managing and performing their jobs.
Extensive Support
Salesforce has extensive community support, so you can always turn if you struggle with features, functionalities, and dashboards to get feedback from experts with extensive project experience with the best solutions anytime and anywhere. Salesforce for nonprofits manages all the technical issues, and other functionalities become easy.
As a Salesforce partner, we custom Salesforce for your business needs to increase win rates, rep productivity, forecast accuracy, and provide assistance and guidance, among other great benefits. MagicFuse software also has case studies, e-books, infographics, and blog posts to keep you up to date with the system.
Marketing Strategy
The marketing tool of Salesforce offers control and speedy communications, utilizing the most relevant and engaging channels like personalized emails and social media to bring the messages to volunteers and donors.
Fundraising
The Nonprofit Cloud fundraising feature offers a comprehensive view of partners, allowing them to effectively manage and execute their fundraising missions. Through communication between organizations and supporters, Salesforce nonprofits provide a unified view of donors and assist them to motivate ongoing their support.
Operational Efficiency
Another reason to choose Salesforce nonprofit CRM is the increased workforce operational productivity. It offers a robust communication relationship between the staff and nonprofit partners and ultimately aids in meeting the targeted goals on time.
Efficient Reporting
Reporting gives you access to your Salesforce data as fundraising activities, programs, seminars, and donations, and displayed in easy-to-understand formats and share results with others. Keeping these reports realistic and up-to-the-minute is critical to impact your outcomes and assignments.
Customization options
Each organization differs in terms of mission and distinctive features in similar activities; that's why customization based on your needs and resource specifications is a great way to run your organization better and improve the results.
5 Features You Need to Know
Donation and Fundraising Management
Donations and grants are a top priority for non-profit organizations. To keep your organization's mission on track, you must find new ways to raise operating capital. So Salesforce created a flexible, community-driven grant-making solution based on the world's first CRM, evolving with you as your program funding grows.
Organizations combine various fundraising techniques and strategies, from hosting events to cultivating long-term primary donor relationships to simply establishing an online donation form. To understand how they're driving the mission forward, regardless of the size and scope of the funding scheme. Program managers can view funding requests, grant stages, funds disbursed, and remaining balances using the same data and keep grants moving through the funding lifecycle. The Salesforce NPSP also keeps recurring donations and pledges going.
Marketing and Communications
Whether you're spreading the word about a new community service program or encouraging supporters to donate, your marketing and communications impact your organization's growth strategies. Major communication app exchanges such as email marketing and social media determine supporters and track efforts in Salesforce for Nonprofit.
With Salesforce's Nonprofit Success Pack, hundreds of emails can be simply sent to supporters, volunteers, board members, donors, and external parties, which is why email campaign management is critical for many nonprofits. All email includes a suite of features that enable nonprofits to manage and track email campaigns, from sending to reporting and responding to undeliverable emails. Campaigns can consist of attachments and be tracked and managed from start to finish. Once a campaign is active, users can run reports to see metrics related to open rates, click-through rates, subject lines, bounces, unsubscribes, delivery failures, clicks, and revenue brought in from emails.
Program Management
Salesforce Program Management for Nonprofits is a single platform to plan and execute their organization's programs using paper and spreadsheets, fast define and create new programs or adjust services based on their needs. Furthermore, service providers and volunteers can work together to review data on which programs need improvement and quickly adapt to fulfill the needs of their clients better.
This program management feature helps you manage the agendas by providing several vital capabilities for users to
track your team
identify high-level trends
connect clients to the program
pre-built reports and dashboards.
Reports and Dashboards
With all the data you're collecting in Salesforce from apps and integration with CRM, you get access to the enormous amount of data that needs to be well-organized in order to make analysis meaningful and valuable for future actions. Salesforce for nonprofits includes various reporting free application programming interface (API) components to assist you in designing custom business reporting, dashboards, visualizations, and analytic applications.
These features can be used to build applications within Salesforce, a client- or cloud-based environment, or a spreadsheet. Salesforce allows you to ask questions to generate visually displayed dashboards and custom reports about donor acquisition, fundraising progress, or survey responses.
Case Management
The case Management feature helps in managing & tracking cases from sign-up to active use and the highest quality care and services to your community and clients. Everything starts with understanding how well your staff and volunteers deliver value and results to your clients,  along with the quality of the capacity building, data tracking, and fundraising.
Salesforce for Nonprofit provides case managers with real-time insights into where a client is in their life cycle or their needs, as well as feedback to help them effectively manage all the activities without trouble. It's available in standard & custom editions. With this feature, you can manage cases at various stages. This edition helps you to design, track, & report. Salesforce has made significant changes to the Case Management feature. Now, it is available out of the box, and no need to install any add-ons.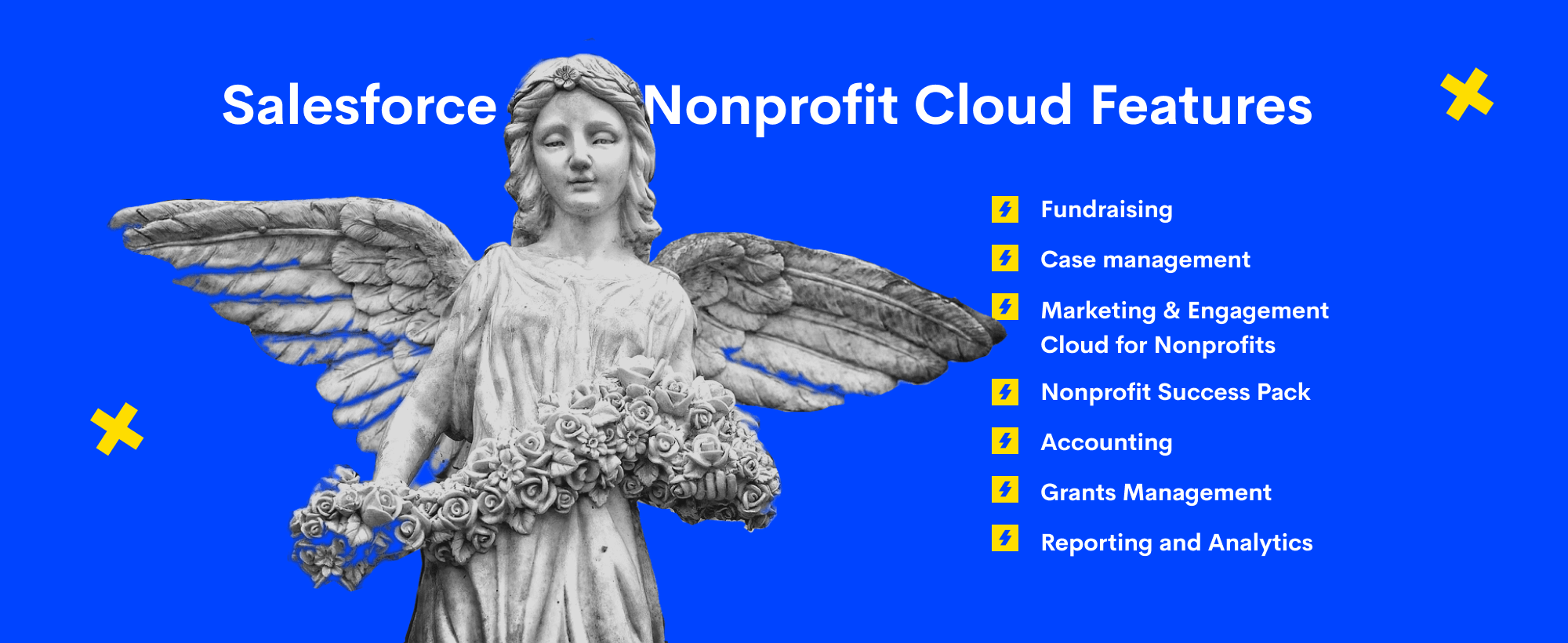 Salesforce Nonprofit Cloud Features
Salesforce Nonprofit Cloud is an expanded version of NPSP that was created by combining features from other Salesforce applications to create a complete package to meet all Nonprofit needs to maximize their coverage with minimal resources from various Salesforce applications
Here are just a few of these top features:
Fundraising
Fundraising activities can be configured and followed for success, allowing Nonprofits to track event success and determine target completion at all times. Salesforce Nonprofit Cloud's fundraising functionality includes online fundraising, peer-to-peer fundraising, and advanced functionalities such as matching gifts.
Case management
Due to end-to-end data synchronization, you can provide the highest quality care and personalized service approach to each client using Case management, with real-time insights into where a client is in their journey and feedback to manage caseloads.
Marketing & Engagement Cloud for Nonprofits
A nonprofit marketing cloud will assist you in increasing customer awareness of services and quickly improve the organization's communication strategy. It allows you to engage your supporters and increase their interest more effectively with social media and personalized email templates for volunteers, donors, and subscribers.
Nonprofit Success Pack
Forty-seven thousand nonprofit organizations already use NPSP as a free, open-source software package to enhance staff-customer interaction globally. It is intended to empower staff and volunteers and expand the organization's impact.
Accounting
Salesforce Nonprofit Cloud's accounting sub-ledger assists you in collecting income and expense data to optimize your accounting system and reduce the chance of misleading metrics in your reports.
Grants Management
This feature assists in bringing all grant management sources together to keep assets up to date and optimize donor-recipient collaboration. You can combine fundraising techniques, from hosting events to cultivating long-term primary donor relationships to simply establishing an online donation form.
Reporting and Analytics
Nonprofit Cloud offers relevant insights and built-in visual reporting tools based on your data for planning future actions by standard Salesforce Analytics. It provides a wide range of predefined Nonprofit reports such as Donor Acquisition, Fundraising Campaign Performance Reports, and others.
Best Salesforce Apps for Nonprofits
You can customize your experience and get the most out of your CRM with an enormous number of available Salesforce applications and integrations. Sometimes, choosing the ones from over 4000 Salesforce apps can be complicated and incomprehensible. We've compiled a list of the best applications for nonprofits that you can use to complete your organization's technological requirements.
Here, you can pick ones for running your nonprofit operations firmly and efficiently. Let's take a look at some of our favorites.
Donorbox
The recurring donation platform provides nonprofits with a better donation checkout process directly to Salesforce, where it immediately adds new donors or donations. Donorbox integrates with Nonprofit Success Pack, allows you to analyze more useful donor data, and encourage more donors to subscribe to recurring contributions. The system allows donors to pause, grow, or decrease donation amounts at any time.
HootSuite
HootSuite software assists nonprofits post on time and scheduling publications to nearly all leading social media networks, including Facebook, LinkedIn, and Twitter. You can follow accounts, assign some work to team members directly from Facebook, and the most excellent feature is researching specific terms across several platforms simultaneously.
MailChimp
With the integration of Salesforce and MailChimp, you can manage and build MailChimp list segmentation or email campaigns based on synchronized Salesforce lead and contact records. Moreover, it's more convenient to target them with specialized and sale email content is more convenient.
Dropbox
Nonprofits can use file-sharing to bring Dropbox content directly into Salesforce records in the Sales and Service Cloud and share or upload documents inside the team and with people outside the organization. You don't have to worry about synchronization; with Salesforce, changes are made automatically and synced back.
Fonteva
The event management app effectively fits face-to-face and online events, from event websites and registrations to agendas, planning, and more features. One system of Fonteva virtually manages and tracks all team workers' data on a single screen that reflects on Salesforce and integrates e-commerce into products.
OneCause
Auction and mobile bidding applications provide a bridge the gap between "live" and "digital" by transferring donor data to and from Salesforce (importing and exporting contacts through OneCause campaigns) and true automation for donor outreach and management. Fundraising software by OneCause scales your event data within the budget and keeps track of data security.
Mogli
Native Salesforce app offers to send and schedule SMS or WhatsApp to donors or supporters directly from Salesforce, optimizing conversations and inbound marketing and a convenient interface for managing multiple chats simultaneously. Also, user responses can automatically qualify leads, make and update records, or start one-to-one conversations.
Be sure to bookmark this page for future reference if your team is currently researching the application connected to CRM platforms for your nonprofit.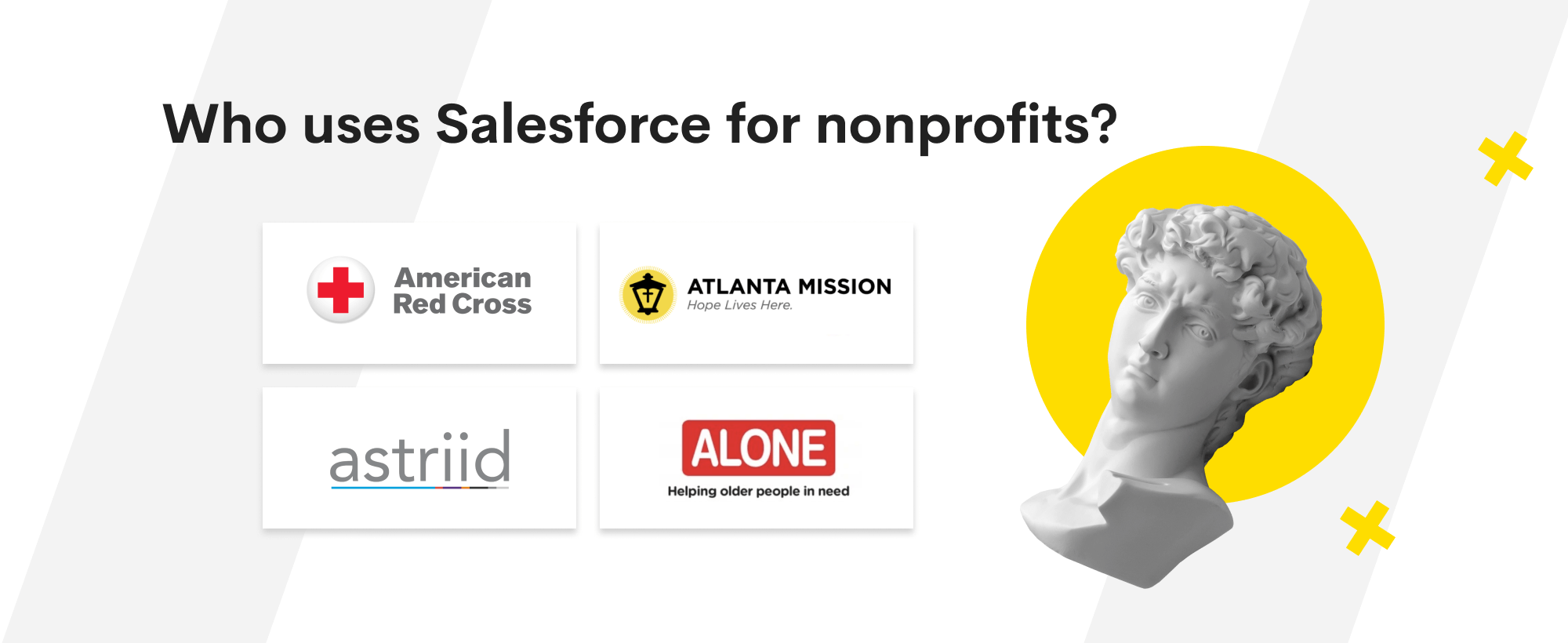 Who uses Salesforce for nonprofits?
According to the Power of Us product discount and donation program, 40 000 nonprofit organizations such as foundations, charities, and higher educational institutions have already implemented the Salesforce cloud. To successfully manage donors, fundraisers, grant money, and track the impact that boosts fundraising and awareness and supports their organizational objectives.
Let's get to know the activities these organizations are performing with Salesforce.
As a non-profit humanitarian institution, the Red Cross provides emergency assistance to protect life and health in 187 countries with approximately $3 million. With Salesforce, it is a million times effortless to build a centralized contact list of donors, track donations and grants and organize the work of millions worldwide.
Astriid it's a charity that helps people with long-term health issues to find meaningful employment and volunteer opportunities in one Salesforce CRM Software. Astriid does everything virtually, building a list of candidates without using long application forms, communicating with partners, and taking up staff hours to conduct the campaign.
Alone it's Irish organization was created to help older people age at home with advocacy, coordination, and housing support. To achieve this, it uses Nonprofit Success Pack and supports each function from client service to volunteer management to fundraising, donating, and finance.
Atlanta Mission is a pleasant initiative to serve the homeless population by managing finances, programs, engagement, and volunteers in Atlanta, the USA. Almost 65 counselors and social workers faced challenges in the previous management system; despite that, now they have a variety of spreadsheets, up-to-the-moment databases, varying results, and productive communication between staff.
Conclusions
Salesforce has become the most dependable and appropriate partner for numerous nonprofits worldwide, assisting them in staying up-to-date with their operational activities and reaching their goals. No matter what size or type of nonprofit you have, having a clear picture of your business running and operating will allow you to move forward with a strong vision and strategies.
We can assist you in understanding how to use Salesforce for nonprofits with the professional team of nonprofit Salesforce consultants to deliver you the best support and solutions.
Now you know how valuable Salesforce for Nonprofit is, it's time to start making the most of this outstanding CRM!
FAQ
What is Salesforce for nonprofits?

Salesforce for Nonprofits is a cloud-based customer relationship management (CRM) platform that uses cloud computing technology to help organizations improve fundraising, increase donations, and manage volunteers more effectively for free to nonprofits. Historically, non-profits have had to come up with their own CRM solutions. This solution addresses many non-profits' concerns, including lack of funds, some employees, and concerns about security, privacy, and scalability. Many nonprofits use Salesforce because it handles donor data in one place, making it easier to standardize record-keeping and application management. Salesforce has 8,000 customers worldwide and 400 thousand users. It's estimated that over 1 billion dollars have been donated to nonprofits through Salesforce.




As a non-profit organization, why should I choose or care about Salesforce Cloud?

Salesforce Cloud is a fast-growing and feature-rich platform. With a cloud-based solution, organizations can capitalize on the economies of scale in the infrastructure, maintenance, and updates and benefit from the industry's leading CRM and social networking solutions. Unlike on-premise solutions, a cloud-based solution keeps pace with evolving market needs. Customers also have access to new product enhancements and upgrades, with the ability to add new functionality without re-implementing or re-architecting solutions. Finally, Salesforce Cloud helps your partners to collaborate. Partners can exchange expertise and information within any industry. It gives them better tools to collaborate, participate, and innovate with each other and their customers.




Is Salesforce free for nonprofits?

Salesforce is available for free to non-profit organizations and individuals under specific terms. The terms require that you display the Salesforce logo prominently on your Website, including when you send out e-newsletters and press releases. In addition, if you exceed 20,000 contacts, you'll need to buy additional licenses. These licenses are reasonably priced.




What is the nonprofit success pack Salesforce?

Salesforce has several application packages designed to meet the needs of different business types. Its nonprofit success pack, for example, includes customer relationship management, analytics, social and mobile, and marketing campaigns.