Salesforce Email Integration: Solutions, Benefits, and Instructions
Table of Contents
Do you find yourself constantly switching between your email and Salesforce accounts? Are you looking to enhance your business workflows and customer communication? Look no further than Salesforce email integration.
This article will explore the solutions, benefits, and instructions for integrating your email with Salesforce, which allows you to save time, enhance productivity, and provide exceptional customer service. Let's dive in and unlock the potential of Salesforce Email Integration!
Integrating Gmail with Salesforce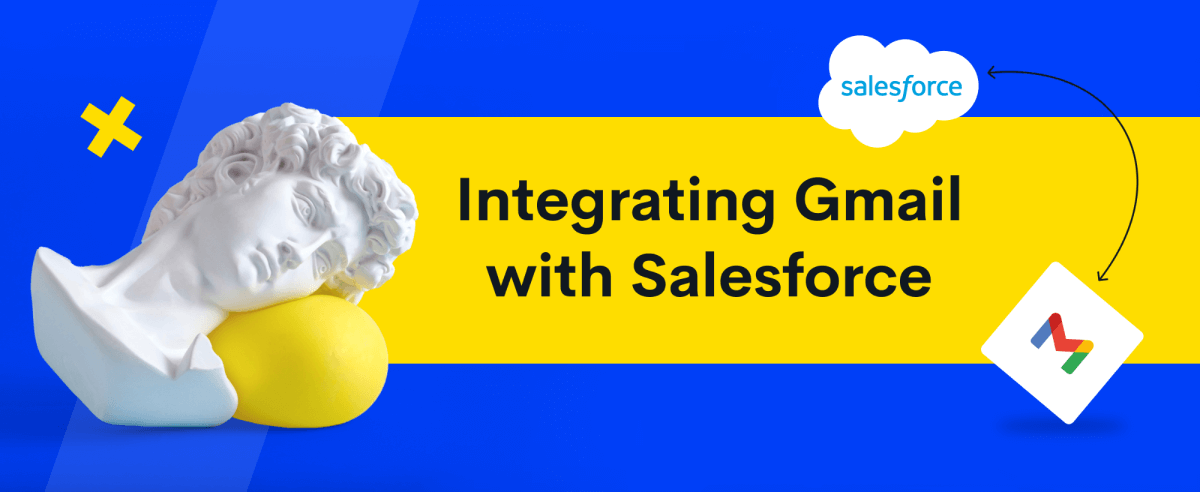 Salesforce Gmail integration helps users link their Gmail account to their Salesforce account. Thus, you can easily access Salesforce information and tools directly within your Gmail account.
With a whopping 1.8 billion users worldwide, Gmail remains businesses' most popular email exchange platform. So, as a business owner, you'll be happy to know that integrating Gmail with Salesforce can give you the best of both worlds without switching between platforms. Some benefits that come with Gmail Integration include the following:
Optimized workflow
Gmail integration allows sales representatives to perform CRM tasks in a single email space. So, you don't need to leave the Salesforce instance, which saves time, boosts productivity, and streamlines workflows.
Efficient email tracking
Gmail emails are automatically logged and linked to pertinent Salesforce records, such as contacts, leads, and opportunities. It enhances email monitoring, makes follow-ups more effective, and provides a comprehensive view of customer engagement.
Improved collaboration
Integrating Salesforce with Gmail promotes smooth team collaboration by allowing quick access to Salesforce data from within Gmail. As a result, you get better coordination, enhanced communication, and a more harmonized approach to client interactions.
Enhanced data accuracy
Indeed, it's important to sync contacts, emails, and calendar events between Gmail and Salesforce for accurate and current data. Integration guarantees this synchronization, minimizing errors and preserving data consistency across both platforms.
Personalized engagement
Businesses can use email integration to personalize email interactions delivered through Gmail by utilizing the data in Salesforce. This integration helps businesses to improve client engagement and provide more significant results by offering targeted and personalized messages.
To integrate Gmail with Salesforce, follow the steps below:
Log in to your Salesforce account
First, log in to the Salesforce Lightning Account and go to the Setup Icon.
Set up Salesforce Gmail integration
Proceed to the Setup section and search for Lightning for Gmail in the search box. Then, choose the Lightning for Gmail and Sync option and configure either or both products.
Customize optional settings
For optimal results, it is recommended to enable Lightning Sync and Use Enable Enhanced Email with Gmail options. That will ensure emails are saved as standard message objects and activated in Salesforce. It will also allow representatives to easily attach events and files and use Einstein Activity Capture to include emails and events in the activity timeline of Salesforce.
Configure your content
Lastly, after completing the integration process, your sales staff can customize the content using Lightning App Builder.
Integrating Outlook with Salesforce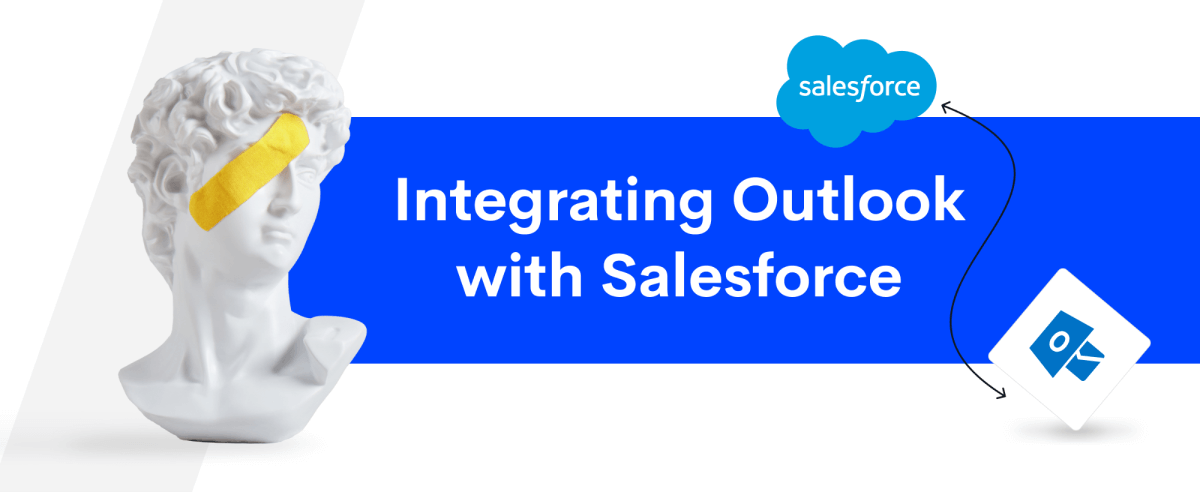 Integrating Salesforce with Outlook is an effective tool that empowers sales representatives to update their Salesforce data using email applications. With this integration, you can easily access your Salesforce data in Outlook and also save emails and events to your Salesforce records.
Teams can now easily keep track of prospect information and manage pipelines right from their inbox with the smooth integration of Salesforce and Outlook. And that's not all, since sales reps can look forward to experiencing many other benefits such as follows:
Easy calendar management
With the Salesforce Outlook integration, you can easily share your calendar with colleagues, saving valuable time when setting up meetings. No more back-and-forth emails trying to find a mutually convenient time since you can just check their calendar to see when they're free and organize a meeting.
Seamless email synchronization
With the ability to send, receive, and reply to emails directly from Salesforce or Outlook, users can enjoy seamless email communications synchronization. Specifically, you can easily stay on top of your messages and respond quickly without switching between platforms. It's the ultimate convenience for those who value efficiency and productivity.
Cost-efficiency
With the Salesforce Outlook integration, organizations can enjoy significant time and cost savings and minimize the risk of errors associated with manual customer data entry. Thus, you get streamlined processes and data integrity, allowing for more efficient resource allocation and informed decision-making based on reliable and accurate data.
Boosted forecasting capabilities
All your meetings and activities are automatically recorded in Salesforce with Outlook integration, providing you with a thorough understanding of the typical number of touchpoints necessary to close a deal. Thus, you get more precise forecasting and establish achievable revenue goals for your sales staff.
Highly effective performance
It's easy to keep tabs on where a deal stands and see which team members are pushing it forward when all meetings and activities are synced up with Salesforce. This way, sales reps can rest easy knowing no contract will escape their attention.
For a smooth Outlook integration, follow the algorithm below:
Choose Outlook integration in Salesforce
Access your Salesforce account and navigate to the Setup section. Next, enter "Outlook" in the quick find box and choose the Outlook Integration and Sync option. Click on Outlook Integration and Lightning Sync to enable it.
Then, activate Outlook's Enhanced Email feature by selecting Active and Notify Reps. Turn on the Active and Advanced Email Security Settings checkboxes by toggling them to true. Finally, save your changes.
Set up Outlook
To configure Outlook, start typing "Outlook" in the Fast Find Box and then click on Outlook Configuration. From there, enter the desired Name and set the Active checkbox to true.
Next, under the Assign Users and Profiles section, select the users you want to grant Outlook sync permission. Next, navigate to Assign Users and Profiles and select the desired Profile for granting sync permission.
To configure Data Settings, opt for the option to synchronize All Outlook Items as the default sync setting. Additionally, you have the flexibility to enable or disable the ability for users to choose attachments.
For Contacts Sync Direction, select Sync Both Ways and choose how conflicts should be resolved. Repeat these steps for Events and Tasks. Once you're done, click Save.
Finally, click Enable and add the opportunity split list to the required opportunity page layouts before saving your changes again. With these steps, you'll have successfully configured Outlook.
Set up Salesforce
Choose My Settings, and once there, enter your User Name. Next, type Outlook and choose Salesforce for Outlook in the quick find box. After that, scroll down and click the Download button. Finally, run the Setup File to complete the process.
Integrate Salesforce and Outlook
Open Microsoft Outlook and sync your email address. Click Settings, log in with your username and password, and select Sync Only the Outlook Items I Select. After that, choose the default option and click Next. Finally, hit Save to wrap up the successful integration of Salesforce and Outlook.
Other Email Services Integration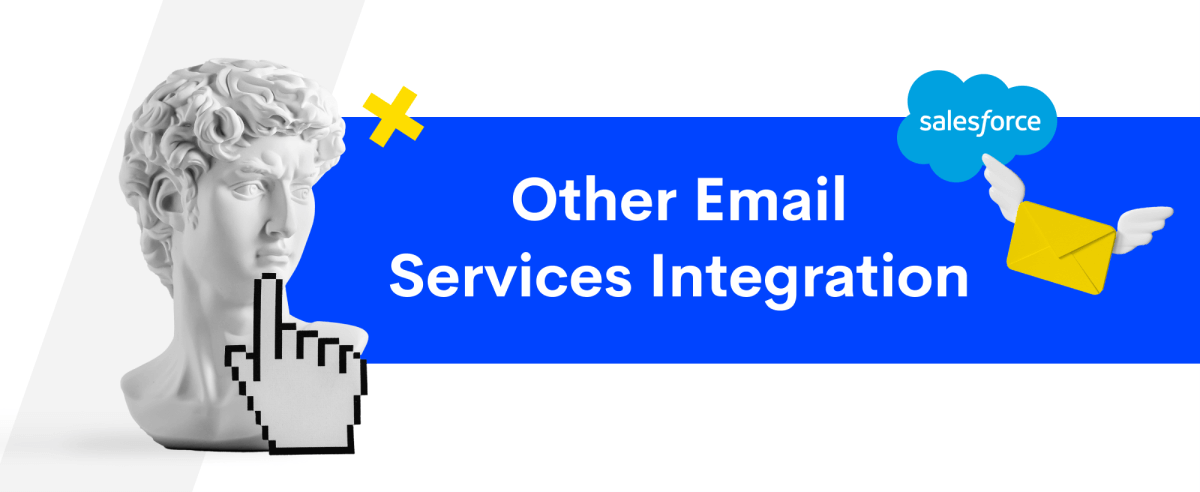 Beyond just the Gmail and Outlook integrations, several additional Salesforce email integration solutions can streamline your operations. Check the concise descriptions below to understand how each alternative Salesforce email integration works, and select the one that suits you best.
Emails from Salesforce
In Salesforce, there are three options for sending emails directly. You can use Salesforce email servers called 'Send Through Salesforce', Gmail or Office 365 accounts called 'Send through Gmail or Office 365', or a company SMTP mail server called 'Send Email Through Email Relay'. Once you have chosen and set up your preferred method, you can send emails through the user interface, automation tools, or APEX programming.
Sending emails is possible from standard objects like Accounts, Contacts, Leads, and custom objects in both Salesforce Classic and Lightning Experience. You can also simultaneously send the same email to multiple people using "Mass Email" in Salesforce Classic and "List Emails" in Lightning Experience.
Note: Although you can send emails to other members, there are certain restrictions on the number of emails you can send.
Mobile
The Inbox feature, available for iOS and Android platforms, offers a premium solution for managing emails on mobile devices. This feature enables users to conveniently build and update Salesforce records and tasks, as well as log emails to Salesforce records and custom objects. Additionally, the feature provides the ability to schedule and track emails, making the email management process more efficient and streamlined.
Emails to Salesforce
This category of options pertains to the processing of emails within Salesforce. One can use the 'Email to Salesforce' feature to establish a connection between emails and Salesforce records. That involves entering a unique email address generated by Salesforce into the bcc field of outgoing emails. By doing so, the email is automatically linked to Salesforce contacts, leads, opportunities, or any other Salesforce object. To link an email to a specific record, the record ID can be added to the email's subject line or body.
Salesforce can convert customer emails that are sent to designated support email addresses into case records. This feature has two variations: On-Demand Email to Case and Email to Case. The primary difference between them depends on the specific business needs, the maximum number of emails that can be converted, the size limitations of the emails, and whether the email traffic should remain within the company's network firewall.
If there is a need for customized processing of incoming emails, an Email Handler is the solution. It actively listens for emails from a designated address and applies tailored logic to generate or modify records based on the data within the email.
Consider Security When Using Email and Salesforce Integration
When it comes to email and Salesforce integration, security should be top of mind. After all, the last thing anyone wants is to leave themselves or their company vulnerable to potential risks. To stay safe, steer clear of products that give administrators unlimited access to your email server from anywhere in the world. Instead, opt for email integrations offering single sign-on (SSO) and top-notch security features to protect your business.
Single sign-on
With single sign-on (SSO), you can log in securely to multiple sites using just one set of login credentials. Your personal information is safe with SSO since it uses a dependable third party to confirm your identity. And with secure protocols like SAML or OAuth, you can trust that your authentication requests and data are sent securely.
Salesforce's Single Sign-On (SSO) feature has many benefits. One of the main advantages is reducing administrative costs. With SSO, you just need to remember one password to access resources and apps. This means fewer requests for resetting forgotten passwords, saving time and money.
SSO also saves time for users by avoiding the need to manually log in to an application. This can increase productivity in the long run. Another advantage of SSO is increased user adoption since it's more convenient.
Lastly, SSO provides increased security for sensitive data by applying password policies established for the corporate network. Additionally, sending an authentication credential only valid for a single time adds an extra layer of protection.
Additional privacy considerations
First and foremost, it's important to ensure that all your data is encrypted at rest and in transit. It protects sensitive information from potential breaches or unauthorized access.
Another critical consideration is the implementation of Dynamic Data Masking (DDM). Essentially, this involves limiting exposure to sensitive data by hiding it from non-privileged users. By doing so, you can help to reduce the risk of data leaks or other security incidents.
Finally, you should ensure that a product complies with OWASP's best practices and guidelines for application security. It can ensure that potential vulnerabilities or weaknesses are addressed early on and that security remains a top priority throughout Salesforce workflows.
Conclusion
To sum it up, connecting Salesforce with your email system can work wonders for your business. Specifically, you'll enjoy better efficiency, communication, and customer service, which are all crucial for success. Just follow the instructions, and you'll be able to set up this integration without any hassle. Then take your time to explore all the options and pick the best solution. You're sure to see great results once you get started!