Salesforce for Outlook is Being Retired: Alternatives and Replacements
Table of Contents
Initially launched around the turn of the millennium, Salesforce is marketed as the most popular CRM solution on the market for small and medium sized businesses. Microsoft Outlook, meanwhile, is the preferred email and personal information client for thousands of small and medium sized businesses worldwide.
Salesforce for Outlook is a native application that effectively acts as a bridge or connector between the two pieces of software, allowing seamless communication between the two in terms of customer contact details, emails, calendar information and lots more.  
Two years ago, the developers moved Salesforce for Outlook to "maintenance only" and in June 2024, , it will be retired completely. The reason is that as our operating systems and web browsers have evolved, the software has edged towards obsolescence. Salesforce Outlook integration is a solution designed to support those using IE11 and its predecessors. IE11 was replaced by Microsoft Edge in 2015, and Microsoft will be ending all support this month.
The retirement of Salesforce for Outlook is therefore an inevitability, as realistically, users have had ample time to migrate to newer versions of software and there should, at least in theory, be very few users out there who are using obsolete and unsupported versions of Internet Explorer that are 10 years old or more. In business, theory and practice do not always correspond, but more on that in just a moment.
How does Salesforce For Outlook Help Businesses?

While Salesforce for Outlook as a web tool is becoming obsolete, Salesforce for Outlook as a concept is as relevant as it has always been. Every business finds itself juggling multiple applications and legacy software systems, trying to optimise what's there while taking into account human factors and resistance to change.
Amid all this, having your CRM system and your main email and personal information system "talking" to each other is absolutely essential. That's what Salesforce for Outlook was designed to achieve, and while things have changed from a technical perspective, that basic need is as relevant as ever.
Better productivity

Sales reps use Outlook and they use Salesforce. A study by McKinsey found that reps are already spending almost 30 percent of their billable time using email and calendar software. The last thing anyone needs is them entering the same information in two places, and Salesforce for Outlook cuts this duplication.
Everything in one place

Being able to access emails, customer data and other important information and materials in one place makes it easier to create meaningful, targeted sales communications to leads and customers. There's no confusion and the CRM provides the relevant data that's needed to either nurture the lead or close the sale as necessary. In many cases, sales personnel also have visual reports that provide a quick and easy reference as to where each lead stands in the sales funnel.
Reducing errors

Entering data into both Outlook and Salesforce isn't just a waste of time. It also doubles the probability of errors slipping in, Salesforce for Outlook mitigates the risk.
Better responsiveness

When incoming emails are linked with CRM information from Salesforce, all the information relating to that customer is right there at the receiver's fingertips. It means the customer or lead gets a better, faster and slicker response. That's good for internal business efficiency but it can also be a case that whoever responds faster ultimately wins  the client's business.
Focus on what really matters

Sales personnel need to maximise the time they dedicate to selling instead of wasting hours managing administrative tools.
Reducing data redundancy

Data redundancy is a perennial headache for businesses, and where it involves contact details, there are also data security risks to be aware of. Consolidating email and CRM contact details helps you to reduce data redundancy, while at the same time gaining enhanced visibility into your customers and having a quick and straightforward way of looking up current email addresses and contact details for key leads.
Why is Salesforce for Outlook being retired?

In an ideal world, Salesforce for Outlook would have been withdrawn years ago. The application was developed as a conduit to connect Salesforce and Outlook for older versions of Internet Explorer. Now, Microsoft is completely withdrawing support for these versions, which were superseded in 2015. As a result, Salesforce for Outlook can also be retired.
8 Popular Outlook Alternatives

The real world is a very different proposition. Organizations find themselves making do with legacy systems long after they would ideally be replaced for a whole variety of reasons. As a result, there are plenty who are now having to think long and hard about making changes in reaction to Salesforce being retired.
We will look at the replacements of Salesforce for Outlook shortly, but many will be looking at the bigger picture and that is whether Outlook is still the right tool to meet their email needs. A decade ago, the question was a no-brainer and businesses simply accepted whatever Microsoft put in front of them.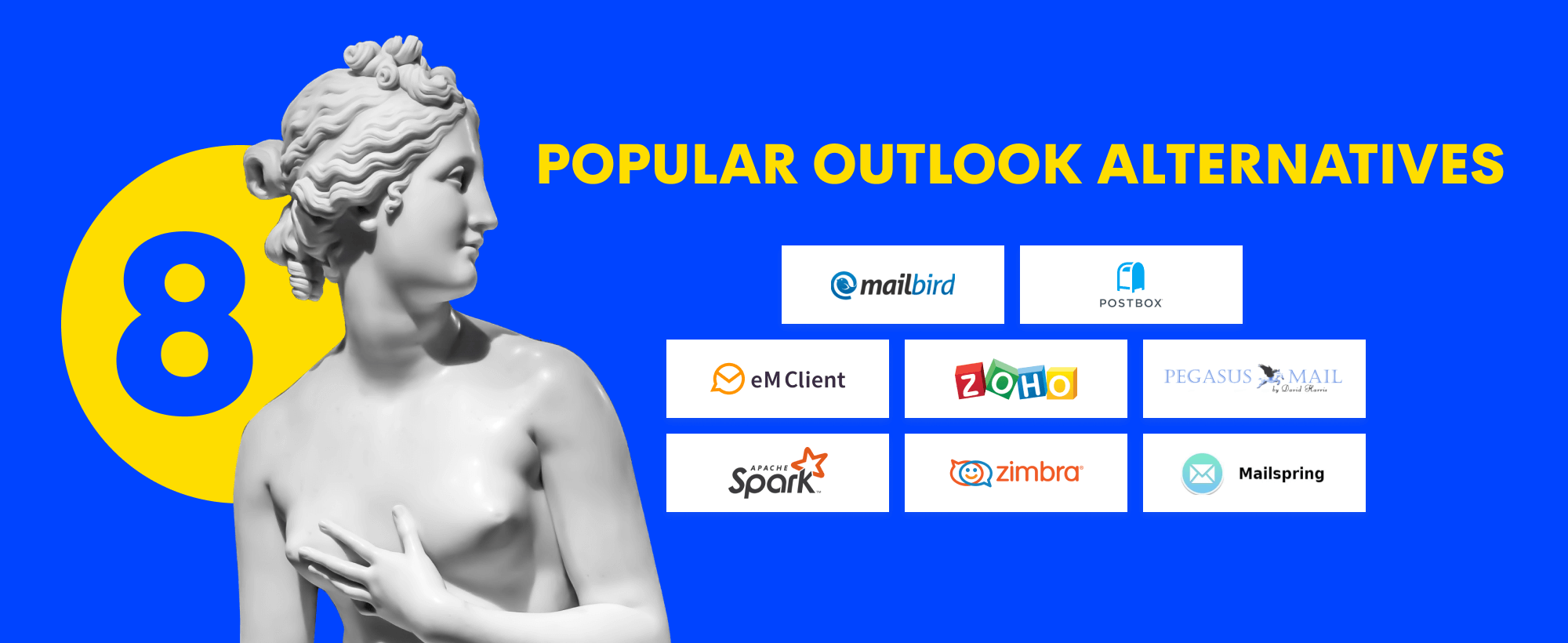 Today, the world has moved on, and we are prepared to acknowledge that Outlook has its shortcomings. The password recovery process is convoluted, calendar overload is common and task management features are practically non-existent. In short, there are other viable alternatives out there. Here are eight popular Outlook alternatives.
Mailbird

Mailbird is all about flexibility. It's easy to integrate with Gmail, Dropbox, and even your Facebook and LinkedIn social feeds and Slack chats. It's therefore a genuine multi-functional platform that does a lot more than just email. It's intuitive to use, with plenty of drag-and-drop functionality. The only downside is that there's no free version beyond the basic demo.
Postbox

This powerful email client was created by the people at Mozilla. It's fabulously user-friendly and in 20 minutes you'll feel like you've been using it forever. As well as being a capable email tool, Postbox brings additional functionality in that it allows you to add dynamic data fields to your emails and templates.    
eM Client

Here's one of the first email solutions that really started to convince both private and business users that there are alternatives to Outlook. eM Client is a no-nonsense solution with good encryption, instant backup, and some handy functions including an instant messenger function and a handy RSS reader.
Zoho

Zoho provides a solid email system that is straightforward enough to use and delivers full encryption. Where Zoho really scores, though, is the collaboration feature for teams to access shared projects. Other tools such as calendars, tasks and notes add further value and make Zoho an option well worth considering if collaborative projects form a large part of your workflow.
Pegasus

Believe it or not, Pegasus Mail has been around since the 1980s. However it has been constantly developed over the years, so today it reflects a free Outlook alternative that is built on a simple Unix infrastructure but is incredibly easy to use and does all the essentials exceptionally well. For example, the search and filter functionality is second to none.  
Spark

This client is designed for optimal support of user workflow. Nice touches include a clever filter that pulls out newsletters and auto-replies. Spark also has a range of pre-written emails for swift responses and functionality that lets you comment on emails. In other words, if your working day revolves around your inbox, this is a client well worth a second look.
Zimbra

This groupware solution is aimed at keeping teams organized, and for that, the Premium version offers file sharing, instant chat, and video calling solutions. A freeware version of Zimbra delivers a perfectly capable email interface, but business users will find it's well worth paying for the extra functionality.
Mailspring

If you regularly juggle emails in multiple languages, Mailspring could be just what you've been looking for. The software provides automatic translation of multiple languages along with integrated spell checking. The interface also provides effective integration of email, social feeds, and so on, along with an impressive search capability.
What is the replacement of Salesforce for Outlook?

We have shown that there is no firm rule that dictates businesses have to persevere with Outlook and that there are plenty of alternatives out there. Having said that, Outlook is a tried and tested solution, and many businesses will choose to stay with it.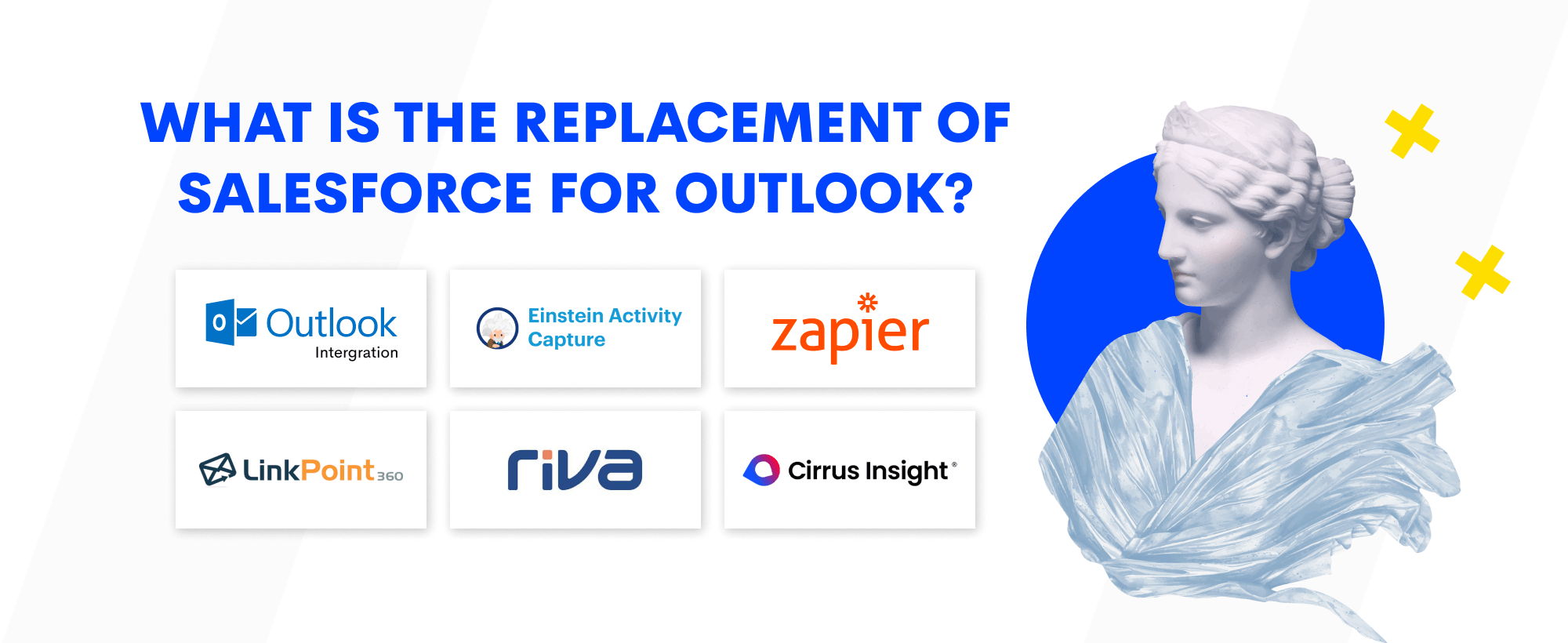 Outlook Integration is the functional replacement for the Salesforce for Outlook side panel button. Users will need to be using Microsoft Edge or newer. Outlook Integration offers all the same functionality as Salesforce for Outlook and also has a couple of additional tricks up its sleeve, whereby users can work with certain Salesforce features while in their Outlook mail or calendar. In short, users should find the transition a painless one.
Einstein Activity Capture is a tool that has been created to supersede Outlook Sync. It synchronizes a range of activities and data fields across Outlook and Salesforce. It's easy to set up directly from the user interface. Using Einstein AI, your sales team can build a driven sales culture. It's easier to collect customer data using Einstein Activity Capture sync with email and calendar.
Zapier is aimed specifically at the SME market and delivers plug-and-play data integration between disparate third-party applications. Its primary attraction is its simplicity - being plug-and-play means developers will not have to do any custom coding. It is priced on what's called "trigger volume," which essentially means you pay for what you use. While Zapier is by no means the most advanced option in terms of capabilities, it carries out all the essential integration actions you are likely to need routinely.
Link Point provides a custom integration solution between CRM and email systems. It is designed for medium-sized businesses and brings impressive reporting capability. The scale and complexity inevitably mean a higher burden on IT support, both routine and specifically while it is being set up.
Riva has come up with an impressive solution for larger organizations. Its enterprise-scale integration solution covers all the bases in terms of reliability, security, and compliance. It is designed to scale and sync in real-time and can support up to 150,000 simultaneous users.
Cirrus Insights provides a range of integration functions between Salesforce and Outlook, delivering daily support and taking the burden from manual data administrators. It automatically syncs emails and calendar appointments, and at the same time, tracks email opens, sets follow-ups and so on. It can also be used to create and modify  Salesforce records and to schedule sales calls.
Conclusion
Most small to medium-sized businesses will find transitioning from Salesforce for Outlook to Outlook Integration and Einstein Activity Capture to be the most effective solution. For smaller organizations, however, the Zapier solution has a lot going for it and might be the best solution.  However, in both cases, we presuppose that Outlook is the optimum tool for your business.
A significant proportion of businesses have fallen into using Outlook almost by accident over the years. Make no mistake, Outlook is a capable tool, and for many businesses, it is a good choice. However, the permanent departure of Salesforce for Outlook provides the ideal opportunity for businesses to take a step back and evaluate all the alternatives from a blank-sheet perspective.