10 Best Salesforce AppExchange Applications for Financial Services
Table of Contents
For businesses in financial services, there is a range of time-consuming stumbling blocks that Salesforce and its available applications can help with, including tightening legal compliance, processing payments quickly, and filtering leads and prospects.
As a platform with wide-ranging functionality, Salesforce offers businesses just like yours the opportunity to manage all their leads, contracts, and products in one place. The experience, accounts, details, and documents associated with each client can be kept together and viewed at a moment's notice. With the help of third-party applications like the ones below, their behavior can be tracked and understood, to provide valuable insights into how your services can be improved, increasing your long-term productivity.
Put simply, the ten applications selected for this list all aim to do two key things for your business: save you time and money, and increase security. From easy eSignatures and automated workflows to payment collection and feedback forms, these applications will streamline your tasks, teams, and revenue into a well-oiled machine. Each one offers a slightly different service, with some overlap, so take a look at each description and decide which one best fits your requirements.
nCino
Known for being the worldwide leader in cloud banking, nCino is an end-to-end cloud-based operating system designed by bankers for use by bankers. nCino connects all of a business's employees, clients, and relevant third parties to enhance coordination and remove lengthy communication channels that slow business down, and tracks every piece of key financial data about users, partners, and clients. Client data is now available to everyone that might be able to utilize it, whether they are in sales or customer service, using the universal accessibility of the Salesforce CRM. In summary, nCino aims to increase transparency, efficiency, and profitability for its users, as well as provide confidence in compliance. Businesses using nCino have experienced benefits such as a 127% increase in account opening completion rates, on average.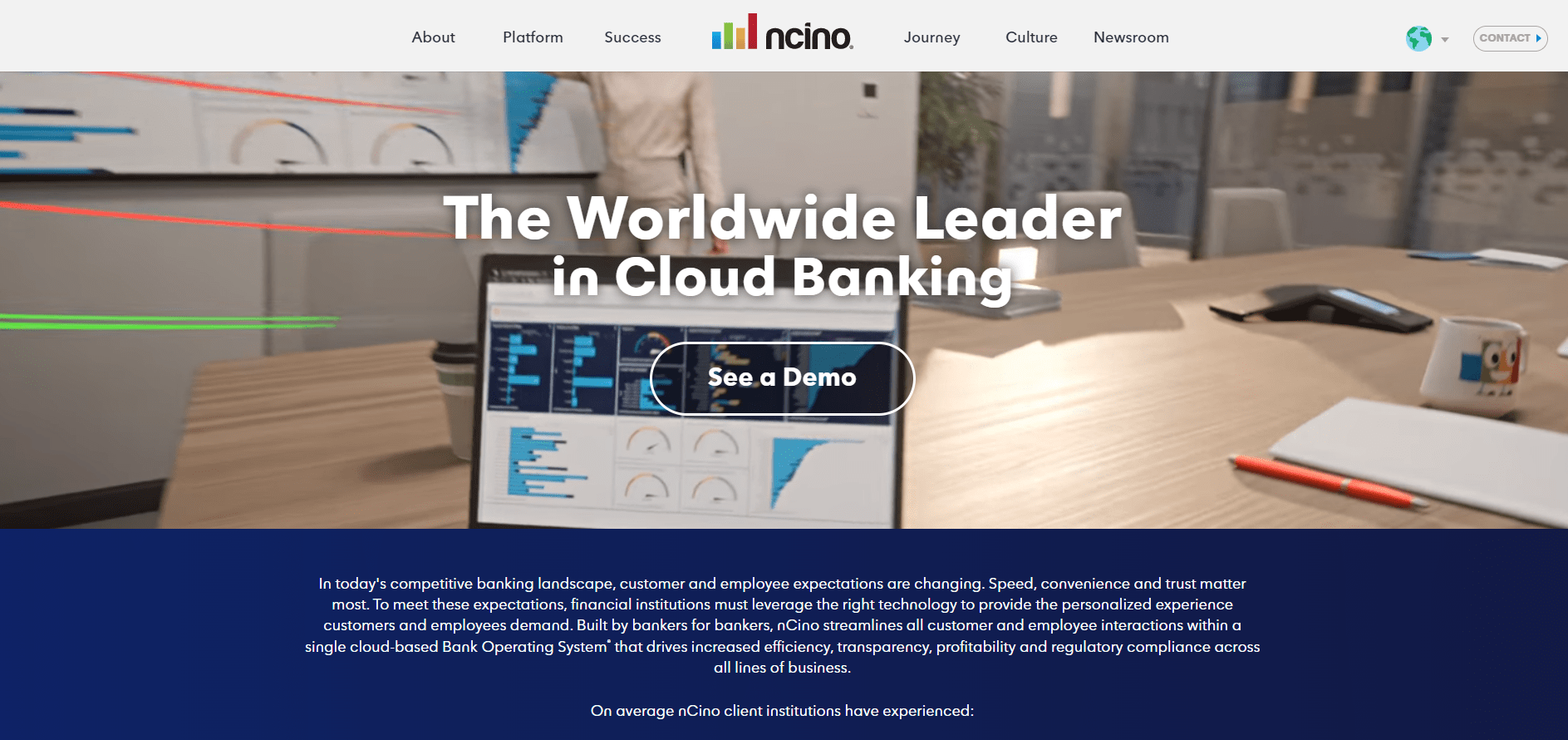 How can nCino help your business?
Suitable for smaller businesses as well as enterprise-level corporations
Offer a personalized service for all customers and staff
Manage all deposit, loan, portfolio, and client information, and easily track lending
Automate many time-consuming paper-and-pen admin tasks
Handles compliance and risk management
Comprehensive reports on clients and potential risk factors
Artificial intelligence is used for processing and interpreting data and developing automated action plans
Streamline mortgage applications with the nCino Mortgage Solution
Integrate with other third-party applications to complete the single-platform experience
Pricing
Pricing for nCino starts at just $1 USD per user per month, but each license is tailored to your specific requirements and desired features.
Find out more about nCino on LinkedIn and the nCino website. You can download the app on the AppExchange.
Engageware
The Engageware provides growing businesses with an intelligent solution to complex, busy diaries and an expanding client base, from within their Salesforce CRM. There is no longer a need to chase prospects, instead, leads can book themselves into the diary of your sales or service team members and provide all the information you need to ensure the meeting is productive and profitable ahead of time. Engageware works across all customer-facing sectors of your business, including sales and customer service, increasing customer satisfaction and retention.
How can Engageware help your business?
One-click appointment scheduling and automatic calendar synchronization
Pool availability across your team to cater to more customers
Easy to reschedule or add team members to existing appointments
Prospects will self-qualify according to the rules of your marketing campaigns
Automate admin tasks, including appointment reminders
Streamline customer services, so representatives can be more efficient and helpful
Resolve support issues faster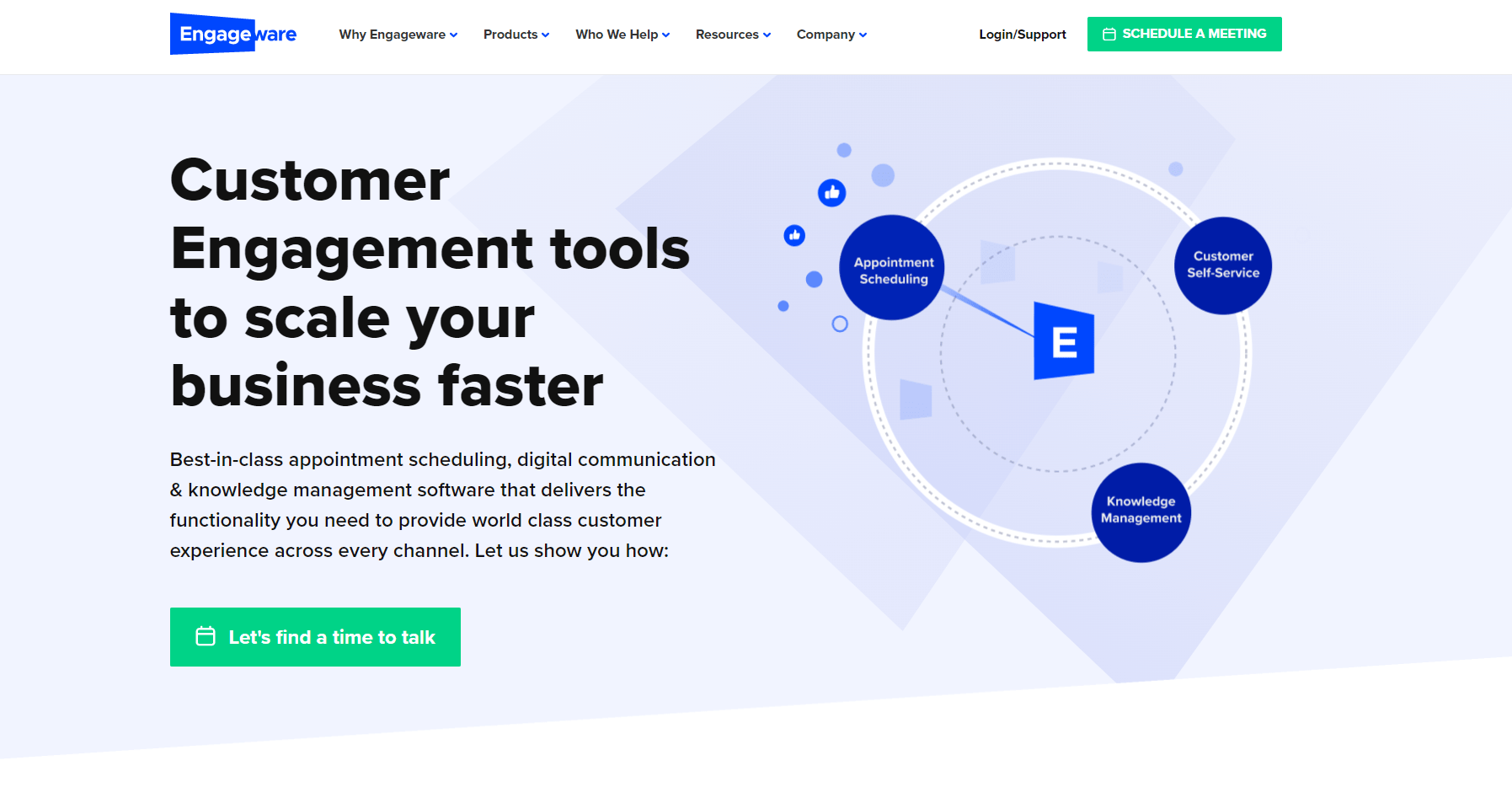 Pricing
pricing for Engageware starts at $10,500 USD per company per year, with tiered discounts depending on the volume of appointments.
Find out more about the Engageware Scheduler on LinkedIn and the Engageware website. You can download the app on the AppExchange.
EasySend
EasySend aims to create simple digital journeys for each customer, removing the need for manual admin tasks, and managing the whole lifecycle of a client from the moment of first interaction. The platform has been built specifically with Salesforce and insurance/financial services in mind, which means every detail matches up with your goals. Your business can improve its customer satisfaction scores by increasing the productivity of your agents and creating a more personalized experience for your clients.
How can EasySend help your business?
Reduce time to market by 80%, and build multistep use cases within days
Provides advanced data analytics to help you make sensible marketing decisions, without the need for coding
Increase conversion rates by identifying where customers are losing interest
Dynamic, bespoke eForms to replace manual admin
AI form builder to automatically digitize old PDFs
Connect EasySend with the databases and workflows you already use to reliably capture relevant customer data
Co-browsing and eSignature help you interact with customers on any device
Sign and send any legal forms from any device
No coding is required, instead, use the simple drag-and-drop builder alongside effective pre-built components
Pricing
EasySend starts at $2,000 USD per company per year.
Find out more about EasySend on LinkedIn and the EasySend website. You can download the app on the AppExchange.
HelloSign
HelloSign allows your business to integrate eSignatures into your existing Salesforce workflow in a matter of days, using the power of Dropbox. Delocalized teams can speed up their workflow with embedded eSignatures, which remove much of the need for back-and-forth communication. Contracts can be drawn up and completed faster, without time-consuming manual tasks, increasing the efficiency of your sales team and accelerating business growth.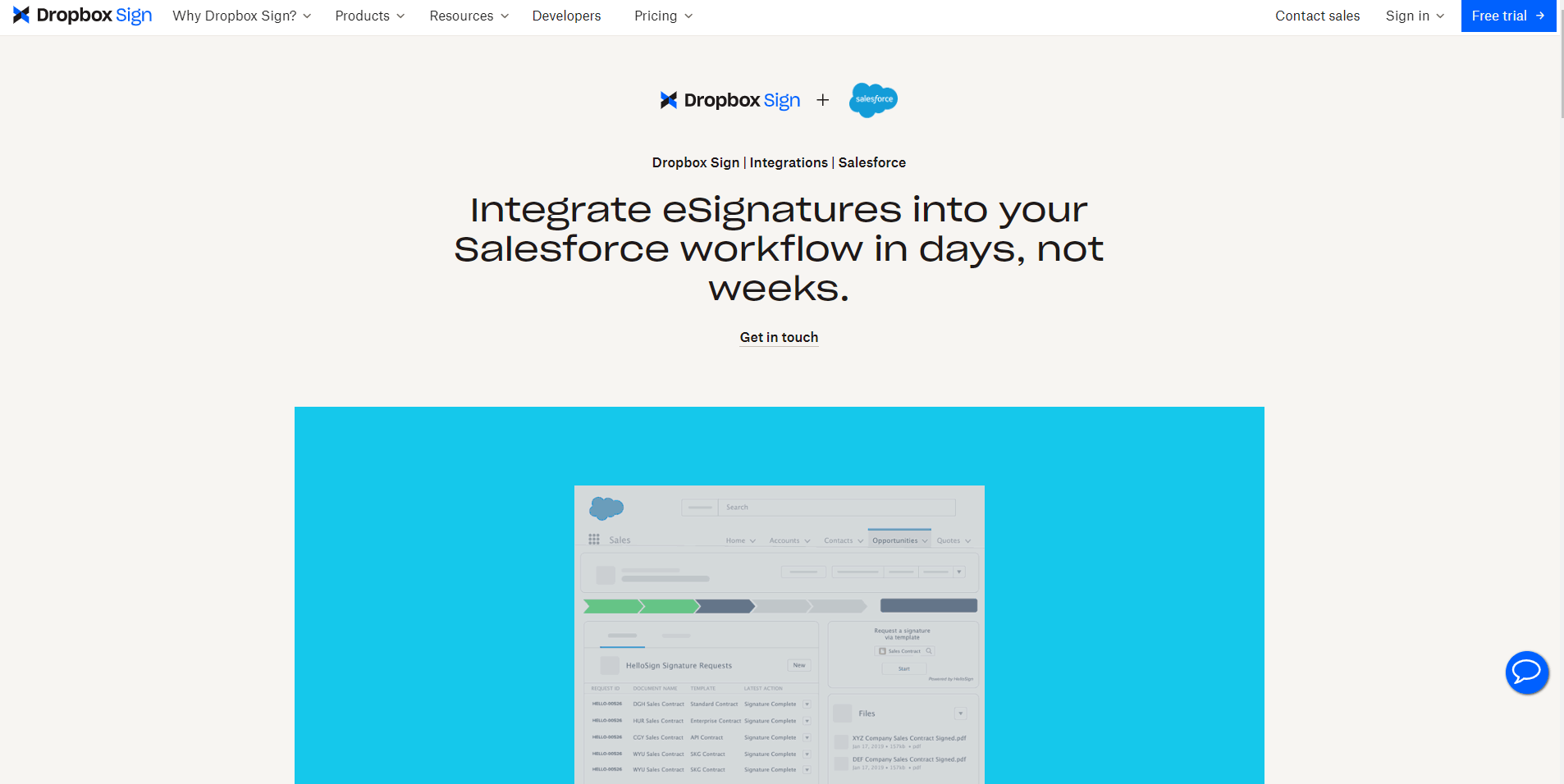 How can HelloSign help your business?
Embedded eSignatures within your Salesforce CRM
Nearly twice as quickly as other eSignature providers implement
Easily save templates for sales agreements
Create, track, and save all contracts within Salesforce
View document progress in helpful dashboards
Auto-insert data pulled from Salesforce records in forms
An audit trail is admissible in court
Award-winning HelloSign support included
Pricing
HelloSign starts at $5 USD per user per month when you already have a $24 per user HelloSign Enterprise plan. Try the app first with a 30-day free trial.
Find out more about HelloSign on LinkedIn and the HelloSign website. You can download the app on the AppExchange.
GetFeedback
GetFeedback is a Salesforce integration designed by industry-leader SurveyMonkey. It aims to take valuable customer feedback to every department and provide a well-rounded view of customer satisfaction scores. With the automated surveys of GetFeedback, your business can improve how it approaches new customers without additional investigation: the answers are literally at your fingertips, on your Salesforce dashboard. Once your data has been analyzed, you can turn more leads into profitable customers, and keep your valuable customers on board, by increasing your knowledge of what your customers are looking for and how best you can fit their needs.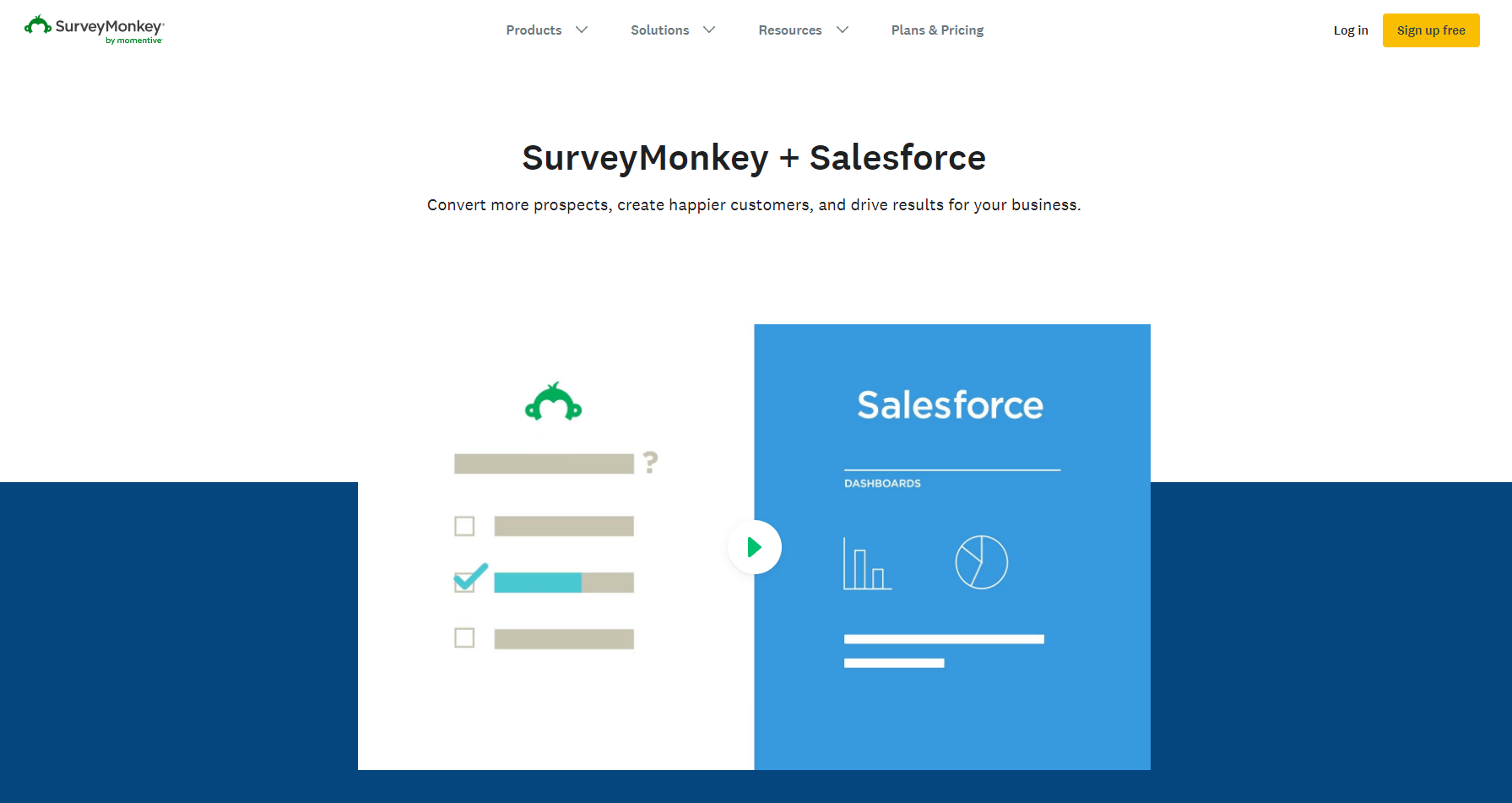 How can GetFeedback help your business?
Trigger automatic surveys after key website and sales events on all platforms
Integrate star ratings, feedback buttons, and instant surveys into any part of your website
Survey templates, including Customer Satisfaction Score, Net Promoter Score, and Customer Effort Score
Win-loss surveys help you understand key drivers
Compile better, more usable data about each lead and/or client to help you personalize campaigns and identify prospects with promise
Identify negative and positive trends in real-time, and generate reports
Follow up all customer service cases with surveys to assess satisfaction
Identify what exactly increases customer retention
Map your surveys onto any Salesforce object
Pricing
GetFeedback starts at $1 USD per user per month, but a tailored quote will be put together by the GetFeedback team.
Find out more about GetFeedback on LinkedIn and the SurveyMonkey website. You can download the app on the AppExchange.
S-Docs
S-Docs is an award-winning document generation and eSignature tool designed specifically for Salesforce. With S-Docs, your business can generate complex documentation and manage its delivery and signing through your Salesforce CRM, reducing how time-intensive admin processes are for your team, and improving security and accuracy. As the only 100% native Salesforce app of its kind, it works seamlessly with your pre-existing structure, and you can rely on its speed, ease of use, and security.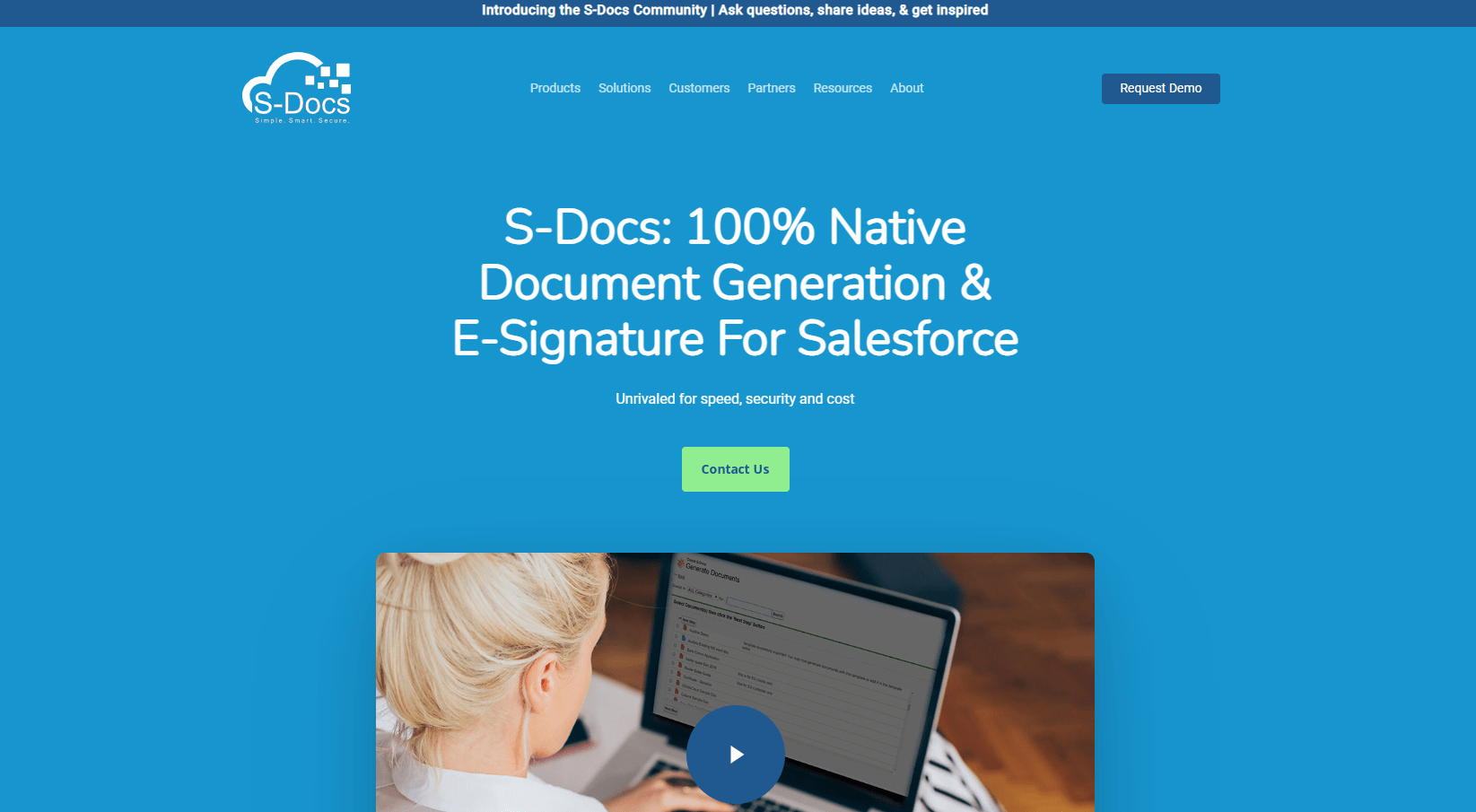 How can S-Docs help your business?
Support staff on hand to help you set up S-Docs quickly and efficiently
Create quotes, proposals, statements, account summaries, contracts, reports, and invoices at just a touch of a button; or
Batch-create documents in line with your workflow
Automatically create follow-up tasks after receiving certain documents
Easy template editor requires no programming experience
Supports mobile devices
Use the standard templates provided by S-Docs, or create your own bespoke documents with reusable components
All your data remains within the Salesforce platform
Pricing
S-Docs is free to use for your first 2 templates, with unlimited users. Options are available for additional templates, and, thanks to the fact it runs entirely off the Salesforce platform, costs can be kept low.
Find out more about S-Docs on LinkedIn and the S-Docs website. You can download the app on the AppExchange.
Nintex Drawloop DocGen
Nintex for Salesforce is designed to leverage data that already exists on your Salesforce CRM into compliant documents that can be automatically generated, reducing the manpower needed to produce essential quotes, NDAs, proposals, order forms, invoices, contracts, etc. Customize your own workflows to ensure that documents are generated at the right time and sent to the right people quickly, collecting those essential eSignatures efficiently. These workflows will eliminate the risk of human error and enhance collaborative functionality, letting your business reach a new level of productivity.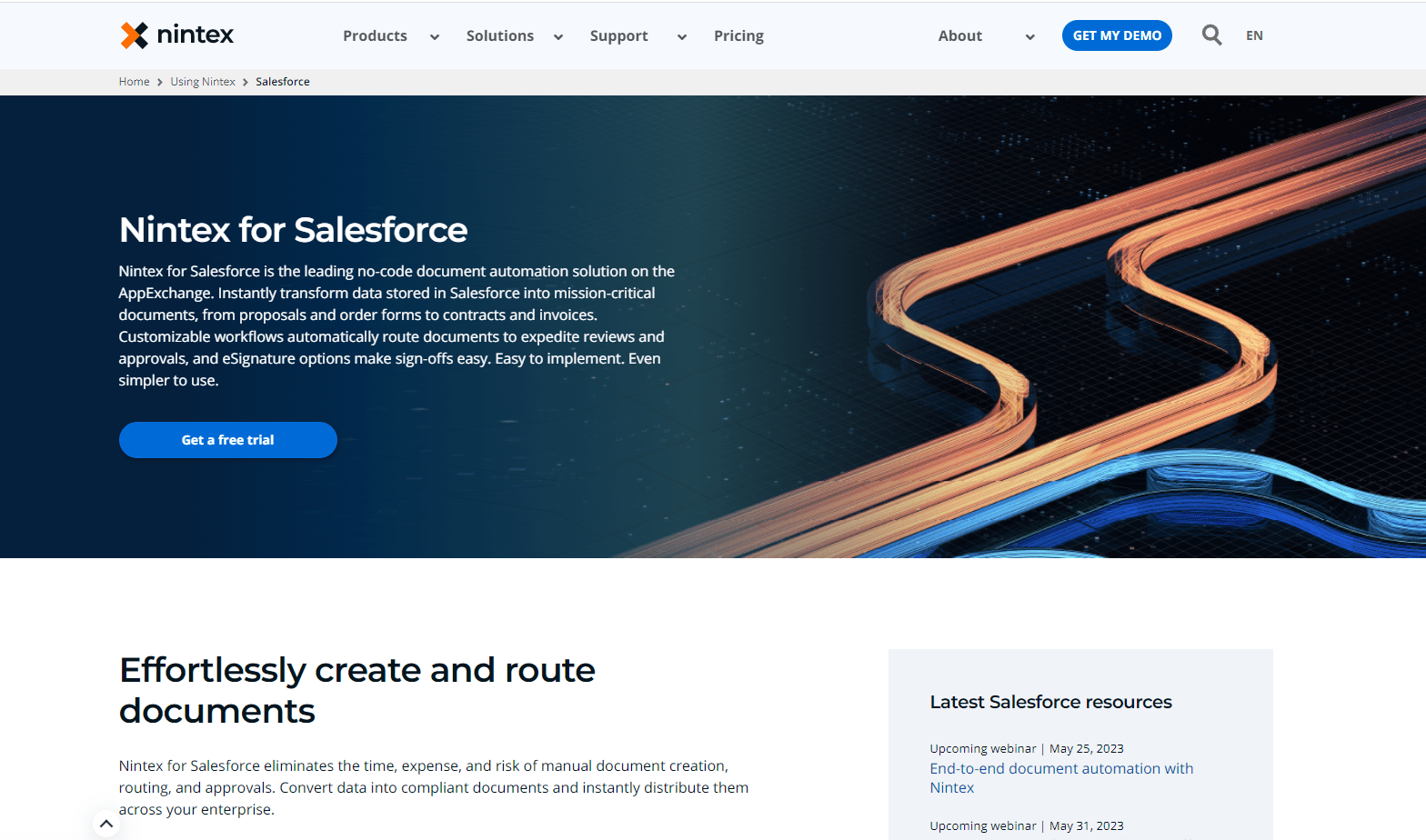 How can DocGen help your business?
Populate Word, PowerPoint, Excel, and PDF templates with the appropriate data from your Salesforce system and any other relevant third-party resources
Workflows route documents to the right person for approval, and then automatically send them on for eSignature
Build your own bespoke workflows using the simple drag-and-drop designer
Auto-assign tasks and follow-ups to keep the cycle running smoothly
Update Salesforce records, set up projects and clients, and generate documents from a mobile app
Build your own mobile app to access and update your bespoke forms from anywhere
FedRamp IL2 Moderate approved application that works natively in Salesforce is available
Pricing
DocGen starts at $20 USD per user per month for Enterprise, with a 30-day free day. A 10-user and $2400 minimum purchase applies.
Find out more about DocGen on LinkedIn and the Nintex website. You can download the app on the AppExchange.
DocuSign
With market-leader DocuSign, your business can instantly prepare compliant agreements using the customer, product, and pricing data you already have saved in your Salesforce system, to speed up the deal cycle and improve the productivity of your sales team. Agreement-signing workflows keep everyone across departments on track, reducing the time it takes for a document to complete its end-to-end cycle to mere hours or even minutes. For financial services, in particular, DocuSign speeds up the process of opening new client accounts, reduces the admin work required from your team, and increases the value of your Salesforce system.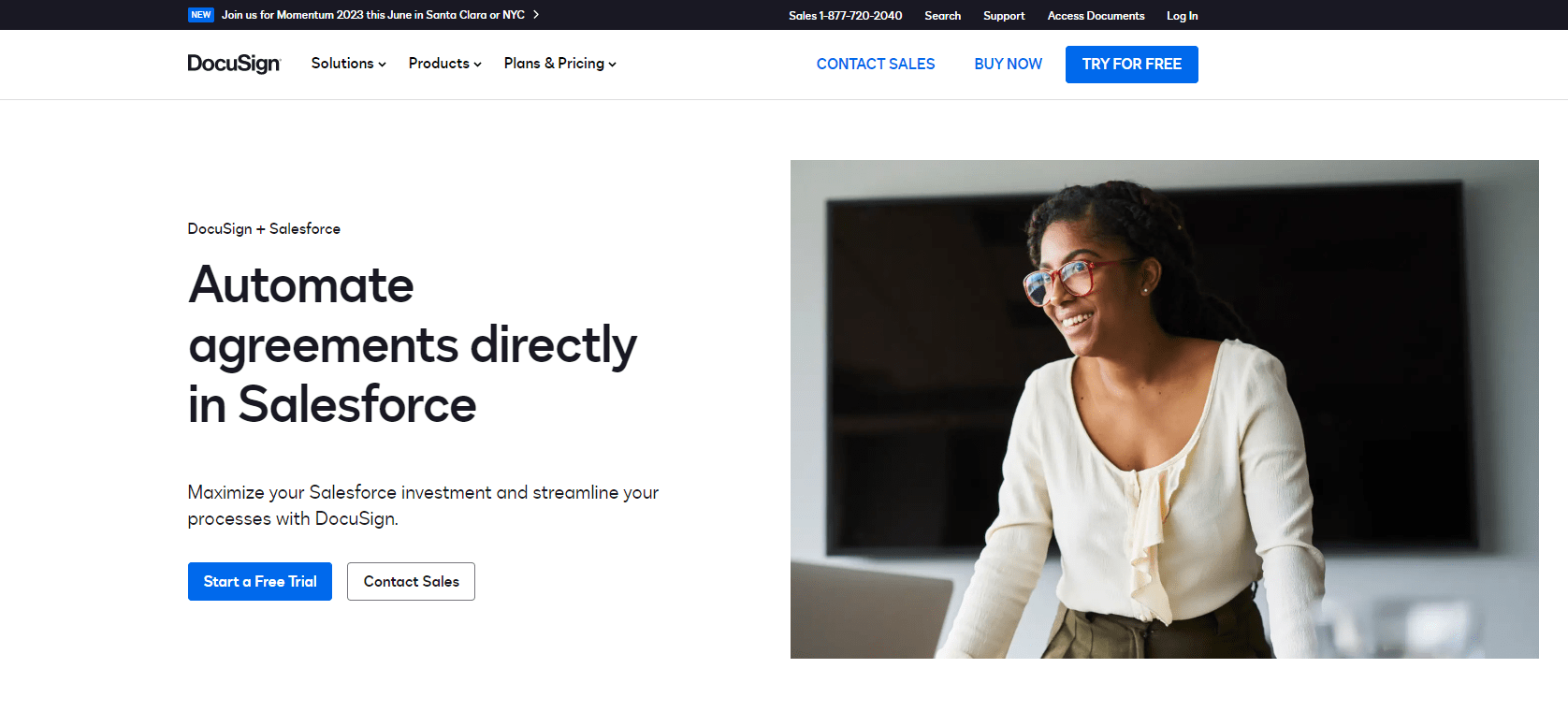 How can DocuSign help your business?
Work from predefined templates or developed complex custom documents
Reduce human error and manual work
No coding or complex integrations required
Generate complex quote documents from Salesforce CPQ
Send agreements directly to contacts saved in your Salesforce system
Centralised review workflows, across the whole of the Customer 360
Archive all past agreements for future review and reference
Batch generates your invoices
Extract comparable clauses and terms across agreements using AI
DocuSign Insight can provide suggestions for untapped revenue
Clients can sign on to their mobile device
Pricing
DocuSign starts at $30 USD per user per month.
Find out more about DocuSign on LinkedIn and the DocuSign website. You can download the app on the AppExchange.
Adobe Sign
Adobe Sign is one of the most trusted eSignature applications available on the market. It has been proven to reduce the legal risk for businesses, particularly in the financial sector, increase potential revenue, and reduce costs. The signing process is simplified and streamlined, and follows your own personalized workflows, ultimately allowing you to collect payments more quicker. As such a well-known name, clients know they will receive an enhanced user experience with Adobe Sign, without having to download the app or create an account.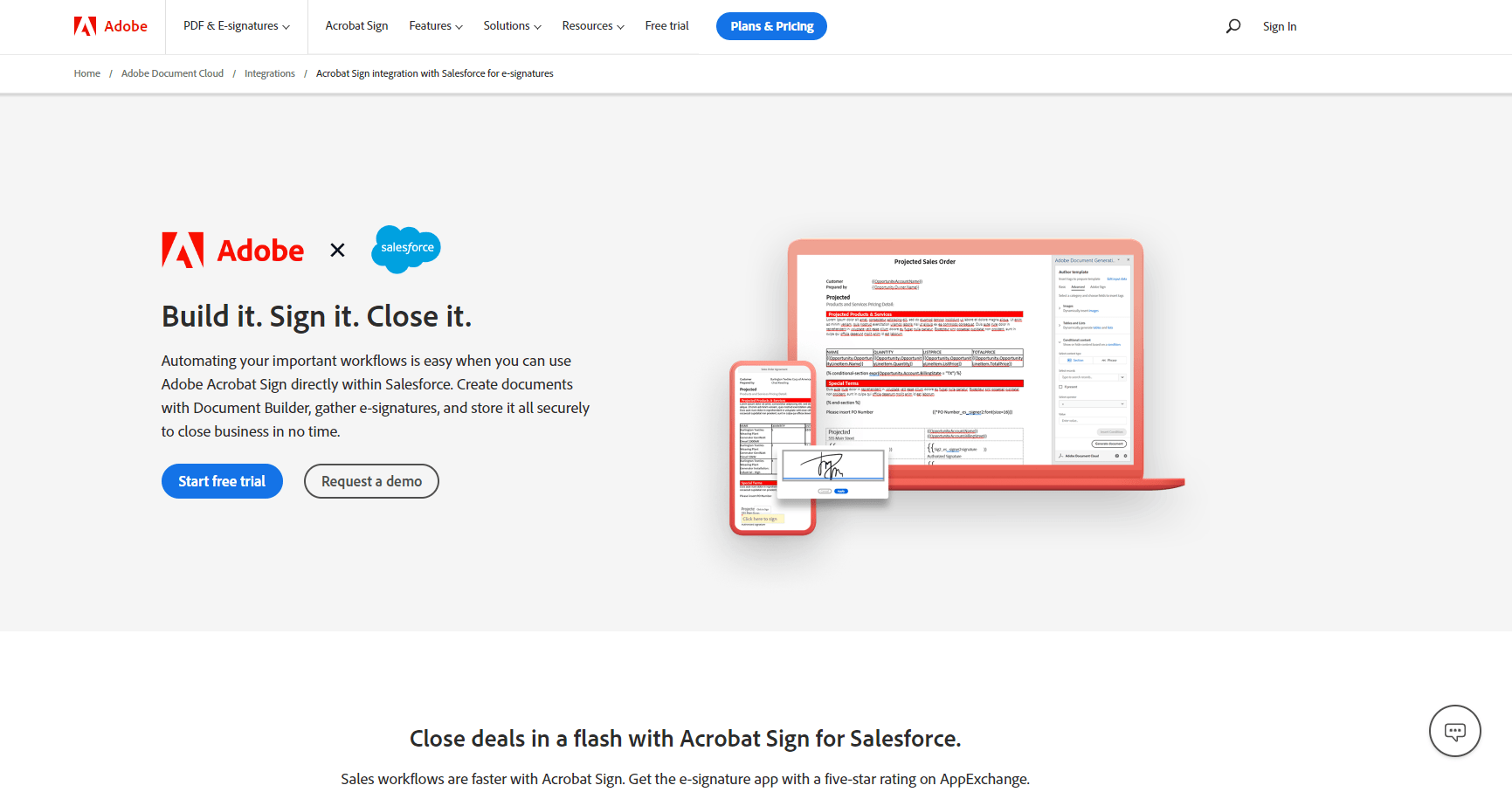 How can Adobe Sign help your business?
Send documents from any Salesforce object, including Opportunities, Contacts, and Chatter
Create workflows with the easy-to-use Process Builder
Batch-send documents to multiple clients in just one click with bespoke security options, including password and device authentication
Clients can sign on to any device
Add your branding to any documents
Track the status of all documents sent out for signing, and get notified when complete
All complete agreements are saved into Salesforce, and copies are automatically sent to all parties involved
Adobe Sign can be embedded into your email client, to track your agreements there
Collect payments through Adobe Sign once a signature has been obtained
Fully-auditable paper trail
Pricing
Adobe Sign comes with a 30-day free trial, followed by a cost of $34 USD per user per month, with custom Enterprise solutions available.
Find out more about Adobe Sign on LinkedIn and the Adobe Acrobat website. You can download the app on the AppExchange.
Q-Assign
Q-Assign helps you get the most out of your Salesforce system and your team. Ortoo's goal is to help fast-growing businesses scale more efficiently through the use of workforce automation apps that help distribute items effectively. In Q-Assign, set up your own assignment criteria, to make sure that each lead or task goes to the right person, and optimize your productivity. Assign tasks automatically based on skill set, availability, and experience, singling out those priority leads first. As a native Salesforce app, your sales team can keep working in the language they know and never have to move off-platform.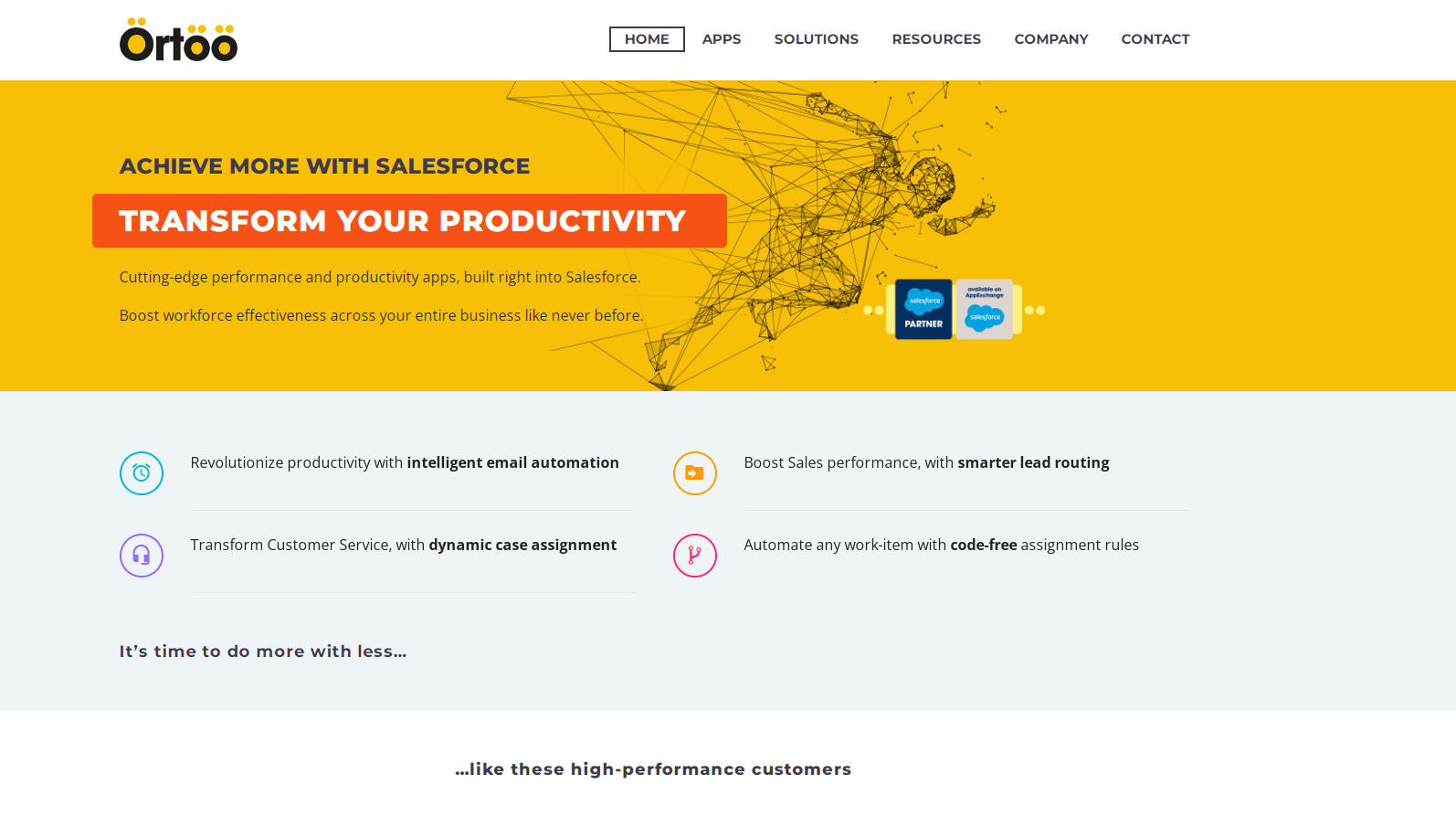 How can Q-Assign help your business?
Automatically assign leads to the best or most available sales representative
Assign any Salesforce object to the right user
Prioritize urgent cases
Take into account shift patterns and breaks
Identify the skills of each team member
Dynamic rules change according to availability and priority with automated load-balancing and queue reassignment after an allotted period of inactivity has passed
This prevents team members from cherry-picking their preferred jobs to keep things fair
Automatically escalate problematic or difficult cases to management-level
Pricing
Begin using Q-Assign with the 30-day free trial. Prices then start at $18 USD per user per month, with an upgrade to $21 for Premium and $26 for Enterprise. There is a minimum purchase of 20 users, and group discounts are offered for over 50 users.
Find out more about Q-Assign on LinkedIn and the Ortoo Apps website. You can download the app on the AppExchange.
Summary
With our knowledge of the Salesforce CRM and its potential to help streamline the services of businesses in the financial sector, we can help you implement any of the apps mentioned above with your Salesforce Org and make sure it delivers everything you hoped for.
Alternatively, if you have an idea for an app that hasn't yet been developed, or are in the process of developing an ISV app, we can help with this too. Contact MagicFuse today.
FAQ
How is Salesforce used in financial services?

Salesforce is used by financial services companies for customer relationship management, sales management, and marketing automation. Financial companies use it to manage their sales pipelines, track leads and referrals, and provide personalized service to their customers.

What kind of an application is financial services cloud?

Financial Services Cloud is a specialized application designed for financial services companies, such as banks, wealth management firms, and insurance companies. It provides a complete view of customer interactions, including account balances, transaction history, and product holdings.

What is the difference between sales cloud and financial services cloud?

Sales Cloud is a general-purpose CRM platform that is used by businesses in many industries, including financial services. It includes tools for managing leads, opportunities, and customer interactions and for sales forecasting and reporting. Financial Services Cloud is created specifically for financial services companies. It includes all of the features of Sales Cloud and additional capabilities that are tailored to the needs of financial services companies, such as wealth management, insurance, and banking.