What is Salesforce Marketing Cloud And Why You Need It in 2023
Table of Contents
54% of customers say they get irritated if they get an ad for something they've already bought. They are interested in new kinds of information from businesses and communicating with the brands via new channels. Marketers have to seek effective ways to provide relevant content and be in touch with clients at the right moment, at the right channel. It's a good time to learn what Salesforce Marketing Cloud is and how you can use it to improve your marketing relationships with your customers.
From this article, you'll get a 360 picture of the Salesforce Marketing Cloud platform. You'll learn about Salesforce Marketing Cloud tools for creating and managing different customer campaigns. Get to know about the main benefits of Marketing Cloud and achieve your business marketing goals with this tool.
What is Salesforce Marketing Cloud?
Salesforce Marketing Cloud is a digital marketing platform for optimising marketing efforts and personalising every customer experience. Customise emails, use AI-powered personalised approach, create a comprehensive view of each customer, manage B2B or B2C relationships using this tool.
With Salesforce Marketing Cloud, you can connect every customer interaction and experience with your Salesforce customization company across different channels. It's easy to control messaging flows, react to customers' actions, and discover useful insights to grow your business.
Having precious statistics data, you'll be able to analyse customer behaviour and engagement level and enhance your marketing strategy. Moreover, you can become a member of the Trailblazer community and discuss tips and tricks related to the Salesforce Marketing Cloud with like-minded people.
Salesforce Marketing Cloud Overview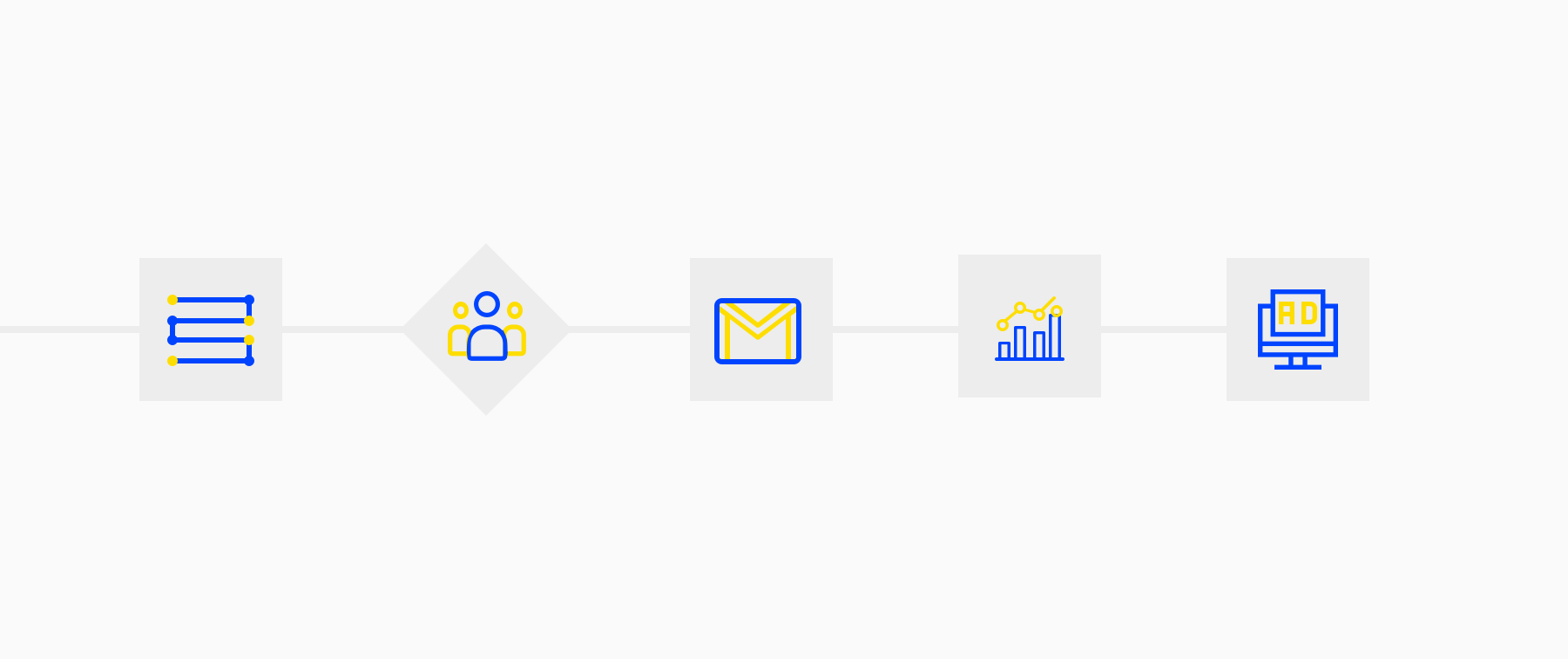 Salesforce Marketing Cloud includes a lot of useful instruments for creating consumer-centric marketing campaigns. Let's explore these marketing tools in more detail.
It's a great tool for building customer journeys, viewing customers' behaviour and interacting with them based on real-time events, such as purchases, downloads, abandoned carts, etc. Creating 1-to-1 connected and relevant consumer paths, you'll gather necessary data about customer engagement and satisfaction. Set the goals and track whether customers meet them or not.
Your email campaigns will be successful and profitable thanks to the capabilities of this platform. Build smart, attractive messages with relevant content in a drag-and-drop way. Determine target audiences, automate the processes of scheduling letters, distributing custom reports and importing the data from different sources.
This platform allows you to gather and save the consumer data in one place. You can divide the audience into customer segments and keep track of each of them. Based on the collected data, you can analyse your audiences, discover insights and use the information to provide a brilliant customer experience.
It's a practical solution for getting access to the world's premium data ecosystem. Discover new audiences using advanced tools and reach new prospects via 200 activation channels. Take control of your data using powerful provisioning tools, manage and share the data with trusted partners with Salesforce Data Studio.
Using this platform, you can connect marketing, service, and sales teams with customers via social media channels. Gather customer feedback about your brand, mentions of your competitors, and monitor topics of current interest. Be in touch with your community, provide support and publish engagement content using Social Studio.
Enrich your marketing strategy with digital advertising and generate more leads with the help of Advertising Studio. Reach your current customers and potential target audience with relevant and beautiful ads across the different social media channels and Google search. Establish the connection between Pardot, Sales Cloud and Marketing Cloud for sharing necessary data and create successful advertising campaigns.
Increase customer engagement and expand your audience via mobile communication. Send personalised SMS, group messages and push notifications by taking into account customers' actions, location and proximity. Moreover, you can automate mobile marketing processes, adjust time settings, and analyse deliverability and customer interaction.
Interaction Studio
This tool is created for viewing, analysing consumer behaviour in real time,  and reacting to interaction events immediately. You're allowed to see through what channels your clients interact with your brand, what attracts them the most and what the next step you need to do to retain them.
It's an intelligent solution for connecting marketing and sales departments for big deals. You can track prospects, conversation, and campaign activities of the customers. Let your marketing team connect with qualified leads and provide the data to the sales team for further interactions. Create magnificent emails by using pre-made templates, analyse your marketing ROI and insights to improve your marketing programs with Pardot platform.
Datorama
Using this automation tool, you can connect all your marketing data in one single source of truth. Get the holistic reports, measure, and optimise the marketing processes. Gather the data from different resources, track customer awareness and engagement, and view impact KPIs graphics.
It's integrated with Google Analytics. You can monitor customer journey statistics directly in your CRM in the customisable Google Analytics reporting dashboard. Note: the integration is implemented at the enterprise level. Before configuring Google Analytics for Marketing Cloud Make sure you have administrator permissions and other necessary properties.
Benefits of Salesforce Marketing Cloud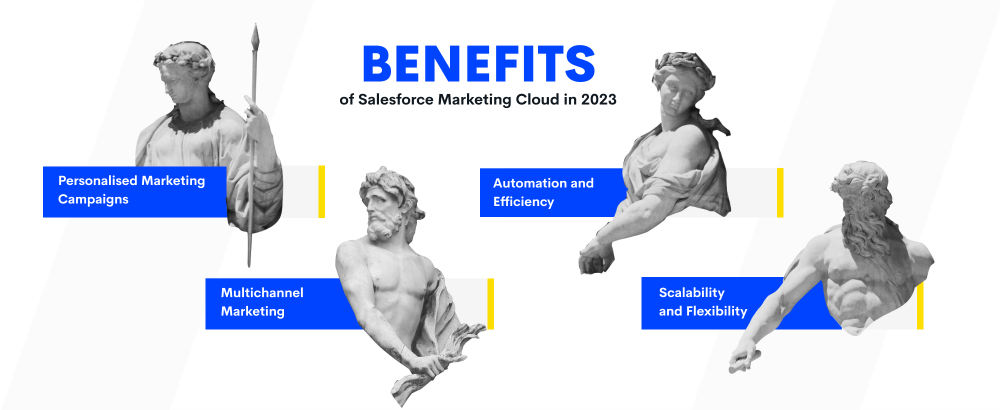 According to Invespcro, 80% of marketers, who used marketing automation software saw an increase in the number of leads and 70% had an increase of conversation. In turn, 91% of responders confirm that it's very important to the overall success of their online marketing processes.
So, using an AI-powered Marketing Cloud platform in your Salesforce CRM is useful and brings striking results for your business. Based on the above-mentioned tools' functionality, let's explore what the main benefits of Marketing Cloud are.
Personalised Marketing Campaigns
According to the SmarterHQ report, 72% of consumers say they only engage with custom-tailored messaging. It means that using a personal approach while you're communicating with your customers is a must-do thing. Marketing Cloud allows capturing data from the analytics and creating customised journeys and providing the best customer experiences.
With the Salesforce Marketing Cloud, businesses can create and deliver personalised marketing campaigns that are tailored to the unique needs and preferences of each customer. It increases engagement, loyalty, and revenue. Some key features that enable personalised marketing include
Advanced segmentation allows them to segment their audience based on various factors, such as demographics, behaviour, and interests. This can help deliver more targeted and relevant campaigns.
Dynamic content enables the creation of dynamic content that changes based on the customer's behaviour or preferences. This can help increase engagement and conversions.
AI-powered recommendations: The future of Salesforce enables to deliver more personalised and relevant offers with artificial intelligence
Multichannel Marketing
Salesforce Marketing Cloud allows businesses to reach customers across multiple channels, including email, social media, mobile, and web. Moreover, marketing cloud integrations increases their reach and engagement. Key features enabling multichannel marketing include:
Campaign orchestration allows to orchestrate campaigns across multiple channels, ensuring a consistent message and experience.
Mobile messaging enables users to send targeted and personalised customer messages via SMS or push notifications.
Social media advertising allows them to target customers on social media platforms like Facebook, Twitter, and LinkedIn.
Automation and Efficiency
Salesforce Marketing Cloud allows them to automate and streamline their marketing workflows, saving time and reducing costs. Some key features that enable automation and efficiency include
Journey builder enables the creation of automated journeys that guide customers through a series of touchpoints, such as emails, social media ads, and mobile messages.
Lead management allows to manage and score leads, prioritising the most promising leads.
Real-time reporting provides real-time reporting on campaign performance, enabling to optimise campaigns and make data-driven decisions.
Scalability and Flexibility
Salesforce Marketing Cloud is a scalable and flexible platform that can grow and evolve with the needs of the business. Some key features that enable scalability and flexibility include
AppExchange has a wide range of pre-built integrations and apps available on the Salesforce AppExchange, enabling it to add new functionality as needed.
Customization allows them to customise and extend the platform to meet their business needs.
Scalability can handle large volumes of data and users, making it suitable for businesses of all sizes.
Overall, this service provides significant benefits in 2023 and beyond. By enabling personalised, multichannel, and automated marketing campaigns, you can improve their customer relationships and drive growth. By providing real-time reporting, scalability, and flexibility, marketers can adapt and evolve to meet the marketplace's changing needs.
Build a 360-degree view of your audience
It's possible to track, analyse and interact with your customers on an ongoing basis. Monitor customer activities, react to customers' issues in real time. Create a complete profile of each customer and offer him or her a unique, interesting content at the right place at the right moment thanks to Marketing Cloud's functionality.
What Type of Companies Are Recommended to Use a Marketing Cloud?
Salesforce Marketing Cloud platform is an essential tool for both large and small businesses. If you run a B2B or B2C company, you'll find handy services inside of Marketing Cloud for improving your customer relationship and growing your business faster. Among the users of this platform are different companies like Sony, GE, Eurostar, YETI, WeddingWire, etc.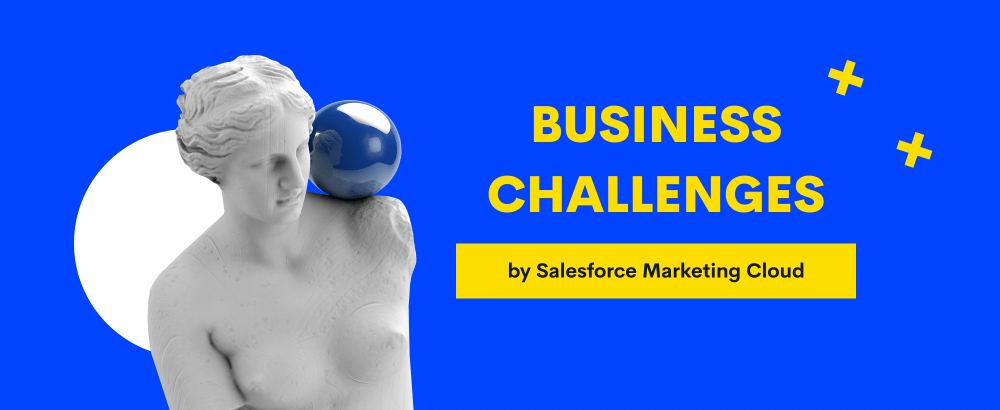 Business Challenges Resolved by Salesforce Marketing Cloud
Salesforce Marketing Cloud is a comprehensive platform that helps businesses to overcome various marketing challenges. Here are some business challenges that can be resolved using Salesforce Marketing Cloud:
Ineffective Marketing Strategies
Businesses can face the challenge of developing and implementing marketing strategies that fail to resonate with their target audience. With Salesforce Marketing Cloud, businesses can use data-driven insights to create personalized and relevant marketing campaigns that resonate with their customers.
Limited Marketing Resources
Small businesses and startups often face the challenge of limited marketing resources. With Salesforce Marketing Cloud, businesses can automate marketing processes and campaigns, saving time and resources while delivering better results.
Poor Customer Engagement
Businesses that struggle with engaging their customers can benefit from Salesforce Marketing Cloud's advanced capabilities in customer engagement. The platform allows businesses to create personalised customer experiences across different channels, increasing customer satisfaction and loyalty.
Inefficient Sales Processes
Salesforce Marketing Cloud provides a comprehensive view of customer data, which can be leveraged to optimise sales processes. Businesses can use the platform to segment customers based on their behaviour and preferences, enabling sales teams to personalise their interactions and drive better sales outcomes.
Limited Insights into Marketing Performance
Businesses may face the challenge of limited insights into their marketing performance, which can make it difficult to measure the effectiveness of their campaigns. Salesforce in marketing provide real-time data and analytics that enable businesses to track their marketing performance and optimise their strategies accordingly.
In conclusion, Salesforce Marketing Cloud is a powerful platform that can help businesses to overcome various marketing challenges. Whether it's ineffective marketing strategies, limited resources, poor customer engagement, inefficient sales processes, or limited insights into marketing performance, Salesforce Marketing Cloud provides the tools and capabilities businesses need to succeed.
How Can I Setup a Marketing Cloud?
Take a look at the Salesforce detailed instruction on setting up your Marketing Cloud account, features, security, roles, etc. As an alternative, you can use the Salesforce consulting implementing services.
MagicFuse can help you configure your Salesforce marketing tools and adjust corresponding settings according to your business requirements at a high level.
Summary
What is Marketing Cloud in Salesforce? To wind up, it's an irreplaceable software for your business. Increase conversion rates and improve the results of your marketing programs. Generate bigger lead volume, measure your email campaigns, and analyse marketing impact. Get qualified leads, collect an accurate and in-depth database, and much more with this user-friendly automation Salesforce tool.
FAQ
Why do we use Salesforce Marketing Cloud?

Marketing Cloud manages all marketing initiatives that improve customer journeys. We can connect with customers where they live or work, providing personalized advice, recollections, and savings. Salesforce Marketing Cloud is the real-time delivery of customer service at the highest level.




Is Salesforce Marketing Cloud in demand?

Of course, Marketing Cloud is in great demand since it opens the door to automation and cutting-edge CRM features that let sales representatives provide individualized service for all users.




What makes Salesforce Marketing Cloud unique?

Salesforce Marketing Cloud offers you all tools to design data-driven, customized customer journeys across various channels, uniform, integrated consumer experiences across email, social media, websites, advertising, and even in-store.