What is Salesforce Engage: Why It's Important For Your Marketing & Sales Teams
Table of Contents
According to Salesforce's customer research, 80% of customers say the experience they get during interaction with a company is as important as its products or services. Clients like to see a personal approach and be treated like a person and not a number. This means, if you want to boost your customer satisfaction via aligning your company's sales and marketing departments, Salesforce Engage is a must-have product for you.
From this article, you'll get to know about Salesforce Pardot, Salesforce Engage, and the difference between them. Moreover, you'll learn essential information about Salesforce Engage and why it's a crucial instrument for your marketing and sales teams. You'll check out exciting facts about Salesforce Engage and get a comprehensive guide on its components and features.
Difference between Salesforce Engage and Pardot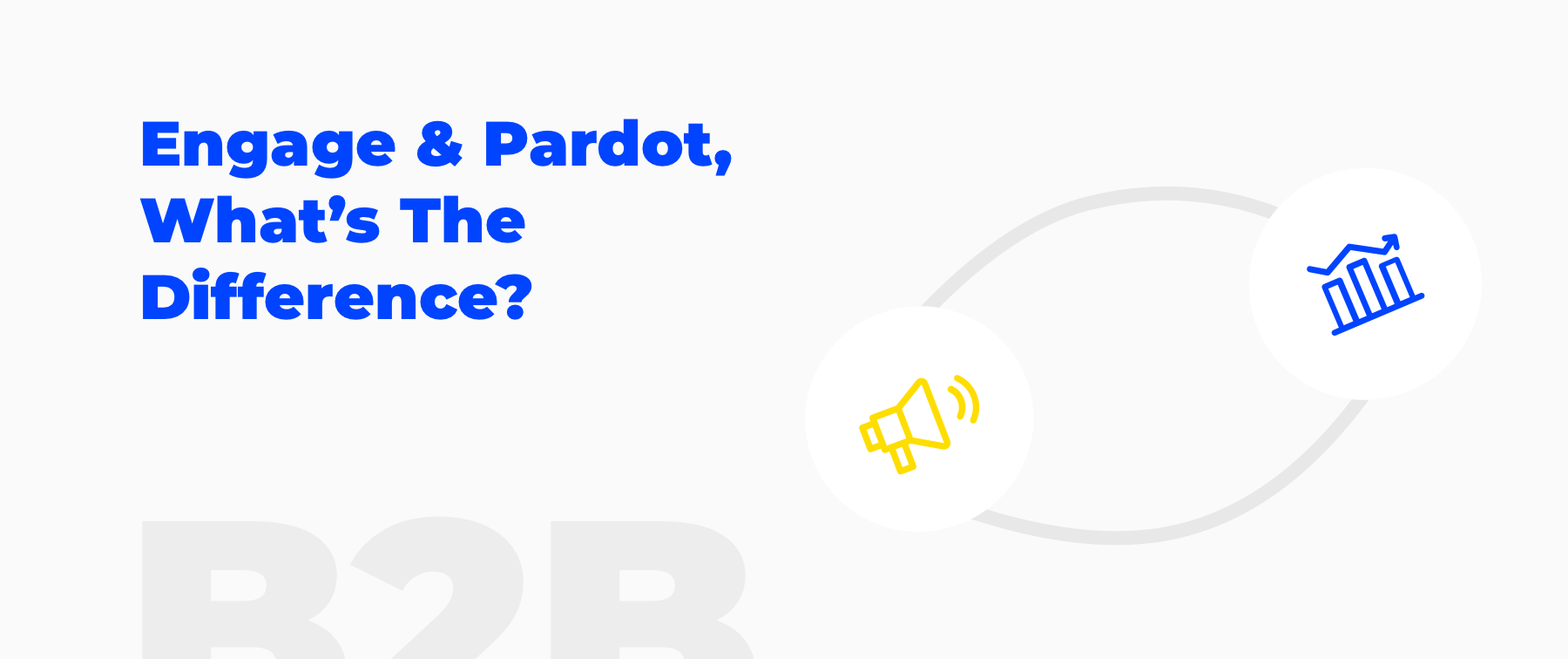 The relationship between the marketing and sales departments of your organisation is important. Do you want to know what return you get on investment? Do you want your marketing efforts to bring significant results? Would you like to follow up qualified prospects? Obviously, you would.
Then, you need to use Pardot, a marketing automation tool that allows building a bridge between marketing and sales teams of B2B companies. The key attractive features of Pardot are:
Simple Email Marketing. You can create email campaigns using an intuitive Email Builder, schedule the email sending at the right time, and add autoresponders to your forms. Furthermore, it's possible to personalise messages according to prospect engagement and optimise the sending process.
Mighty Lead Nurturing. You can provide your new prospects with a personalised tour and get potential leads. Collect email open rates, bounces, A/B testing results, and other metrics and automate lead nurturing campaigns for sending relevant content to your prospects.
Detailed Prospect Tracking. You can get to know your potential customers' preferences by setting cookies on their browsers. Set first-party cookies for tracking and third-party ones for backup. Get exciting insights about your visitors and treat them with an appropriate marketing approach based on this information.
Prospect Scoring & Grading. Finding qualified leads is no more a challenge! Set automated grading, and prospects will be evaluated based on your criteria. It allows you to make sure that inbound leads from the marketing team match your Salesforce implementation company's buyer persona the most. You can also see statistical data (lead scoring) and understand how interested prospects are in your product. It's possible to view such metrics as site searches, pricing page visits, downloads, or email clicks.
ROI & Pipeline Reporting. You can analyse campaign performance, how customers move through your sales funnel, engagement via email marketing, and much more. Moreover, you can connect other tools you use to interact with prospects and get a full picture of your marketing and sales processes.
Beneficial Salesforce Integration. You can synchronise your Salesforce CRM with Pardot and power your marketing-to-sales automation. Your marketing team can have a bird's-eye view on a prospect's journey, manage leads on each stage, and resolve appearing issues in no time.  
What is Salesforce Engage? It's an easy-to-use add-on powered by Pardot and Salesforce. Your marketers create content for the sales team in Pardot, and sales managers access them from Salesforce Engage. So, Salesforce Engage is in the middle between the marketing and sales departments and allows bringing marketing reports directly to the sales team.
Key Facts About Salesforce Engage
Salesforce Engage is a solid product with a lot of different options to bridge marketing and sales teams for exciting results. It was launched in 2015. According to Infoclutch's statistics, 1,584 companies use the Salesforce Engage solution. It isn't surprising.
According to Cuspera's Salesforce Engage Reviews 2020, the top industries that utilise Salesforce Engage for their business needs are:
Consumer (34%)
Government, NGO & Utilities (28%)
Research & Education (14%)
Technology (8%)
Consulting & Business Service (5%)
Salesforce Engage is a cloud-based add-on used for engagement and communication management and advertisement. The main channels of interacting with the prospects are email and your website. It allows you to provide email support and get custom reports easily and quickly, at the same time, to increase customer satisfaction. Using this tool, you'll be able to increase your sales and revenue, boost brand engagement, and acquire new customers.
Salesforce Engage: Key Components & Features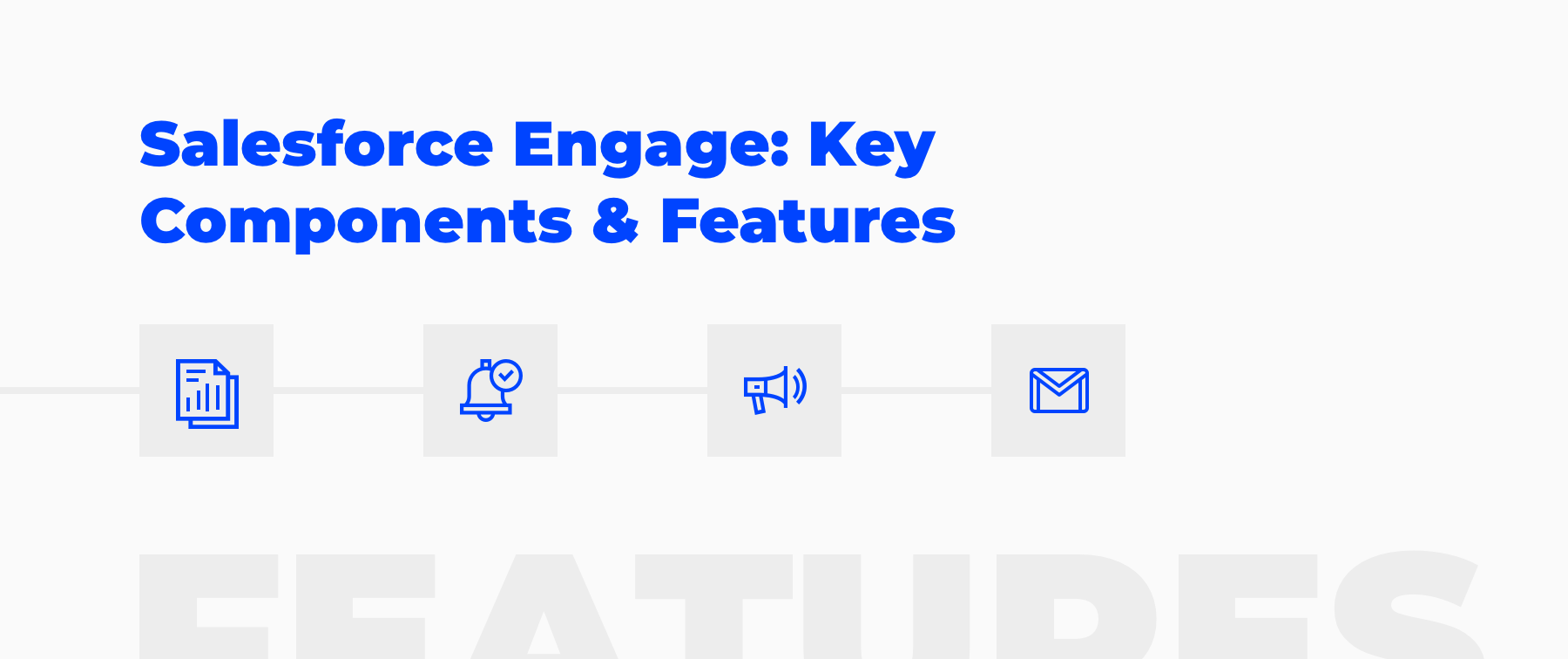 Let's check out the Salesforce Engage tool's main components and features that help you improve collaboration between your marketers and sales managers.
Components
Engage Campaigns. Stop being kept in the dark about customer engagement via email marketing. Using Engage Campaigns, you'll send relevant, marketing-approved emails to both single leads (1:1) and multiple contacts (1:many).
There is an extensive library of pre-made templates, or you'll be able to create custom ones. Moreover, you'll specify regions of emails to send and make sure all legal requirements are met. Your message will be delivered at the right time to the right customers.

Engage Reports. View Engage Reports on each of your Engage Campaigns allows tracking how leads and customers react to your emails. Engage Reports present  comprehensive delivery information, clicks/ unique clicks, opens/ unique opens.
You'll be allowed to filter emails by All Emails, Templated Emails, and Non-Templated Emails and determine the effectiveness of each of them. Thus, using Engage Reports, marketers, sales managers, and admins will analyse customer interaction and, in general, email usage, and impact.
Engage Alerts. Using this real-time Salesforce service, you'll get the data about prospects and customer activity from the past four days. Alerts will be displayed in a card-based view in Salesforce, Salesforce mobile apps for IOS and Android, and the Salesforce Engage app. You'll be able to adjust specific filter criteria (Leads and Contacts, Activity, and Geographic) to get the necessary information about a contact's latest activities.
Engage for Gmail and Outlook. Salesforce Engage offers a Gmail extension to send trackable templated or non-templated emails from your Gmail account. You'll be able to modify the list of the contacts and remove unavailable ones directly while creating an email.
Also, if you enable Outlook integration in your Salesforce org and select the Track Click & Opens option in the Gmail side panel, you'll get useful information about your prospects and customers (personal info, score, and grade in Pardot, recent marketing activities)  from your email campaign.
Features
Easy Prospect Filtering. You can group your prospects based on three main categories of criteria (Contacts, Activity, and Geographic). In such a way, you'll have separate lists and do relevant messaging to the target audience.
Consistent Branding Across Email Campaigns. Don't forget about branding. Your marketing and sales team can create your emails by using marketing-approved email templates and present your company professionally.
Deeper Insight into Prospect Activity. Thanks to Pardot functionality, it's possible to track user's interactions and behavior on your website. So, viewing Pardot data in Salesforce Engage, your sales agents will be informed about prospects' activities and preferences. Knowing that they'll improve their outreach efforts related to leads and customers.
Organised User Interface. Information about users is collected in the cards arranged in an intuitive layout using Engage Alerts. You can filter the cards by specific criteria, view the data about each customer's activities, and analyse it for improving user engagement.
Mobile Access for On-The-Go. There is an excellent opportunity to use Engage functionality in your Salesforce Mobile app. You'll be able to view your prospect activities in real-time whenever, wherever. Using an optimised, user-friendly app, you'll apply different filters, add leads to the mailing lists, and react immediately on issues just via your mobile device.
Clear Reporting for Strategic Insights. Build an effective strategy based on generated Salesforce Engage Reports. They demonstrate the performance charts of your email campaigns in detail. Using Engage Team Reports, your marketing and sales teams will be informed about a real situation according to mailing to leads.
Summary
End-user engagement and satisfaction across the entire buying cycle are fundamental pillars for your business. Fortunately, there are powerful tools for monitoring customer interactions and level of engagement. Salesforce Engage is an irreplaceable tool for well-coordinated teamwork between marketing and sales departments. Using Pardot statistics, they'll be able to exchange relevant and useful information in Salesforce Engage in no time.  

One of the main advantages of Salesforce Engage is its simple, understandable interface and functionality. You don't need to spend a lot of time on training and can follow the instructions from the Salesforce Engage step-by-step guide.
FAQ
What is Salesforce Engage vs Pardot?

Salesforce Engage is a sales acceleration product that helps sales reps engage with prospects and customers more effectively. On the other hand, Pardot is a marketing automation platform that helps to create and manage marketing campaigns, generate leads, and nurture prospects through the sales funnel. The main difference between Salesforce Engage and Pardot is their focus on different aspects of the sales and marketing process. Salesforce Engage is more focused on sales acceleration and providing sales reps with the tools they need to engage with prospects and customers more effectively. Pardot, on the other hand, is more focused on marketing automation and providing marketers with the tools they need to generate leads and nurture prospects through the sales funnel.