TOP 10 Salesforce Consulting Companies for 2023
Table of Contents
Do you know that the top Salesforce trends impacting 2023 are artificial intelligence and machine learning, voice assistants, customer experience personalization, low-code app development, and a mobile-first approach? Well, knowing the trends is a great start, but more is needed to ensure success. It's like having a map showing a general direction but not getting you to your destination.
To truly make the most of these trends, you need the right skills, experience, technology partner, and guidance from professionals who know Salesforce inside and out. Fortunately, many talented Salesforce consultants are available to help you optimize your sales cloud solutions and achieve your goals. Their deep knowledge of the platform and ability to customize solutions for your unique needs make them an invaluable asset to any organization.
What are the leading Salesforce consulting companies?
What are the benefits of hiring a Salesforce consulting firm?
How to choose the most suitable consulting company?
Get your answers right here and give your business a fresh breath of air!
TOP 10 Salesforce Consulting Companies for 2023
As is said, Salesforce consulting firms are instrumental in supporting businesses to enhance their Salesforce infrastructure. First, they assess and analyze a company's existing Salesforce infrastructure. Specifically, they thoroughly evaluate the company's sales operations, processes, and systems to identify improvements and inefficiencies.
CRM consulting services also assist businesses in selecting and implementing the right Salesforce technology platforms business solutions and tools. They have in-depth knowledge of various Salesforce automation systems, customer relationship management software, cloud-based solutions, and analytics tools.
Additionally, consulting firms provide ongoing support and guidance to ensure successful Salesforce implementation and maintenance. They work closely with businesses to monitor progress, identify challenges, and make necessary adjustments to maximize the effectiveness of the salesforce products and processes.
Finding the best Salesforce consulting service cloud and company for your business can be challenging. So, to ensure a fully informed decision, it is crucial to consider the consultant's experience level and the services they offer. Our team is readily available to provide guidance throughout this process!
Our list of top Salesforce consulting companies in 2023 includes those who understand your goals, processes, and requirements. The following consultants are dedicated to optimizing your Salesforce experience, improving workflow, and boosting ROI, ultimately helping your business generate more revenue.
MagicFuse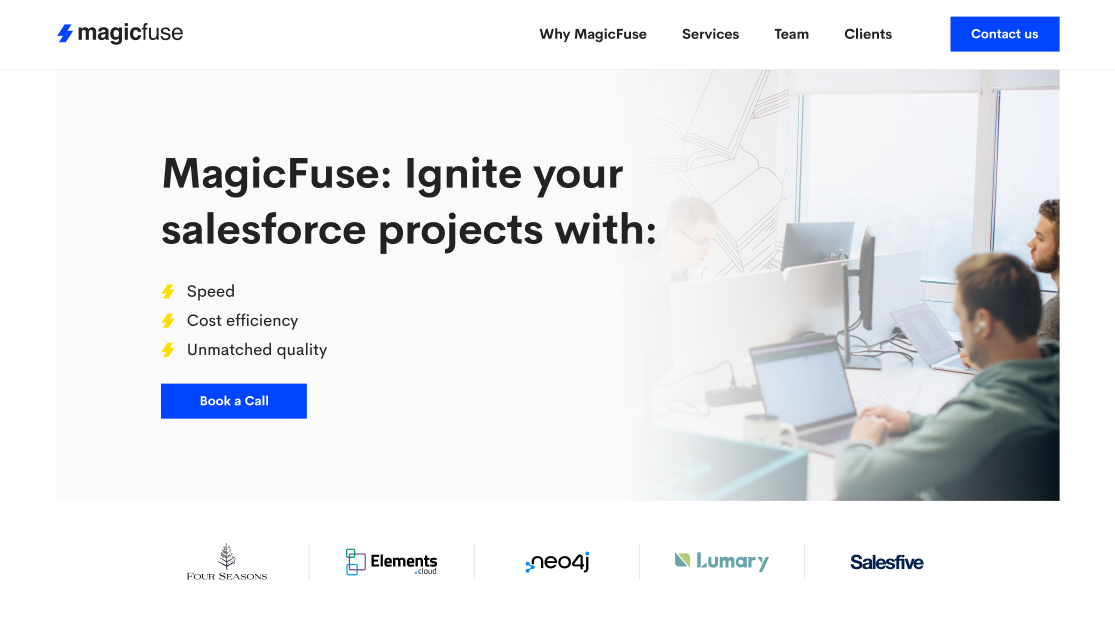 Since 2016, MagicFuse, a leading Salesforce consultant, has assisted countless businesses in developing technical solutions for automating their processes with the help of Salesforce capabilities. The team's expertise has been honed through numerous intricate projects, and they continue to enhance their technical skills further by attending conferences.
MagicFuse's certified specialists are passionate about guiding you in selecting the most appropriate tools and features for your business at every stage of the web development process, from design to execution. They easily tackle complex web development projects and tailor Salesforce solutions to meet their client's requirements.
Services:
Salesforce ISV development
Salesforce custom development
Salesforce integration with 3rd-party apps
Salesforce implementation services
Salesforce managed services
Year of foundation: 2019
Headquarters location: London, United Kingdom
Employees: 50 - 249
Rating on Clutch: 4.8
Rating on AppExchange: 4.8
Algoworks Solutions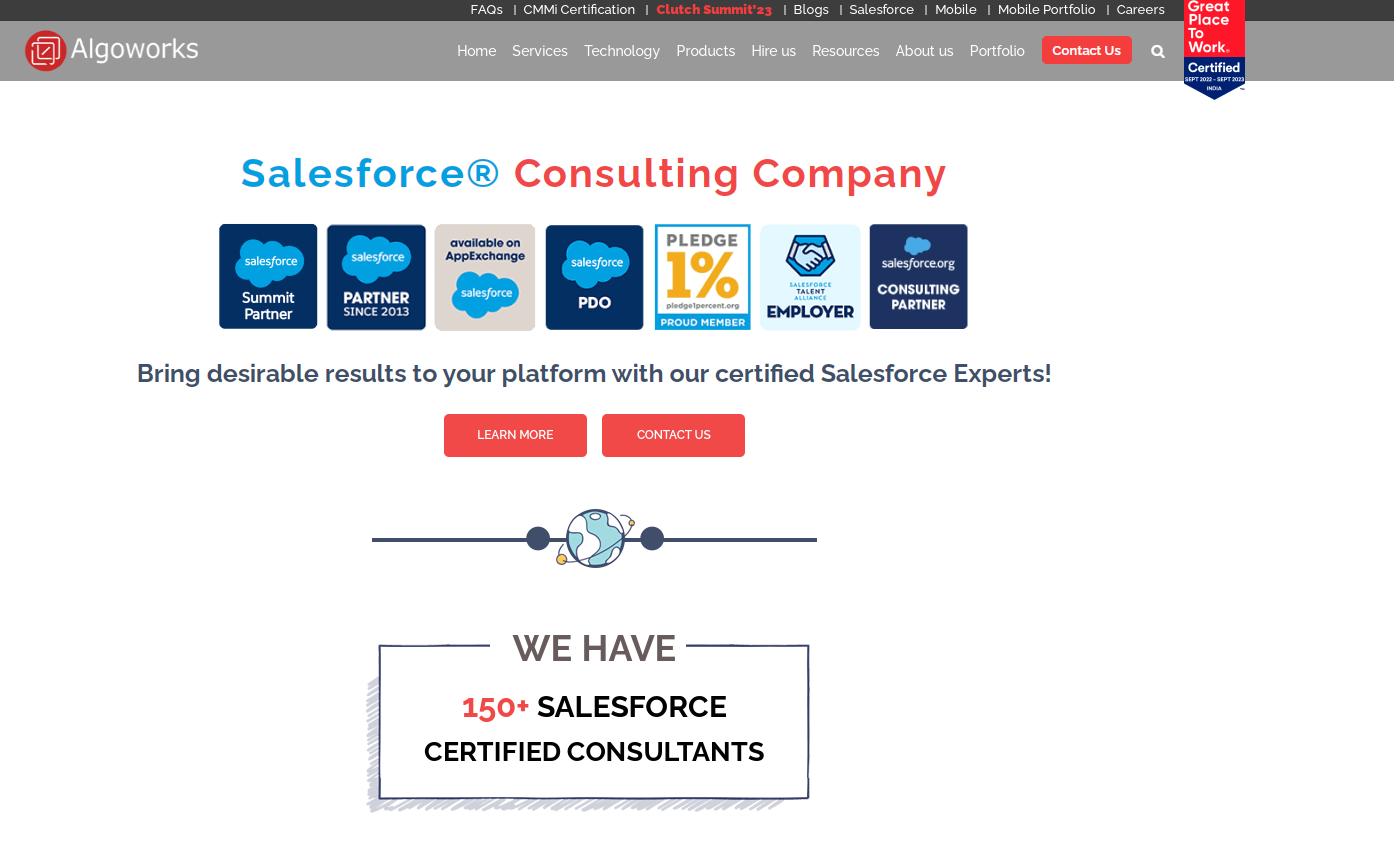 Algoworks is a well-known technology expert and renowned Salesforce development company, boasting a remarkable customer retention rate of 95%. Their certified Salesforce developers implement DevOps techniques to help businesses improve their software processes. For instance, you can benefit from automated testing, continuous integration, and automated deployments.
Services:
Salesforce consulting services
Customer relationship management
Software production engineering
Enterprise content management systems
Mobile app development
Year of foundation: 2006
Headquarters location: Noida, Uttar Pradesh
Employees: 400-450
Rating on Clutch: 4.8
Rating on AppExchange: 4.7
Vention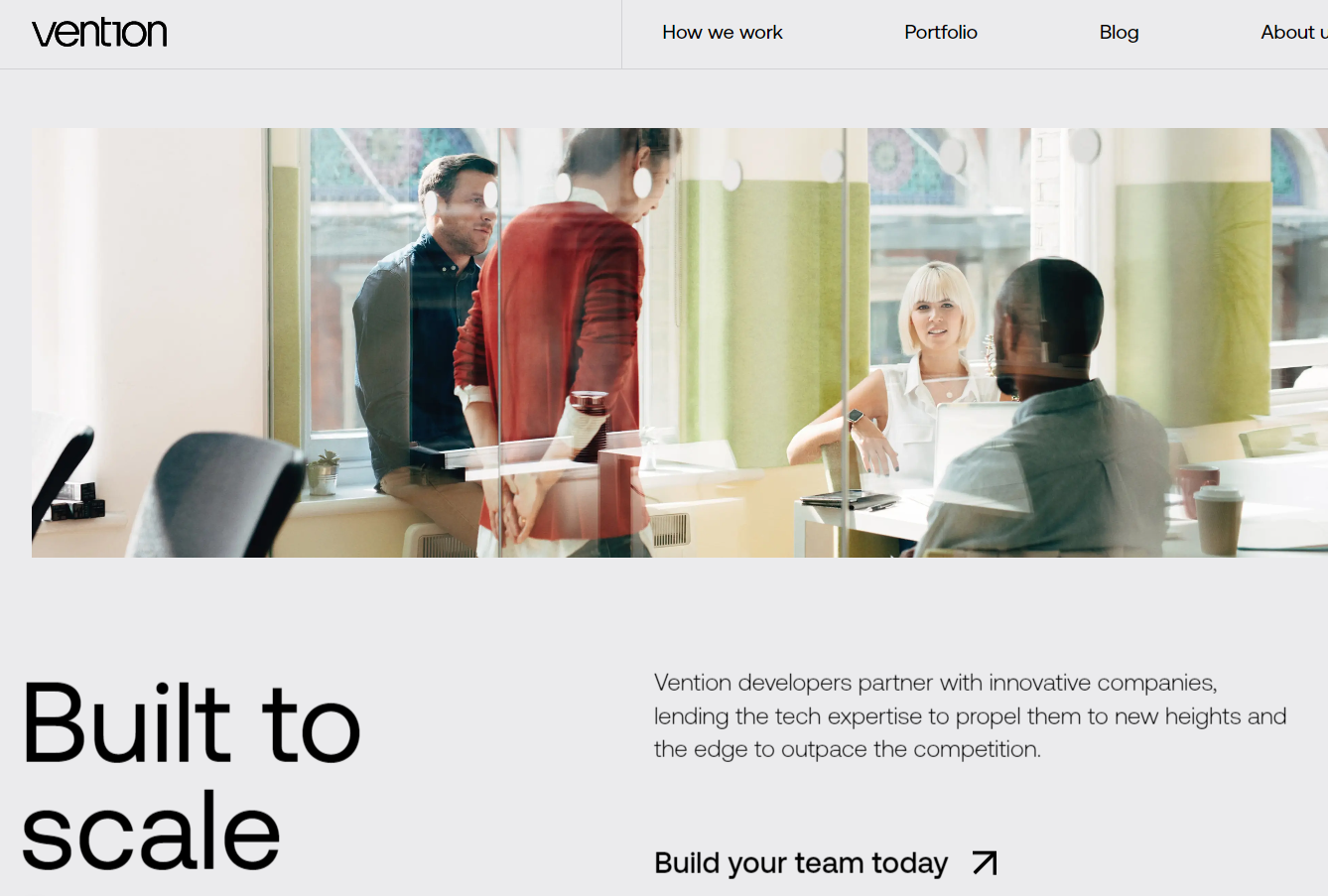 Vention, a certified custom software development company with over 10 years of experience, collaborates with growing startups and technology companies to create products that improve efficiency and customer experiences. Thus, Vention's team consists of 80+ certified experts who provide integration and tailored, business intelligence solutions to companies of all sizes and industries, resulting in increased returns on investment.
Services:
Salesforce implementation
Salesforce consulting services
Salesforce managed services
AppExchange app development
Marketing automation solutions
Year of foundation: 2002
Headquarters location: New York, USA
Employees: 3000+
Rating on Clutch: 4.9
Rating on AppExchange: 4.9
SP Tech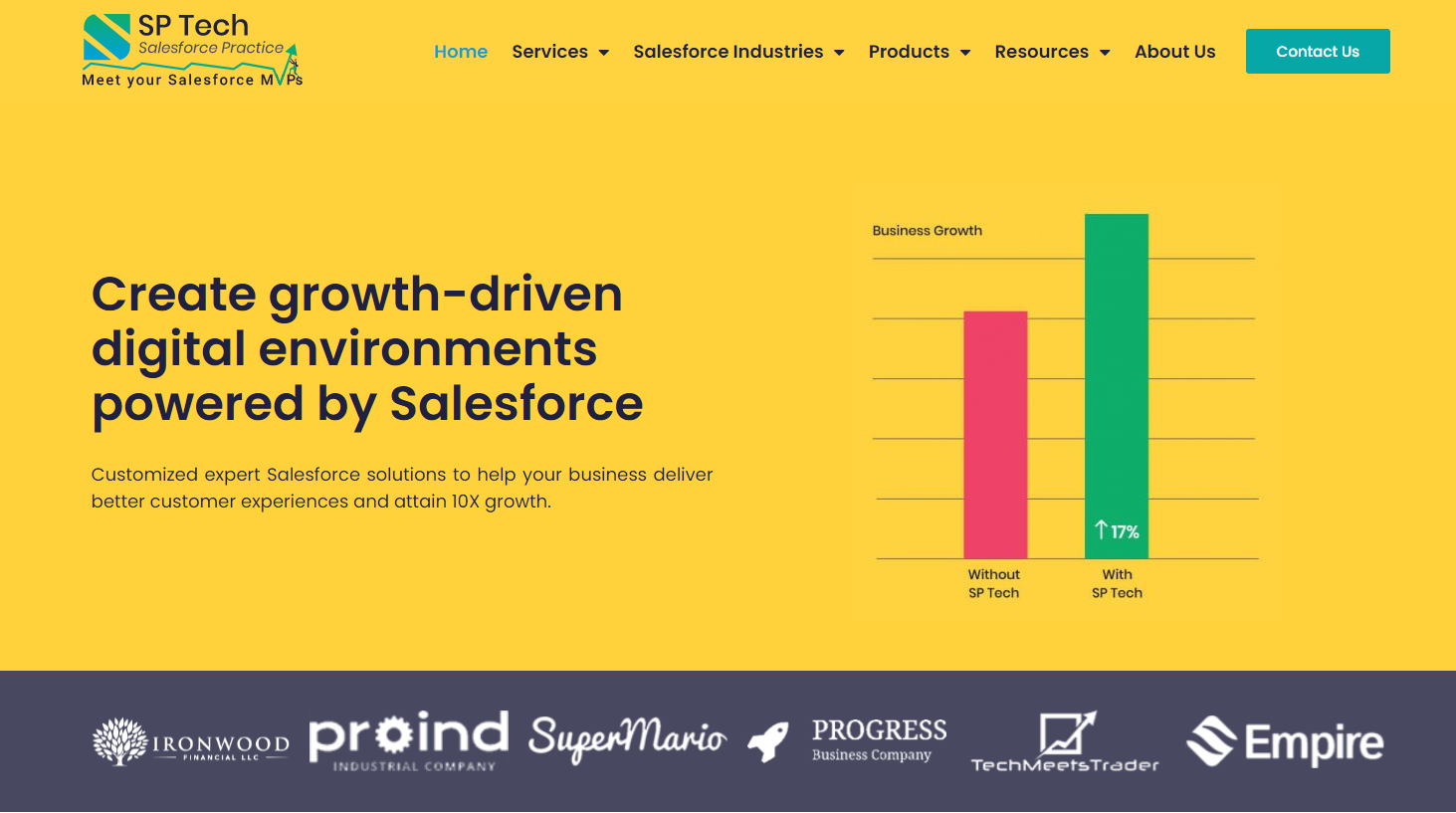 SP Tech specializes in providing customized Salesforce consulting services that cater to your business needs, aimed at enhancing customer experiences and driving significant growth. Since 2015, it company, they have been assisting businesses in creating and using marketing campaigns, maintaining digital systems, and offering various services to analyze and leverage customer data to achieve rapid growth.
Services:
Salesforce consulting services
Salesforce service cloud implementation
Salesforce marketing cloud implementation
Salesforce sales cloud implementation
Salesforce Pardot implementation
Year of foundation: 2015
Headquarters location: Atlanta, Georgia, USA
Employees: 11-50
Rating on Clutch: 4.9
Rating on AppExchange: 4.9
Girikon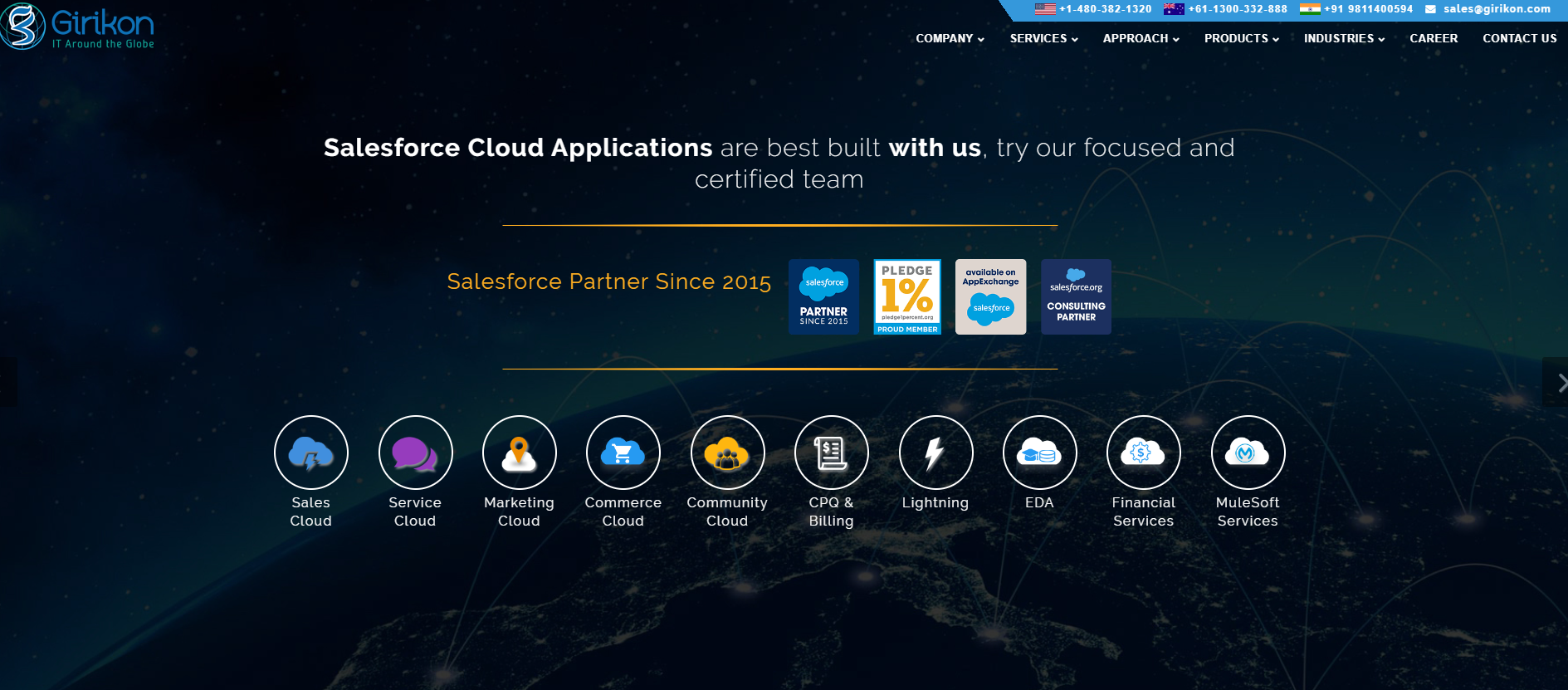 Girikon is a reliable Salesforce consulting partner that offers complete and specialized Salesforce solutions, to clients worldwide. Their full team consists of certified Salesforce experts who possess a deep understanding and extensive experience, enabling them to provide recommendations, advanced suggestions, and action plans to guide clients during their exploratory phase of Salesforce.
Services:
Salesforce consulting
Sales, Service, and Community Cloud
Salesforce integration (Mulesoft)
Salesforce CPQ
Salesforce Billing
Year of foundation: 2015
Headquarters location: Phoenix, Arizona, USA
Employees: 101 – 250
Rating on Clutch: no reviews
Rating on AppExchange: 4.9
DB Services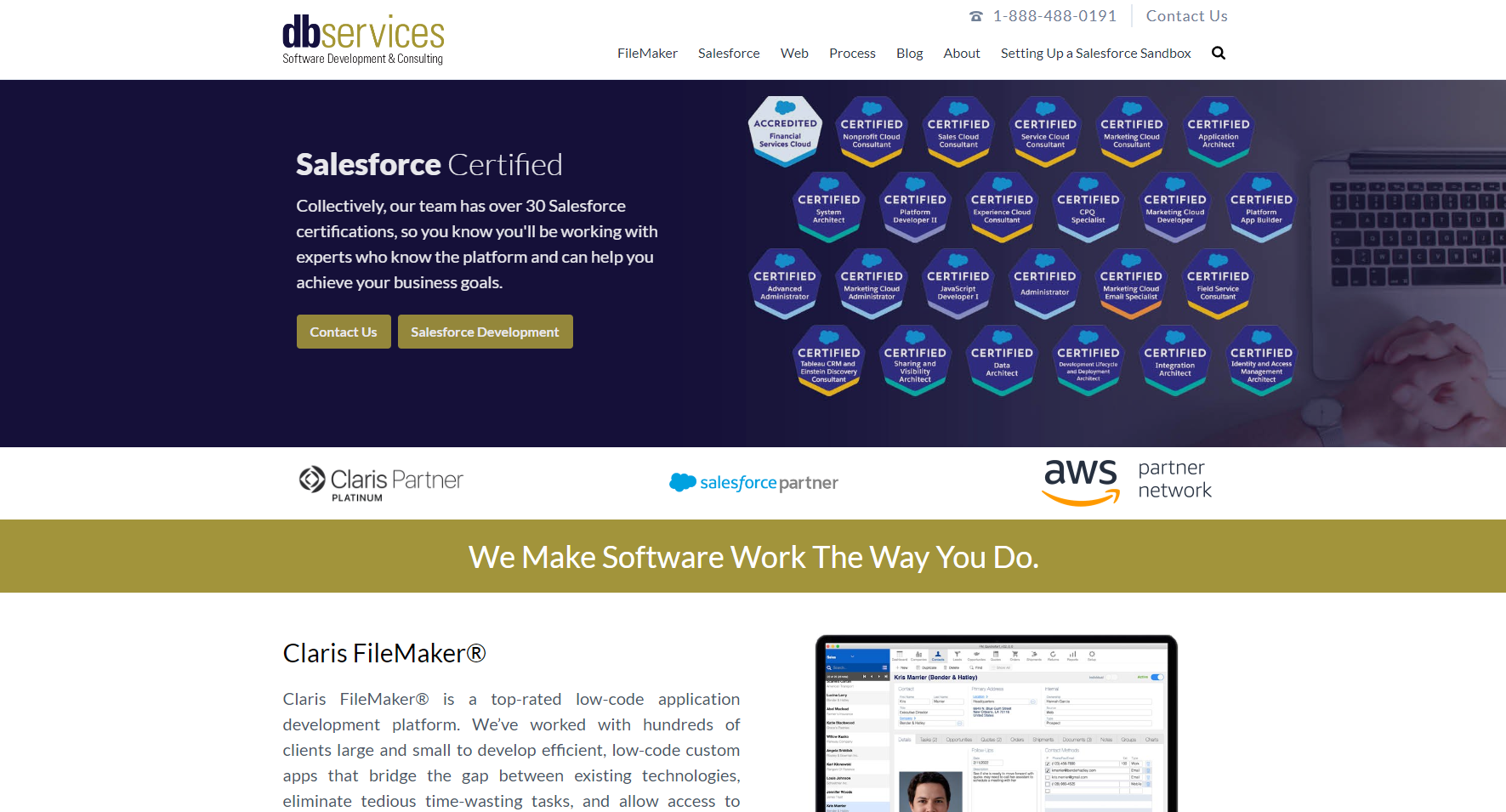 With over 18 years of exceptional service and proven Salesforce expertise, DB Services have assisted countless clients of all sizes in creating customized apps that streamline tasks, connect different technologies, and provide easy access to crucial information. While DB Services have experience in full custom software development and outsourcing for various industries and solutions, their primary focus is on Salesforce, Claris FileMaker, and Web Applications.
Services:
Salesforce consulting
Salesforce implementation
Salesforce development
Custom integrations
Salesforce support
Year of foundation: 2003
Headquarters location: Indianapolis, IN, USA
Employees: 10 - 49
Rating on Clutch: no reviews
Rating on AppExchange: 4.9
Demand Blue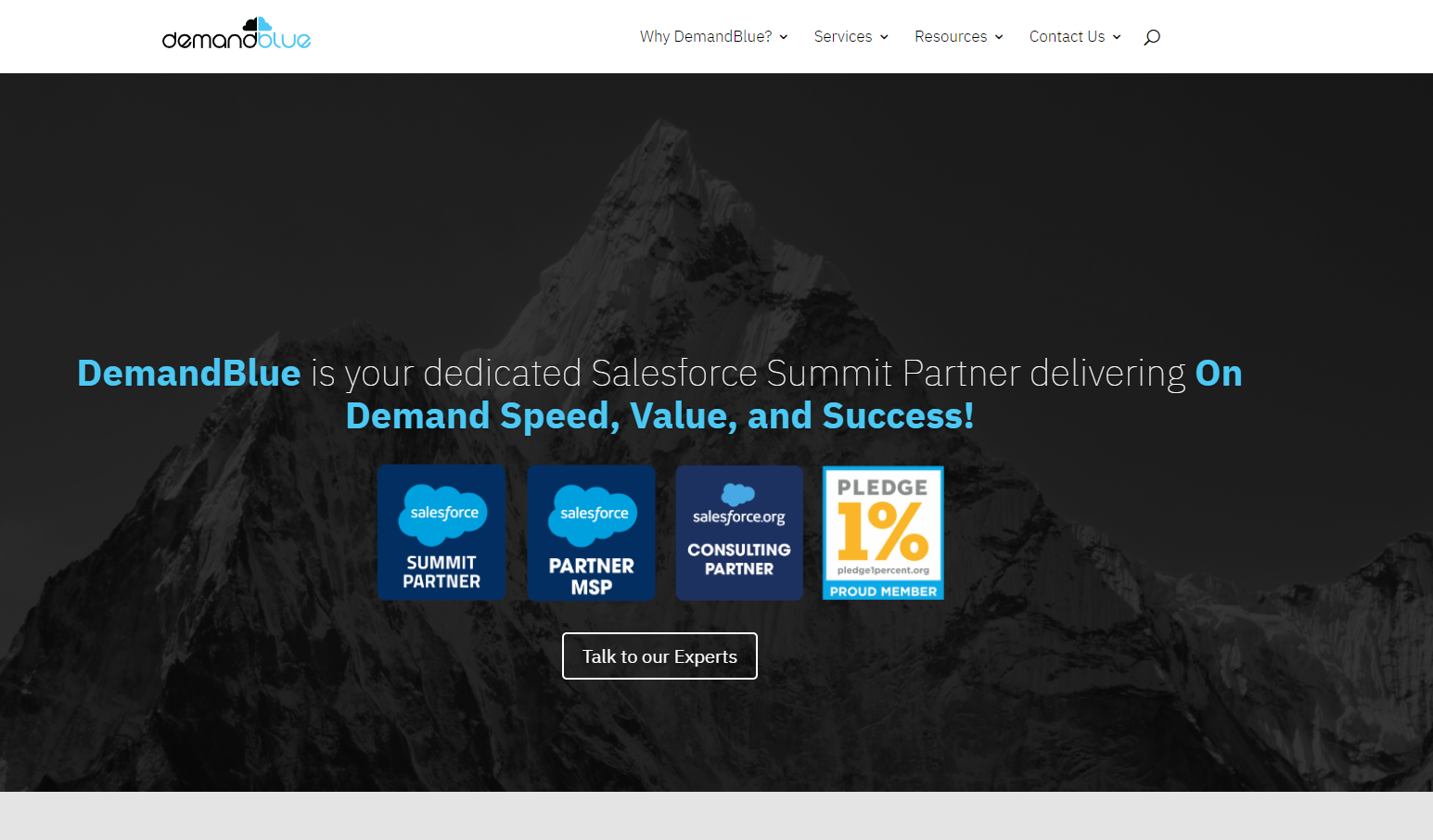 Demand Blue is a team of expert Salesforce Consultants committed to enhancing your business's value. Their range of professional services, including Salesforce Cloud, Marketing Cloud, and Salesforce implementation, is designed to take your business to new heights. Notably, they operate on a Pay-as-you-Use Salesforce model adapting effortlessly to your flexible business requirements. Moreover, you have the freedom to choose how much service you want based on your needs.
Services:
Salesforce consulting services
Salesforce implementation
Salesforce integration
Salesforce development
Admin support and maintenance
Year of foundation: 2017
Headquarters location: Greater Los Angeles Area, USA
Employees: 50 – 249
Rating on Clutch: no reviews
Rating on AppExchange: 4.9
Plative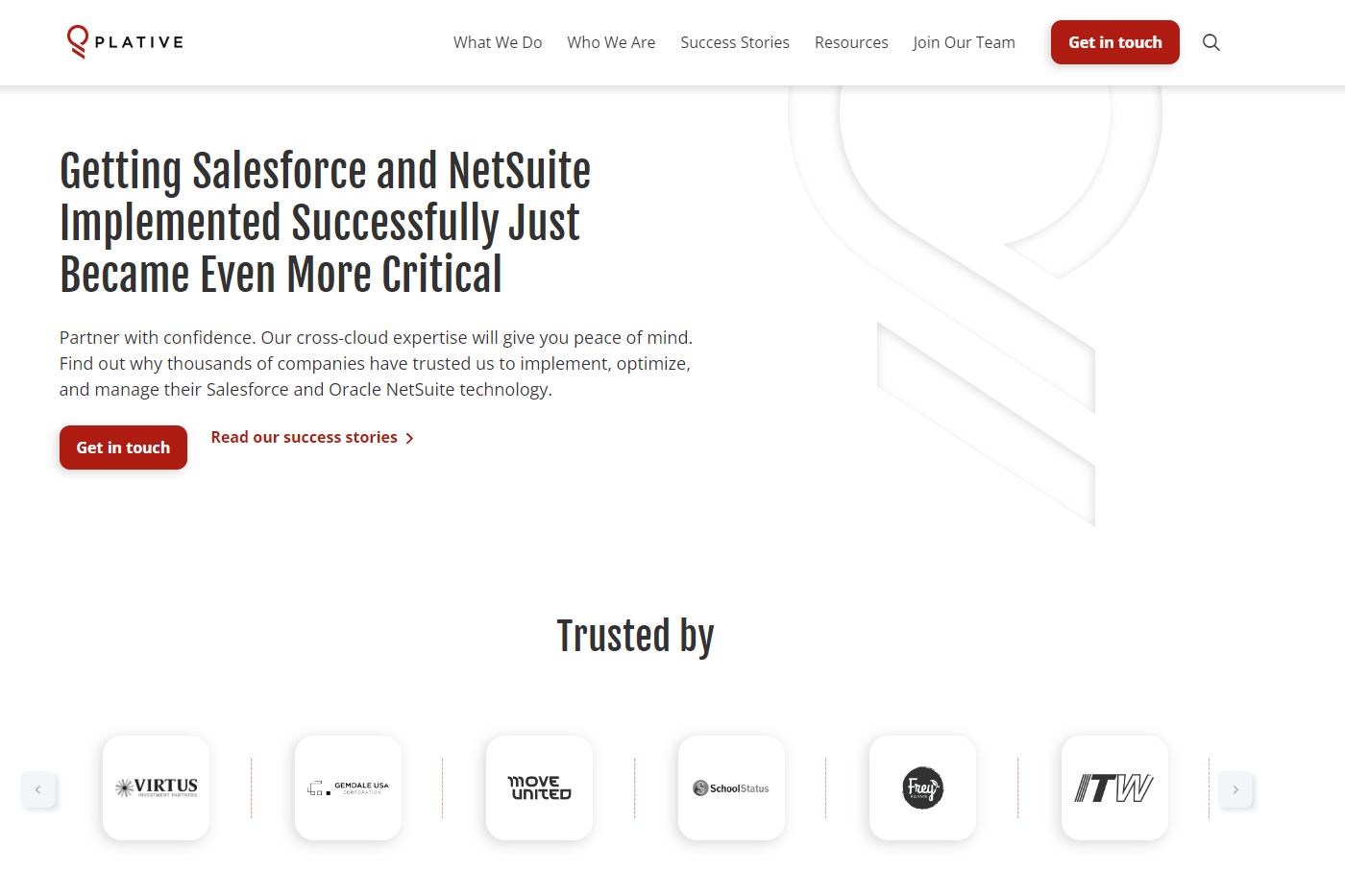 Plative is a Salesforce consulting firm that helps clients achieve success by unlocking their full potential. Besides, they have a team of experts specializing in Amazon Web Services, Oracle NetSuite, and Heroku. Plative assists clients in creating full project management and roadmap and connecting different platforms to gain customer insights and manage financial services efficiently. They also provide training and onboarding services to help users make the most out of their systems, avoiding the Salesforce ecosystem's complications.
Services:
Salesforce Marketing Cloud
Salesforce Experience Cloud
Salesforce Revenue Cloud
Salesforce Financial Services Cloud
Nonprofit Cloud
Year of foundation: 2014
Headquarters location: New York, USA
Employees: 51 – 100
Rating on Clutch: 4.7
Rating on AppExchange: 4.9
Avenga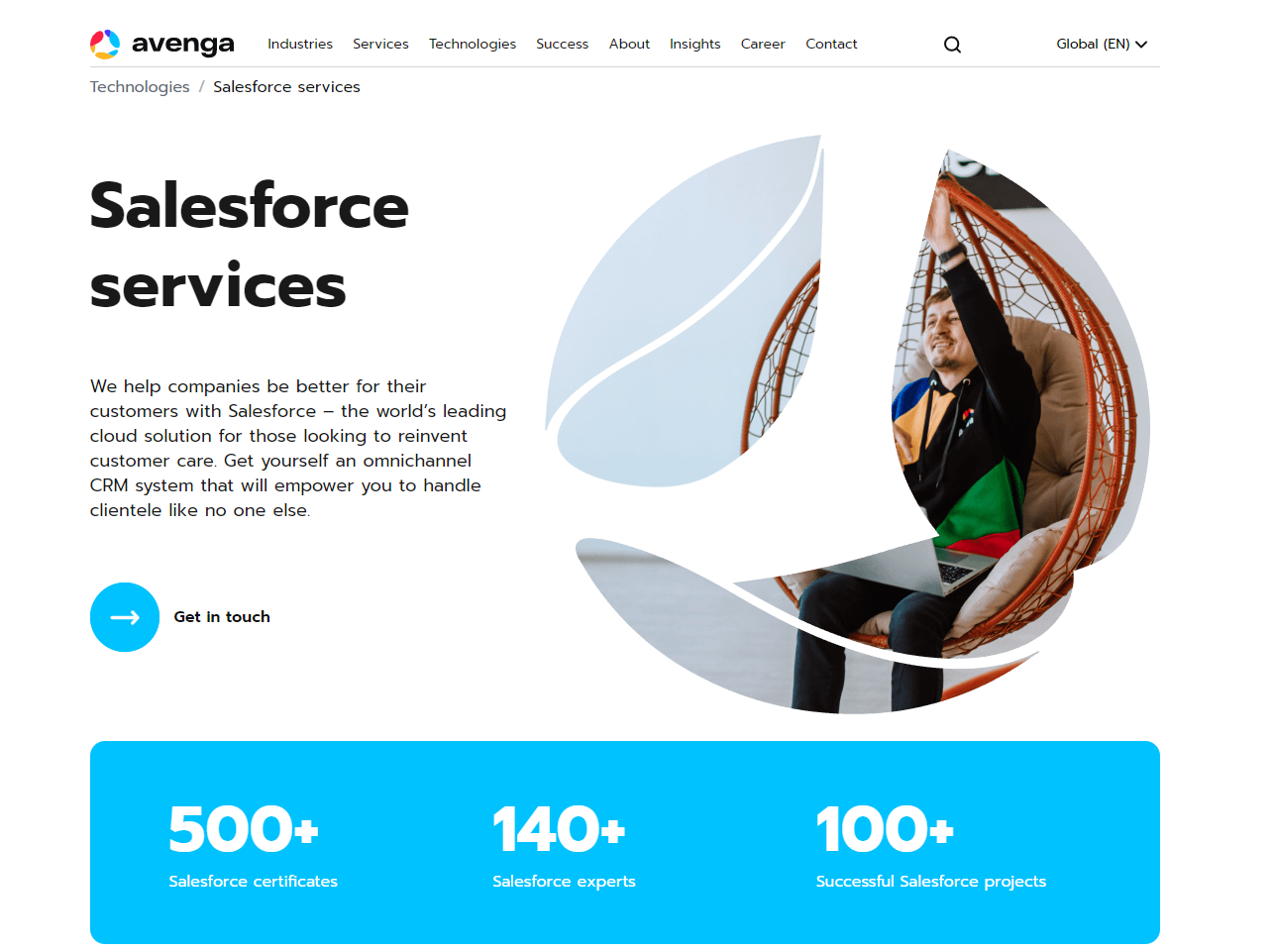 Avenga is a versatile company that offers a variety of CRM consulting services across multiple industries and business sectors. They specialize in Salesforce solutions and provide expertise in administration, configuration, consulting, integration, product creation, customization, salesforce implementation partner,, training, and ongoing support. Avenga's extensive experience includes over 100 successful Salesforce projects for satisfied clients, setting them apart from other consulting firms.
Services:
Salesforce consulting
Salesforce app development
Salesforce implementation and customization
Year of foundation: 2019
Headquarters location: New Jersey, USA
Employees: 1001 – 5000
Rating on Clutch: 4.8
Rating on AppExchange: 4.9
SoftServe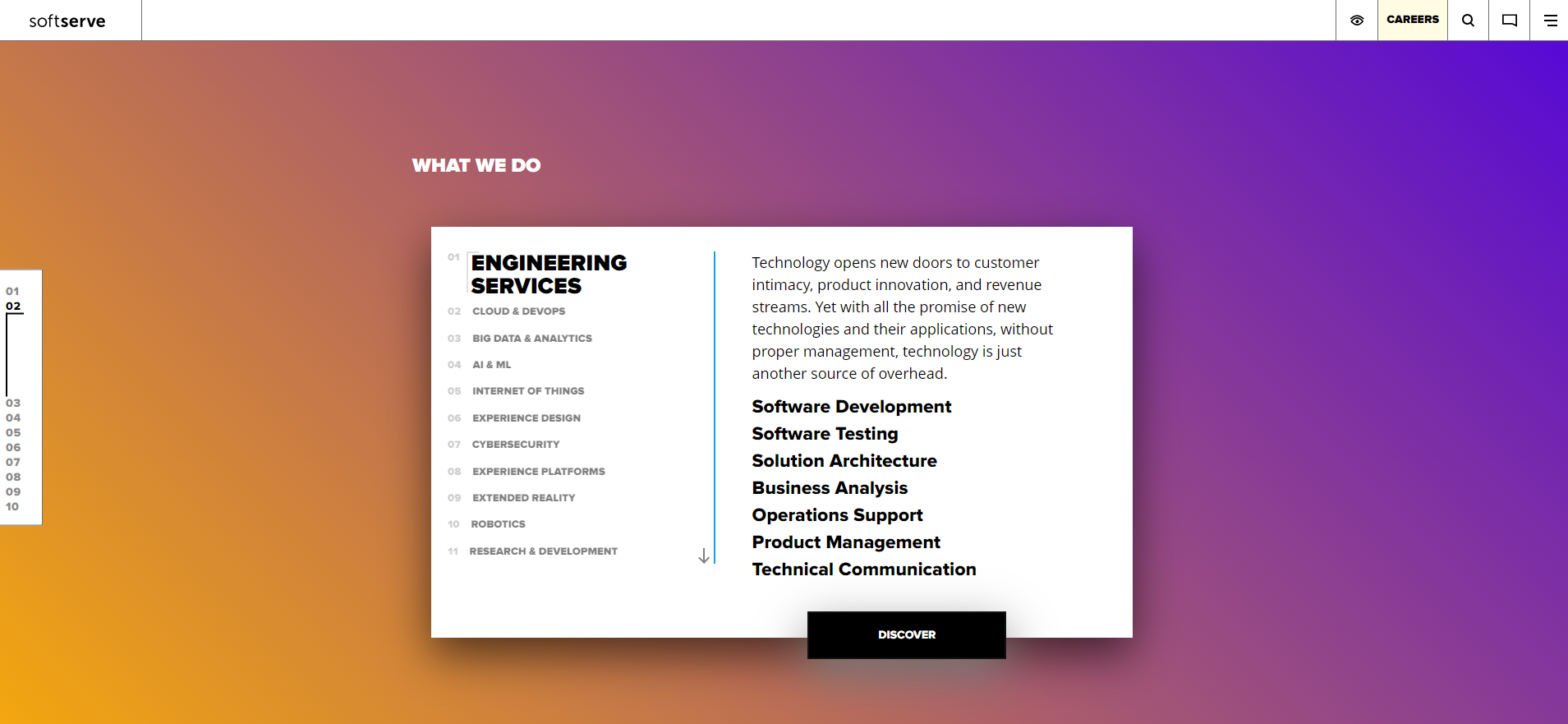 SoftServe, in collaboration with Salesforce, assists companies in harnessing the power of Salesforce technology and delivering robust solutions. Furthermore, SoftServe possesses the expertise to handle even the most difficult Salesforce upgrades effectively. Also, their track record of delivering successful projects is a testament to their ability to complete complex sales pipeline upgrades for their clients accurately.
Services:
Product development
Salesforce implementations
Integrations and systems merge
Salesforce solution enhancements
Administration and user training
Year of foundation: 1993
Headquarters location: Texas, USA
Employees: 5001 – 10,000
Rating on Clutch: 4.8
Rating on AppExchange: 4.9
Benefits of Hiring Salesforce Consulting Company
Find out what benefits you get from a Salesforce consulting company and make a wise business decision for your team without hesitation.
A better understanding of your clients
Salesforce's focus on tracking customer journeys necessitates that you comprehend both user and business requirements. From a Salesforce consultant's established approach, you better understand how your customers' needs relate to your business. As a result, you can better tailor the customer experience and create more relevant products and services.
Quick problem-solving
When conducting a needs analysis and developing a plan to address them, top Salesforce consulting firms bring a variety of tried-and-true methods with them. Thus, you can translate design thinking, user stories, and user scenarios into Salesforce functionality with the assistance of a consultant. It's like having a chef in the kitchen: you can provide them with the recipes, but they know how to take those ingredients and turn them into something amazing!
Compliant data practices
The Salesforce consulting company ensures regulation and data practices compliance. Specifically, when collecting, keeping, and utilizing consumer information, your consultant will assist you in putting best practices into action. Furthermore, you can manage data from other systems with the consultant's assistance. Also, you can receive guidance from a consultant to ensure that your team's initiatives are compliant.
Optimal performance
A consultant well-versed in Salesforce's platform and complex technical environments may design custom development and tailored implementations to fit specific business needs and systems that can be scaled up as your clientele increases. The experts can also put in place monitoring systems for spotting any variations in performance indicators like response time or other crucial parameters.
Reduced costs
Salesforce platform consultants can spot possibilities to reduce software licensing to save money. They also spot places where costs could be cut back or shifted. For instance, a Salesforce consultant might suggest a different user type that has fewer access privileges but still meets the user's needs, allowing the company to save money on licensing costs. In addition, a Salesforce platform consultant can advise on optimizing the utilization of existing licenses to get the most out of the Salesforce investment.
Boosted ROI
Collaborating with a trustworthy Salesforce consulting company can significantly improve a business's financial gains. These seasoned professionals boast extensive expertise in developing widely-used systems and ensuring that Salesforce is utilized to its fullest potential to enhance your business. They offer clear and concise guidance to ensure smooth business operations and create systems that generate positive outcomes.
With their ability to tackle complex business problems and provide reliable advice, certified Salesforce partners can assist businesses in successful Salesforce implementation requires maximizing the software's potential, leading to seamless implementation and quicker returns on investment. Thus, by leveraging consultants' proficiency with salesforce products, companies can optimize their investment and gain tremendous success, which can ultimately lead to better customer satisfaction and higher retention rates.
How to Choose the Best Salesforce Consulting Partner?
Top salesforce consulting companies are as different as the needs of their customers. For example, a service perfect for one team may derail another. So, how to avoid mistakes and choose a best salesforce consulting companies and company that will definitely take your business to new heights? Just do the following:
Define your needs
First of all, you should understand what is needed to improve your business processes and achieve goals. A helpful approach is to prepare a list of your needs to help narrow down your search for the most suitable Salesforce consulting companies that can meet your expectations.
Do your research
Once you have identified your needs, it's time to seek out companies that can fulfill them. Look for certified, experienced Salesforce consultants with a proven successful project implementation track record. It confirms their expertise and ability to provide you with top-quality service.
Check industry experience
Choosing a Salesforce consulting company that has experience in your industry may be game-changing as they have a better understanding of your needs and challenges. Furthermore, with their background knowledge, they can not only solve your current problems but also provide strategic advice and support for your future growth.
Look for certifications
As a rule, leading Salesforce consulting companies have certificates officially confirming their profound skills and knowledge. Thus, you not only receive the most reliable and up-to-date advice but also get a return on your Salesforce investments.
Check references
When you are looking for a CRM consulting service, it's always helpful to read reviews and check references from people who have used the service before. They can give you an honest look at the company's strengths and weaknesses so you know what to expect. As a result, you can make an informed decision about whether or not this service is right for you.
Top 7 Mistakes to Avoid When Choosing a Salesforce Consulting Company
Salesforce's popularity worldwide has increased the number of consulting firms, making it difficult for consumers to select the most appropriate one. Regrettably, some customers end up making mistakes when choosing a firm, which can lead to a loss of trust and wasted money. Luckily, you can prevent this outcome by learning about the most frequent mistakes ahead of time.
Lack of a defined set of company goals
Salesforce consultants can undoubtedly bring positive changes to your business, but you are responsible for guiding them in the right direction as the business leader. What should you do?
Define why you need this solution, identify the business goals your consultant should help achieve, and determine the desired direction for your business after implementation. With all this information, a consulting firm can fully understand your team's needs and how to address them effectively.
Underestimating the importance of reviews
When it comes to finding the right Salesforce consultant, it's easy to be swayed by flashy websites and impressive feature lists. However, it's essential to look beyond the surface to ensure you get the service you deserve.
By checking out customer reviews and ratings on AppExchange, you can compare different providers and make an informed decision that best suits your needs. Choosing the right provider can result in disappointment and wasted money, so take the time to do your research and choose wisely.
Making hasty decisions
When investing in a Salesforce deployment, it's essential to approach the decision without fuss. We know it can be tempting to follow in the footsteps of rivals using the services, but making an informed decision based on your specific needs and requirements is crucial.
To ensure you're making the right choice, seek guidance from people you trust and leverage Salesforce resources such as AppExchange and the Trailblazer Community. These platforms offer a wealth of information on consulting companies that can help you with your deployment. Take your time to analyze their past work, including their previous clients and expertise in your industry. By comparing and contrasting various companies, you can rest assured that you're making a well-informed decision aligning with your business goals.
Hiring a consultant with insufficient experience
Considering the level of industry-specific knowledge a consultant has is critical when seeking advice and solutions for Salesforce. While consultants may have a wide range of knowledge, those with direct experience in your particular industry may be able to provide more tailored recommendations.
For example, a consultant who has previously worked in the pharmaceutical industry may be better equipped to advise on managing patient data than one who has only worked in retail. By paying attention to a consultant's background, you can ensure that you receive the most beneficial guidance possible.
Lack of cooperative approach
The success of Salesforce implementation is heavily reliant on the collaboration between the client company and the consultant. By working together, both parties can create optimal solutions to meet the company's needs. Therefore, when seeking a consulting firm, it is essential to ensure that they involve their clients in the decision-making process.
Clients have the best understanding of their business needs and preferences, and their input should be considered when devising a Salesforce implementation plan. Moreover, by having you actively participate in the decision-making, the consulting firm can guarantee that your objectives and goals are being addressed, leading to a successful Salesforce implementation.
Ignoring the long-term perspective of cooperation
Some business leaders mistakenly believe a consultant's role ends with a Salesforce deployment. Far from it – once your project is implemented, it's important to ensure user adoption of the platform, optimize its efficiency, and address any issues that arise. Moreover, as your company evolves, so should your CRM. Collaborating with a seasoned Salesforce partner with extensive knowledge of the product will make it easier for you to enhance it. Therefore, carefully select a dependable Salesforce partner to establish a lasting partnership.
Overlooking a cultural fit
Take into account not only technical expertise and experience but also the significance of cultural fit. It determines how well the consultant's values, beliefs, and working style align with the organization's. When consultants are an excellent cultural fit, they are more likely to understand and appreciate your tasks and targets. Such alignment can result in better collaboration, communication, and a more successful Salesforce implementation.
By carefully considering these factors, you can now choose a Salesforce consultant without making any mistakes. Remember that selecting the right service can help your salesforce company to grow exponentially!
How Did We Evaluate These Companies?
We are dedicated to helping you find the best company with the optimal solution, and thus we have meticulously curated a list of the top Salesforce consulting companies. Our extensive research analyzed several factors, including the expertise of Salesforce consultants, the breadth of Salesforce services provided, ratings on reputable review sites, and client feedback.
Additionally, we considered consulting companies' size, industry recognition, financial services, and history of successful projects. Based on these criteria, our experts have identified the most outstanding CRM consulting services that can assist you in achieving your desired results.
Conclusion
After learning about top Salesforce consulting partner companies for 2023, the benefits your team gets from them, and factors to consider when selecting a service, you are now equipped to make a well-informed business decision. And this decision will definitely pave the way for new accomplishments in your company's future!
FAQ
What does a Salesforce consulting firm do?
Salesforce consulting firm optimizes the Salesforce platform for clients across industries. Specifically, Salesforce consultants consider your requirements as they implement and optimize Salesforce solutions. When a consultant is involved, Salesforce adapts to an organization like a block of plasticine, shaping itself to fit its unique needs and processes.
How to choose the best Salesforce consulting services?
To choose the best Salesforce consulting services, you should define your needs, research potentially suitable companies, check their experience in your industry and check for certifications and references.
How many Salesforce consultant companies are there?
Thousands! The number of Salesforce customers as of 2023 is 150,000. And many of them are looking to improve the Salesforce solutions and customize them to specific needs, creating the demand for Salesforce consultants.