Salesforce Editions Comparison: Choosing the right Edition for your Business
Table of Contents
In the commercial landscape of the 2020s, businesses of all types and sizes need an effective CRM solution to function effectively. That's as true for small independent businesses as it is for multinational corporations. While there are numerous software options out there, Salesforce, the cloud-based CRM solution, is far and away the most popular choice across the business spectrum. In fact, it has more than 40 percent market share.
Which Salesforce Edition to Choose For Your Business?
Salesforce has almost as many users as all the other CRM solutions out there put together. Part of the reason for its popularity is its flexibility and versatility. That does, however, mean that there is more to choosing Salesforce than merely signing on the line and getting on with your day.
Salesforce is available in five different editions, and it is not simply a case of choosing according to "scale." Yes, the size of your business will certainly be a factor in deciding which Salesforce edition is the best choice for your business, but it is not the only one.  
All You Need to Know About the Different Salesforce Editions
Salesforce offers the following five distinct editions of its cloud-based CRM solution:
Salesforce Essentials
Salesforce Professional
Salesforce Enterprise
Salesforce Unlimited
Salesforce Developer
Each of these Salesforce editions is tailored to meet specific business objectives, and while the size of your organisation is a factor in choosing the right one, it would be over simplistic to simply say Essentials is for small businesses, Unlimited is for large ones and the rest fall somewhere in between.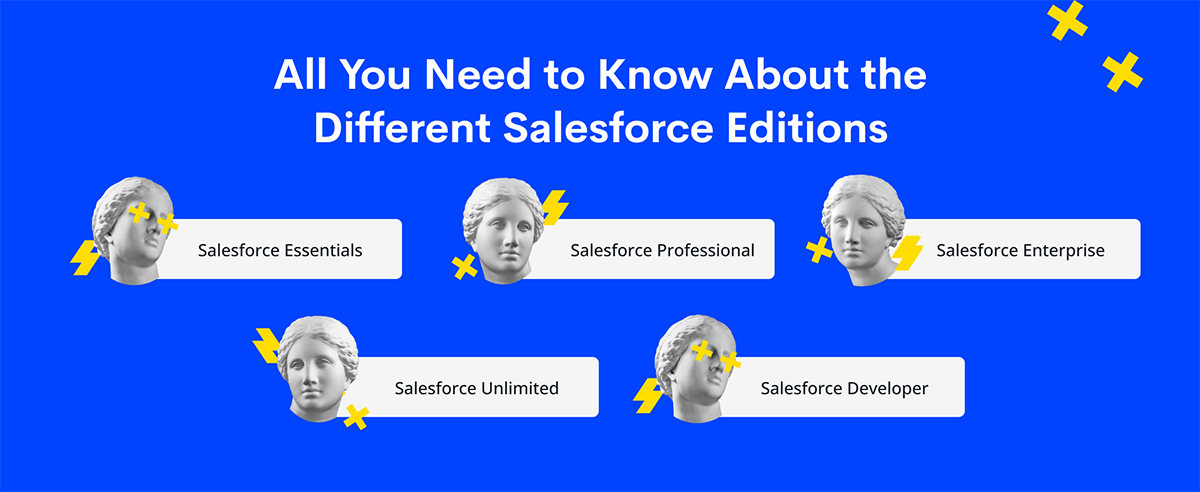 Every CRM solution comes with a host of features that will serve to save time and money by automating routine tasks, improving customer relationships through real time communication and driving enhanced strategic decisions with insightful reports and analytics.
Having said that, businesses will only get the most out of Salesforce if they understand the distinctions between the different editions and make an informed decision on which is the best fit for their organisation.
Salesforce Essentials
The entry-level edition, Salesforce Essentials is a popular choice among small businesses. The $25 per user per month licence fee is extremely competitive and it buys a lot of functionality. Salesforce Essentials includes useful automations for basic sales and marketing functions via AI tools such as Einstein Activity Capture.
It also has user-friendly tools for such tasks as lead management, campaign management and account management. Its task-tracking functionality provides excellent project management visibility and there are other useful features including email integration, customisable reports, a mobile app, and a chatter tool for better collaboration on shared projects.
Salesforce Essentials is appropriately named, as it checks all the essential boxes. So what about the downsides? The main stumbling block is that you can have a maximum 10 users, so this one really is for small businesses only. Obviously, it's not an ideal choice for small businesses with big growth plans, either. It is also a tool that works best in the B2B space as opposed to customer-facing organisations.
For small businesses that might until now have questioned whether they need CRM or whether they can afford it, Salesforce Essentials is the perfect choice. It is worth pointing out that Salesforce researchers have discovered that small businesses spend more than 20 percent of their man hours just on entering data. If Salesforce Essentials can reduce that by half, it will have already paid for itself, without even considering the other benefits!
Salesforce Professional
Salesforce Professional brings all the functionality of Salesforce Essentials along with extra tools and no user limits. It is $75 per user per month, three times the price of Essentials. However, there is no limit on the number of users, so Salesforce Professional can be used by businesses of any size.  You can be confident that regardless of company size or number of users, there will be no capacity issues with Salesforce Professional.
The Salesforce Professional edition has the functionality you need to completely manage the sales function from a single location so that skilled sales staff can spend more time selling and less time losing the will to live while poring over administrative tasks.
This edition is better equipped to handle the needs of B2C customers, as it has the capacity to store person accounts. This functionality is not available in Salesforce Essentials, which is aimed at B2B users and is predominantly serving industries and companies as opposed to individuals.
Salesforce Professional has broader functionalities than Salesforce Essentials. These include extra administrative tools, more customisation and the ability to factor in extra validation rules. In the grand scheme, it is still a comparatively simple CRM tool, but it requires a little more familiarisation and training than Salesforce Essentials.
Salesforce Enterprise
Next, we move on to the most popular Salesforce edition. It costs $150 per user per month, but the majority of larger and more complex businesses with ambitious growth strategies feel that the additional tools and functionality are worth the premium on the licensing cost.
Salesforce Enterprise offers everything you see in Essentials and Professional plus advanced customisation and enterprise management tools that reach into every department and function. Best of all, it includes the use of Salesforce API, which makes it simple to integrate with legacy or back office software systems.
As well as advanced functionality on the sales and marketing consoles for more granular and targeted strategic insights, Salesforce Enterprise gives users the power to create bespoke apps and a custom platform. In short, when used to its full extent, Salesforce Enterprise does not look like an off the shelf software solution at all.
Administrators have greater control over levels of user access with Salesforce Enterprise. Professional lets you create two custom profiles and everyone else is given standard access. With Enterprise, you can define exactly what each user can or cannot do - or you can create your own standardised profiles if that makes more sense for your business and users.
Of course, the more specialised nature of Salesforce Enterprise means it takes a little more time to get to know it, especially for those who will have administrator rights. Still, given that this is the most commonly selected edition, it is clear that most larger businesses feel the rewards of a fully integrated CRM that is highly customised to the business's needs and ethos is well work the additional cost and effort of learning your way around it.
Salesforce Unlimited
As we mentioned with regard to a previous edition, this one is certainly appropriately named. In short, it provides everything that Salesforce Enterprise has with even broader scope. All the features and all the customisation that you can get with the other editions are available here and the only limitations are functional ones, for example up to 800 custom fields per object and 500 validation rules. Realistically, these should be more than enough for anyone!.
Salesforce unlimited has the same approach to customer support. A salesforce representative is on the end of a phone line or right there on your screen in a chat box 24/7 and 365 days of the year.
You also get full and unfettered access to the Salesforce development team, so if you decide to get creative in one of the unlimited sandboxes, don't worry about getting stuck or lost. That's exactly what the development support team is there for.
Salesforce Developer
Those with a little knowledge of Salesforce might have skimmed the foregoing and come straight to this point. Most business users who have researched Salesforce are aware of four editions, so what is the fifth?
Salesforce Developer can be considered a "special edition" specifically created for professional developers to be able to learn the platform or create AppExchange packages. Functionally, it is the same as Salesforce Enterprise, but there is additional functionality for developers to create their own managed packages to distribute, either for sale or for free via AppExchange.
As this is more of a specialist application for software development professionals, it is not usually considered alongside the other four when comparing and contrasting the Salesforce editions from a user perspective.
Which Salesforce Cloud Edition to Choose?
Even though we have not drilled down to the nth degree about every aspect of every Salesforce edition's functionality, it is fair to say that the above is a significant amount of information to absorb. Cross referencing that data to your own business's needs, structure, strategic aspirations and, of course, budget is no simple exercise. It demands plenty of thought, analysis and internal discussion.
Answering the following questions, or at least discussing them within the management team will set you on the right track.  
How large is your business?
How large will it be in two years time?
Is your business focus B2B, B2C or both?
How many product / service lines do you offer?
Are service offerings bespoke or standardised?
Are sales coordinated from a single point or from multiple hubs?
What legacy systems are in place and will these need to interface with your CRM?
What are current performance reporting requirements and are they deemed sufficient?
Sketching out answers to these questions and then assessing the different capabilities of the Salesforce editions we have discussed might lead to more questions than answers, especially if every response points to a different edition of Salesforce. Don't worry, ultimately, what you are looking to achieve is a targeted assessment of the pros and cons of each edition from your business's unique perspective.
Tempting though it would be to simply opt for the "catch all" edition, there are, of course, budgetary considerations to factor in, too. Furthermore, it is worth keeping in mind that upgrading from Salesforce Essentials to Salesforce Professional or from Salesforce Professional to Salesforce Enterprise is simple. Downgrading, on the other hand, is a complex process that involves exporting all your data, cancelling one licence, taking out a new one and then importing all the data. It is time-consuming, convoluted and in short, is something to be avoided at all costs.
Take plenty of time evaluating the options, and get some expert advice on choosing the Salesforce edition that will meet your needs today and as your company evolves in the months and years ahead.    
FAQs
What is the performance edition in Salesforce?

Salesforce Performance is one of several Salesforce editions that has now been phased out and upgraded to the new Salesforce editions. It contained broadly similar functionality to the current Salesforce Unlimited edition.




How do I know which Salesforce edition I have?

Navigate to the Setup menu in Salesforce and type "Company" into the Quick Find search box. Click the "Company Information" tab and you will see the Salesforce edition in the "Organisation Edition" field.




What is included in Salesforce Unlimited edition?

With Salesforce Unlimited, you have access to the CRM tool's maximum functionality. This includes countless online training resources, more than 100 administrative services, unlimited custom apps, premier support 365 days a year 24/7 and lots more.




Why are there so many Salesforce editions?

Salesforce serves small businesses, huge global corporations and everything in between. It offers different editions with different levels of functionality on a sliding price scale so that every customer can find an appropriate CRM solution at an affordable price.




What Salesforce editions are not available?

Over the years, Salesforce has constantly upgraded its services. This has meant discontinuing certain editions and replacing them with new ones. The discontinued editions include Contact Manager edition, Group edition, Personal edition and Performance edition. If you have any of these editions you can either continue to use them or replace them with one of the current editions outlined in this article.




Which is the most widely used Salesforce edition?

Salesforce Enterprise edition is the most popular and widely used Salesforce edition. It unlocks the full functionality of Salesforce with unlimited custom applications. It is generally the edition of choice for medium to large sized companies.