How to integrate Salesforce with Microsoft Teams?
Table of Contents
Organizations grow, and projects become increasingly complex. As a result, leaders need robust and feature-rich collaboration tools to make things simpler and quicker. Microsoft Teams has emerged as a top choice among businesses due to its exceptional capabilities in facilitating teamwork and real-time information sharing. However, the true power of tools like Microsoft Teams lies in their integration with other helpful business applications.
By combining the strengths of Microsoft Teams with Salesforce, a leading customer relationship management platform, businesses can unlock a new level of productivity. So, let's explore how this powerful fusion can enhance your business to achieve remarkable progress!
Benefits of Salesforce Teams integration
Microsoft Teams Salesforce integration provides the following outstanding benefits to your company: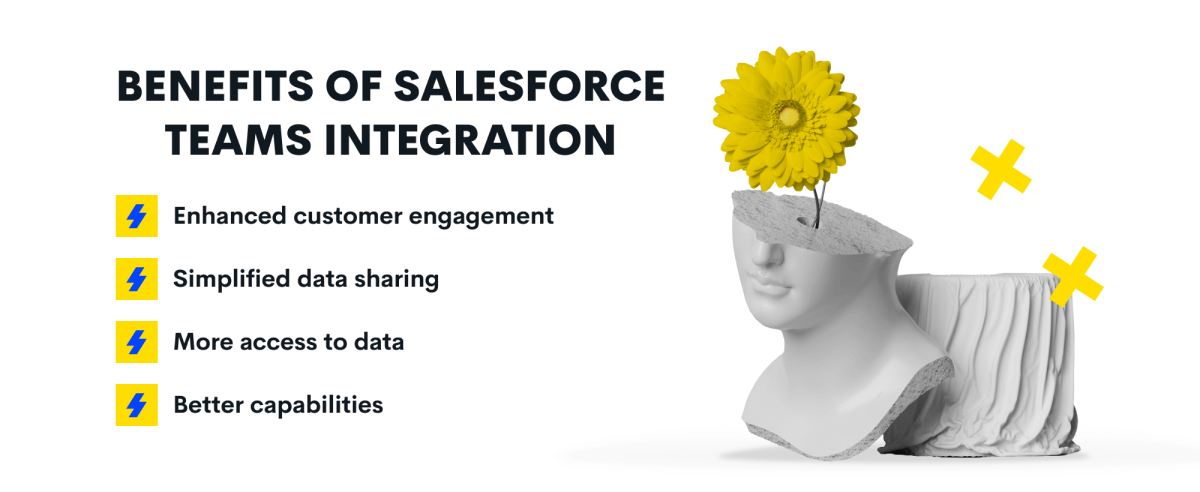 Enhanced customer engagement
The integration empowers your business teams to collaborate effectively in their hybrid customer engagements. Thus, the Sales Team gains access to relevant and updated information related to user accounts, delivering exceptional customer experiences. Meanwhile, the Service Team benefits from improved coordination and faster response times in addressing open cases, resulting in higher customer satisfaction.
2.  Simplified data sharing
With the Microsoft Teams Salesforce integration, sharing Salesforce records within your Teams channels and chat is a breeze. Specifically, you can initiate conversations around any record and easily attach documents, comments, and links.
Besides, team members with access to the Salesforce account can conveniently view additional record details without having to leave Microsoft Teams. Also, Microsoft Teams users can utilize Salesforce records directly within their chats to discuss Cases, Accounts, Contacts, Leads, and more.
3. More access to data
Another benefit is easy access to Salesforce records using your desktop and mobile devices, not only through conversations but also via dedicated channel tabs. To access the records, click the "+new tab" option within the specific channel and select the desired Salesforce records.
Moreover, you can pin Salesforce records, enabling quick and convenient access to review them in detail. This way, you get a comprehensive view of the record's activity, timeline, details, and chatter.
Additionally, you can control which users access the shared record details. During the Salesforce Microsoft Teams integration setup, choose the appropriate sharing options, tailoring access permissions to suit your requirements and security preferences.
4. Better capabilities
The Salesforce Microsoft Teams integration connects Teams' chat and workspace features with Salesforce's vast collection of informative data, which enhances collaboration. Another notable feature of Microsoft Teams Salesforce integration is its ability to incorporate significant customer details within Teams conversations effortlessly. Thus, by keeping customer information in context and alongside daily interactions, the integration facilitates a comprehensive understanding of customer needs and preferences. Finally, customer contact details can be displayed within the broader chat stream or in private conversation channels, enabling easy access to relevant data.
Teams with Salesforce integration: a step-by-step guide
The Microsoft Teams and Salesforce integration process is a breeze if you follow the steps below.
Launch Salesforce Setup. Type "Teams" in the Quick Find search bar and choose the Teams Integration option.
Enable the Teams Integration features for user access.
Carefully review the agreement and acknowledge it.
Select Assign Permission Set. Give Teams users who require access to the Salesforce app in Teams the User for Teams Integration permission set.
Specify the type of Salesforce data to be included for a user whenever they mention a Salesforce record within Microsoft Teams.
For the provisioning of Teams Integration in the Microsoft Teams app, get in touch with the Teams Administrator.
Ask the Teams administrator to add the Salesforce app to the Teams permission policies so that Teams users can access Salesforce.
Activate Salesforce and turn Teams Integration on. This way, you allow Microsoft Teams users with User permission to access Salesforce data and mention records during their Teams conversations.
Microsoft Teams Salesforce use cases
Explore the endless possibilities of integrating Salesforce with Microsoft Teams by checking out the practical use cases.
Sales deal collaboration
Typically, a great deal of information is exchanged throughout the sales process, including prospects, sales cases, product details, and more. Furthermore, communication with potential customers involves multiple stakeholders, from product developers and executive sponsors to project managers.
The integration lets you establish a Sales Deal Room within Microsoft Teams, incorporating specialized channels such as Planning, Legal, Reviews, Deal Details, and Proposals, contributing to streamlining collaboration.
Example:
In the Sales Reviews channel, sales managers can monitor activities and facilitate the sales processes. Specifically, they have everything for keeping a close eye on the progress of the opportunity team by generating comprehensive reports and utilizing filter views to gain valuable insights.
Moreover, updating team member information becomes streamlined with the ability to export report data and use the Data Loader tool.
2. Account management
An account manager needs to collaborate effectively with colleagues and external stakeholders, including potential customers, current clients, partners, and other agents. To ensure all related information remains centralized and easily accessible for smooth collaboration, consider creating a dedicated team within Microsoft Teams with the following specialized channels: Planning, Contracts, Opportunity Feeds, Customer Support, and Complete Watch.
Example:
When you add your records to the Opportunity Feed channel, you manage opportunities throughout the sales process, tracking real-time deals, including account details, involved parties, and potential sales volume.
3. Case management
When you receive feedback from a customer pointing out a problem, you must initiate a procedure for addressing the issue. And this is where synergy between departments may prove challenging, particularly for non-Salesforce users. Therefore, you should ensure swift communication on critical cases by creating a Case Management team comprising members from different departments, including Customer Support, Issues Tracker, Product Development, Planning and Reports, and Incidents.
Example:
Salesforce records within the Customer Support channel facilitate comprehensive customer information tracking. Furthermore, you have the option to directly share records containing feedback and issue tickets with the Incidents channel. Then, you can engage in discussions with your Product Development Department and collaborate through the Issues Tracker channel.
Project management
Employing a customer relationship management system extends beyond boosting sales; it also serves as a valuable tool for efficient project planning and task scheduling.
For instance, the Salesforce Process Builder empowers users to craft personalized workflows, including assigning a task to a colleague once a related task is marked complete by another team member.
Integrating Salesforce into the Microsoft Teams environment elevates project execution to new heights. The process is simple: create dedicated teams for each new project, comprising the Steering Committee, Budget, Planning, Quality, Resources, and Contractors channels to foster clear communication and improve project outcomes.
Example:
Users can incorporate a personalized dashboard from Salesforce within the Steering Committee channel. Specifically, Salesforce drag-and-drop report builder enables access to comprehensive views of customer-centric projects, encompassing tasks, issues, and project outcomes.
Sales operations
For sales operations managers, having an efficient workspace that facilitates data analysis and offers insights into organizational performance is of utmost importance. Here's where the integration of Salesforce and Microsoft Teams comes to your aid.
By establishing a dedicated team for your sales department, you can integrate involved sales reps and managers into various channels, such as Planning, Accounts, Partners, Product, Leads, and more.
Example:
Within Sales Cloud, the Opportunity and Account Insights functionalities gauge opportunity engagement and external news, ensuring sales representatives stay on top of crucial business developments. Consequently, you can include relevant Salesforce records on the Planning channel tab, enabling collaborative efforts on significant deals and risk mitigation to stay ahead in the competitive landscape.
The Salesforce app and Microsoft Teams integration capabilities
With the combined capabilities of Salesforce and Microsoft Teams, you get the following: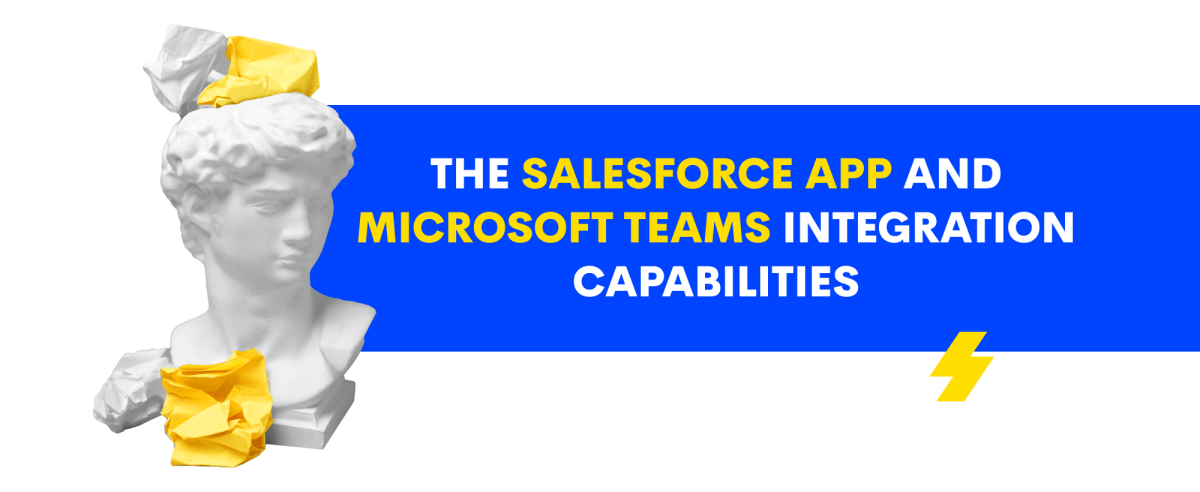 Record mentions in Teams
Mention Salesforce records directly within Microsoft Teams channels or chat discussions. This feature allows you to start conversations on any Salesforce record and even attach documents, links or add personalized comments for efficient collaboration.
2. Instant preview of Salesforce records
When someone mentions a Salesforce record in a Teams conversation, you can preview it without leaving Microsoft Teams, which saves time and eliminates the need to switch between platforms.
3. Personalized Teams tabs with Salesforce records
Use customized channel tabs in Teams to work on your Salesforce records collaboratively. Adding a new tab in the desired channel allows you and your team members quick access to Salesforce records. Furthermore, you can pin essential records and explore their details, activity, related lists, timeline, and chatter, all within the Microsoft Teams tab.
4. Editing Salesforce records within Teams
Effortlessly edit Salesforce records directly from Microsoft Teams without switching back and forth between platforms. This way, you stay focused on your work without missing crucial updates.
5. Chatting in Microsoft Teams about records
With the ability to mention Salesforce records in channel conversations and Teams chat, collaboration becomes more efficient and accessible to all team members.
6. Salesforce meetings
Finally, you can maximize the benefits of Salesforce Meetings integrated into the Microsoft Teams calendar, allowing you to excel in customer calls and optimize follow-up actions. This way, you can conduct video conferences and ensure complete preparation for every customer interaction.
Note: Salesforce Meetings are exclusively accessible to Sales Cloud Unlimited edition users only.
Conclusion
With Teams as a central hub for collaboration and communication, users can effortlessly access and share Salesforce records, discussions, and insights, streamlining workflows and enabling quick decision-making. This way, the integration bridges the gap between real-time communication and valuable data. Anyway, it is better to see something once than to hear about it a thousand times. So, integrate and see!