3 Best Salesforce AppExchange Applications for Manufacturing
Table of Contents
Businesses that specialise in manufacturing and distribution may have turned to Salesforce because of its immense customer and employee management capabilities, which extend to every department of your company. The customer sales journey, the supply chains, and your detailed marketing analytics can be viewed directly alongside one another, making Salesforce the perfect 360 view of your business's success and its potential for future growth.
As Salesforce is mostly focused on your business's interaction with each customer and the ways in which you attract, connect with, and convert your customer, the out-of-the-box version lacks the ability to effectively manage physical assets and their development.
With the three applications we have suggested below, your manufacturing business can expand its Salesforce usage to incorporate the management of its physical assets, products, and equipment, all the way from concept to post-sale customer service. Manage the build stage of each product, your stock levels, and the general maintenance of jobs in the field. In conjunction with the customer-centric capabilities of Salesforce itself, these applications will set your business in good stead to stay ahead of your customer's expectations and deliver successful product solutions time and time again.
AssetOptics
Designed for maintenance departments in capital-intensive industries, AssetOptics is a full Enterprise Asset Management suite that can handle everything required for a maintenance and repair operation. AssetOptics allows your business to keep on top of the lifecycle of your physical assets, fleet, and facilities, manage inventory and purchases, and deploy equipment as and when needed.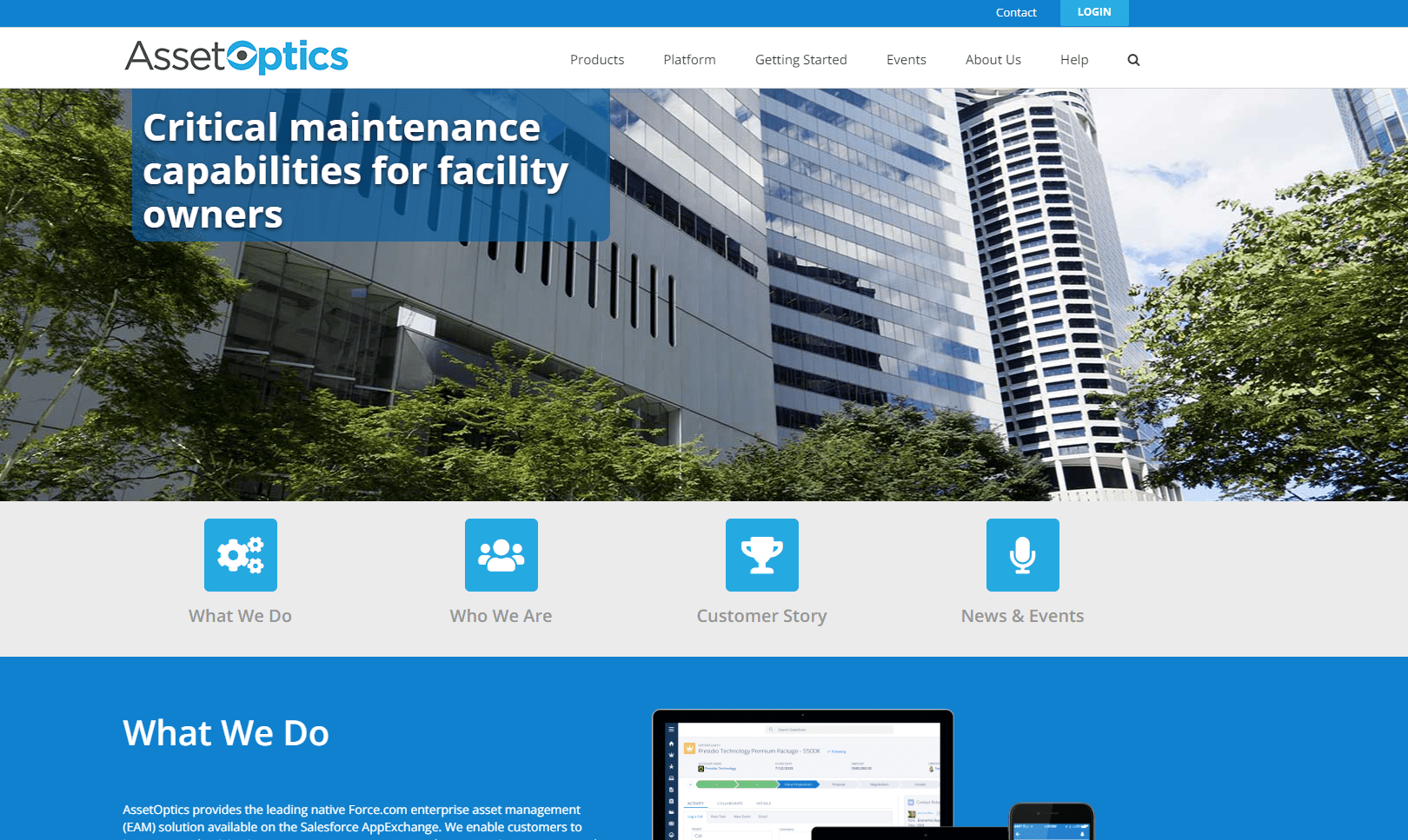 How can AssetOptics help your business?
Schedule preventative maintenance to reduce the need for intensive work further down the line
Predicts annual maintenance needs and offset against resources and costs
Customisable, reusable work orders with collaborative options
Flexible calendar with fixed and floating intervals
View workload and schedule of individual employees
Calculate projected costs for projects and individual equipment, and adjust budgets
Multi-suite MRO inventory management to keep equipment in good supply and good condition
Automatic purchase quantity recommendations and preferred supplier suggestions
Geo-location tracking for equipment and fleet
Manage essential admin tasks, such as licenses, permits, registrations, warranties, and claims
The portal functions on mobile devices
Pricing
Invest in AssetOptics for just $65 USD per user per month, plus a $250 USD per org monthly baseline charge.

Find out more about AssetOptics on LinkedIn and the AssetOptics website. You can download the app on the AppExchange.
Rootstock Cloud ERP
The Rootstock Cloud ERP provides businesses in the manufacturing, distribution, and supply chain sector with an end-to-end solution for organizing and eventually expanding their business. Businesses that use Rootstock can more successfully create personalized experiences for their customers than their competitors, and then scale their projects to accommodate more clients. Modules such as Order Management, Inventory Management, Manufacturing Operations, Supply Chain, and Financial Management can help you tailor each part of your business to the customer while opening up the whole project lifecycle to be viewed and analyzed.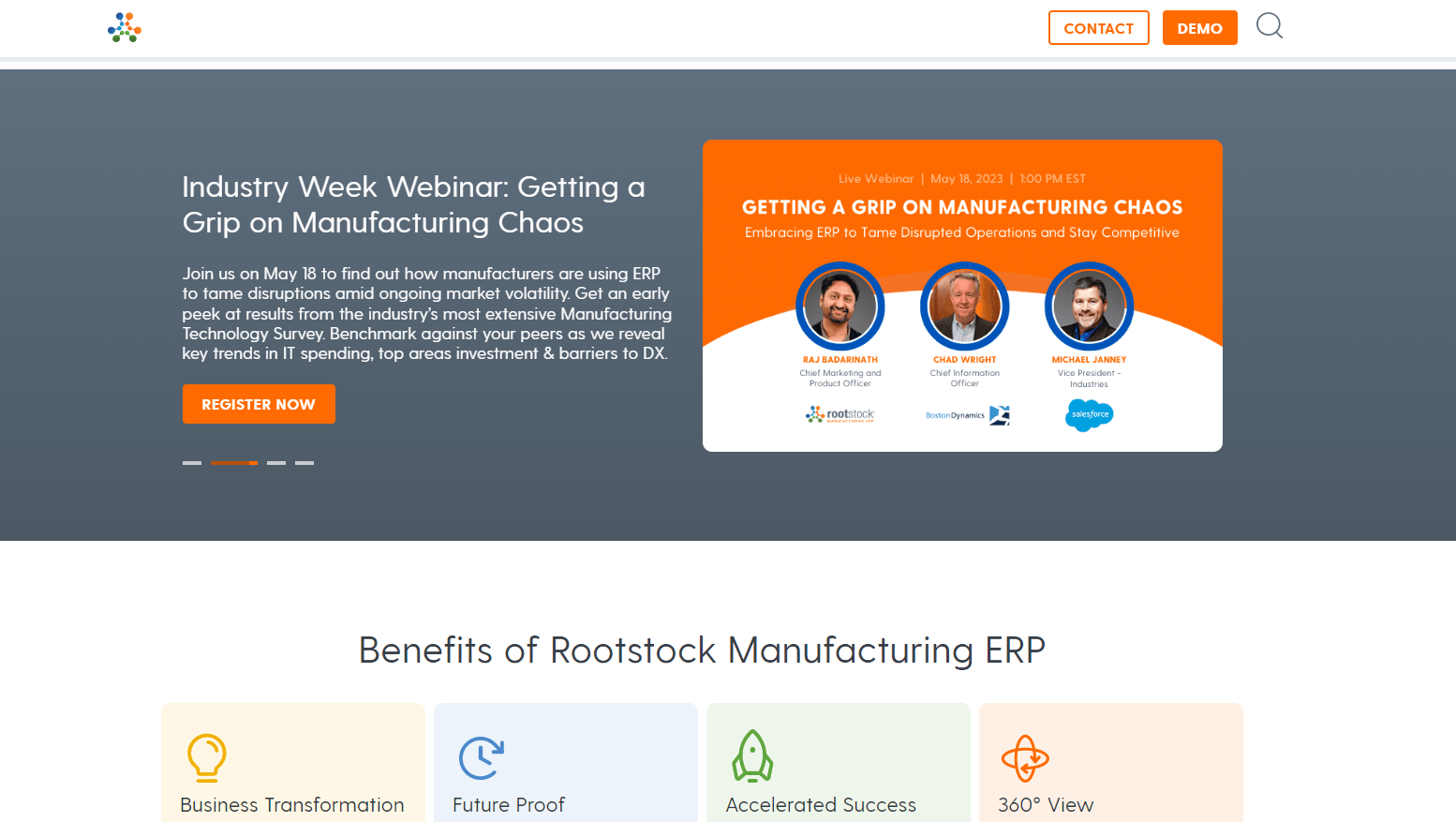 How can Rootstock help your business?
Customizable workflows help you simplify your work process and adapt quickly to changes in customer requirements
Clicks, not code approach
Find gaps in your market and deliver new products efficiently
Built-in predictive analytics and AI encourage you to act on the insights delivered by the behavior of your customers
Stay in contact with your customers, suppliers, and employees throughout each project lifecycle
Network of support staff to assist with the implementation of the Rootstock application
Custom portal accessible from any device
Pricing
Rootstock is priced at $200 USD per user per month, with a minimum of 15 users. Bespoke quotes can be put together, depending on the level of support access and other features that you require.
Find out more about Rootstock Cloud ERP on LinkedIn and the Rootstock website. You can download the app on the AppExchange.
Propel
Propel is a single-platform service that enables you to manage every part of product development, market research, sales, and product delivery. It connects together the people, resources, and systems needed for your product to succeed. Collaborate with partners to get your product to market quicker, while addressing customer satisfaction concerns at every stage. Ensure your product always meets the evolving global standards and develops customer expectations with the in-built commercialization tools and customer satisfaction analytics. With Propel, every team member is equipped with forecasts, risk analytics, and customer feedback to ensure that your product achieves the success it deserves.
How can Propel help your business?
Define every aspect of your products with the Bill of Materials Management functionality
Easily share product updates with customers and employees alike via the Sales Cloud or your business website
Track progress of all projects in the form of easy-to-digest graphics
Easy quality management via Service Cloud to keep customers happy
Manage product compliance and ensure your product is up to global standards
Project sales forecasts for products alongside risk management, field and supplier issues, and the status of upcoming projects
Pricing
Prices start at $1,000 USD per user per year.
Find out more about Propel on LinkedIn and the Propel PLM website. You can download the app on the AppExchange.
Summary
With our knowledge of the Salesforce CRM and its potential to help streamline the services of manufacturing and distribution businesses, we can help you implement any of the apps mentioned above with your Salesforce Org and make sure it delivers everything you hoped for.
Alternatively, if you have an idea for an app that hasn't yet been developed, or are in the process of developing an ISV app, we can help with this too. Contact MagicFuse today.
FAQ
Is Salesforce good for manufacturing?

Yes, Salesforce is a great solution for manufacturing companies to streamline operations, manage supply chain, and improve customer service. With Salesforce, manufacturers can track orders, inventory, and production schedules in real-time, giving them greater visibility and control over their operations.

How does Salesforce help manufacturing?

Salesforce helps manufacturing companies to manage the entire sales process, from lead generation to order management. It can also be used to track inventory levels, production schedules, and supplier relationships. Additionally, Salesforce can be used to manage customer service, warranty claims, and field service activities.

What is Salesforce manufacturing cloud?

Salesforce Manufacturing Cloud provides manufacturers with a complete view of their operations, including production schedules, inventory levels, and supplier relationships. It also has tools for sales forecasting, demand planning, and contract management.