What is Salesforce Accelerate And Why Should We Care
Table of Contents
AppExchange is an attractive platform not only for experienced users but also for Salesforce startups. But creating and promoting an AppExchange app can turn into a nightmare for newbies. Fortunately, Salesforce offers a variety of programs, products and resources for startups to grow their businesses, develop custom apps and launch them on the AppExchange marketplace successfully.
From this article, you'll learn about one of the Salesforce programs designed for supporting startups - Salesforce Accelerate. You'll read about the program's offers, discover exciting facts about the program and its participants' success stories.
What Role Does Salesforce Accelerate Play in the Companies Ecosystem?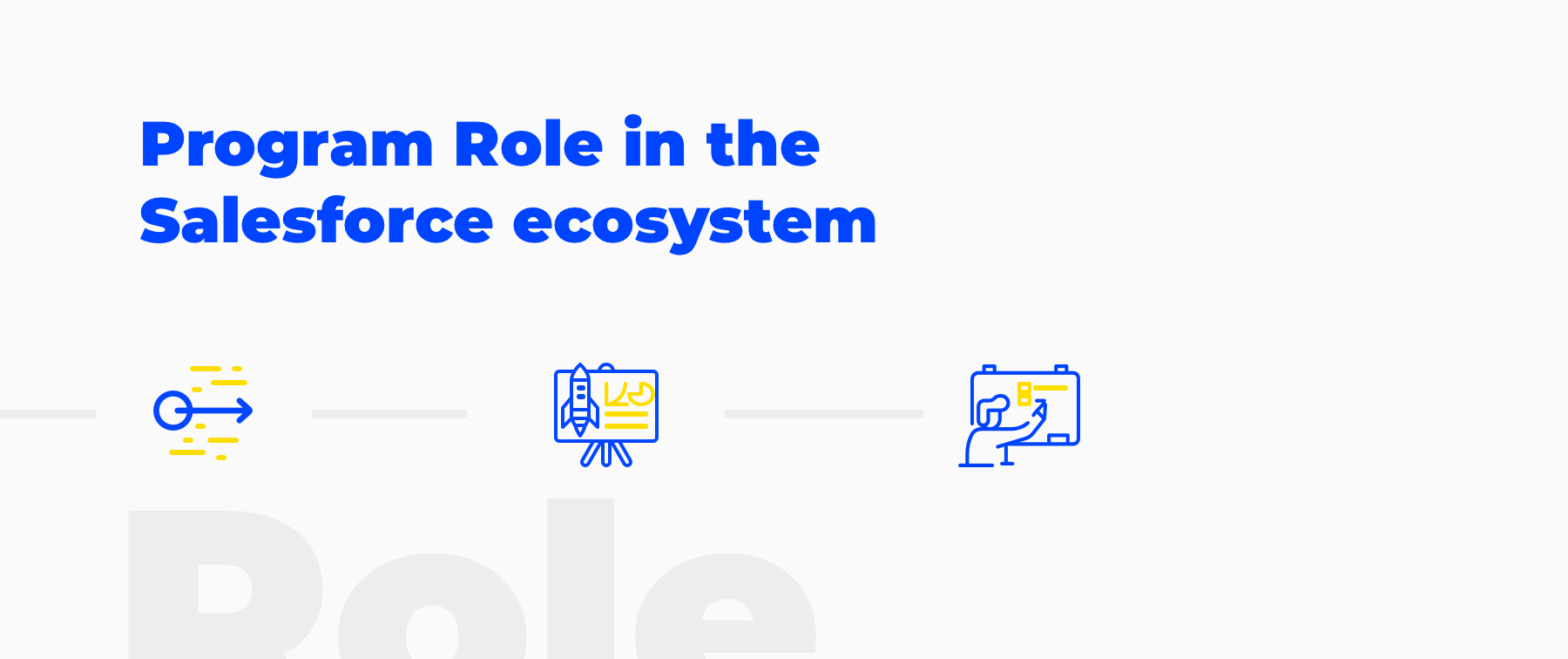 Innovation is the key to progress. Salesforce supports innovators by offering them varied programs aimed at startups, incubators, accelerators and other companies from the startup community.
Salesforce Accelerate, previously known as the Salesforce Incubator, is a three-month virtual program that is a part of Salesforce for Startups offer. The goal of this program is to accelerate startup success in the fast-growing ecosystem.
Joining it, you get useful insights, strategic learning and subject matter experts' support that your startup needs. During the program, you have an assigned mentor who consults you and helps to reach your business goals. When you complete it, you have enough practical knowledge to align with Salesforce and distribute your apps on the AppExchange marketplace easier and faster.
Interesting Facts About Salesforce Accelerate Program
More than 100 startups have already participated in the Salesforce Accelerate program and boosted their businesses. The program initially was available only for companies from North America, but in 2018 Salesforce Accelerate kicked off its program in the EMEA region.
The main aim was to help fintech and insurtech startups grow because the financial services industry needed to innovate its approach to serve a new generation of customers who prefer personalised and user-friendly services. Fourteen innovative companies, among which were Streamdata.io (French), Asperato (UK) and Electronic IDentification (Spain) joined the first European Salesforce Accelerate program.
In turn, Accelerate Build program 2020 (Cohort 10) is focused solely on black entrepreneurs because Salesforce supports the Diversity, Inclusion, Equity, and Equality initiative in its ecosystem. The Washington Post reported 26% of African American business owners closed between February and May, compared with 11% for their White counterparts.
So, Salesforce provides black-owned businesses with an opportunity to join the Accelerate Build program 2020, communicate with experienced specialists, mentors and partner alumni.
What Salesforce Accelerate Has to Offer
The Salesforce Accelerate program includes mentorship of Salesforce experts for the duration of the program, support of the Salesforce AppExchange community and exposure in the Salesforce ecosystem.
There are weekly webinars, web conferences, meetings with your mentor, workshops and office hours with Salesforce advisors. Moreover, you get assignments and additional exercises after each workshop.
During the program, you get comprehensive knowledge about Salesforce products, platform technologies, sales, marketing, customer success and much more. Using this information, you'll be able to improve your company's management with Salesforce CRM and present your app on the AppExchange market in the best way.
As a participant of the Accelerate program, you can also use Salesforce offers for startups, such as:
On a public graduation event you have an excellent opportunity to present your customer pitch and product demo for Salesforce executives, investors, press and customers. Great news for you - you get a recorded presentation that can be used for further marketing purposes of your business.
What Is the Difference Between "Salesforce Accelerate Build" and "Salesforce Accelerate Grow"
The Salesforce Accelerate program is presented in two directions:
Salesforce Accelerate Build program is aimed to support startups and established software companies from scratch to publishing their apps on the AppExchange marketplace. It means if you have a great idea about creating a practical Salesforce app based on the Salesforce platform but don't know how to build and promote it successfully, then this program for you.
Salesforce Accelerate Grow program is designed for existing experienced AppExchange partners, who are on their growth stage. It helps them accelerate their expansion in the marketplace.
Success Stories of Salesforce Accelerate Participants
There are a lot of success stories of companies that participated in Salesforce Accelerate. For example, Natterbox, a company providing an expert voice solution for Salesforce, was selected to participate in the Salesforce Accelerate Grow program.
They've started to make smart business decisions and innovate customer experience by delivering information about customers' actions, increasing efficiency with service staff, personalising the customer experience and prioritising the phone system within the Salesforce CRM system.  
Glassbox, a company creating innovative digital customer experience solutions, also participated in the Accelerate program. Through it, they've understood the importance of agility when a company is experiencing hyper growth.
Since completing the program, they launched their Glassbox app on the AppExchange. They offer their customers a solution for understanding digital customer journeys and managing their digital customers via Salesforce.
ID-Pal is an Irish startup offering an out-of-the-box KYC solution that enables your business to verify your customers' identity across any channel directly in Salesforce. They worked with Ulster Bank, a Salesforce trailblazer, to streamline and enhance their customer onboarding process.
After graduating from the program, they engaged the Salesforce ISV Partners community to explore how they can deliver a more comprehensive and relevant proposition to clients via the marketplace.
Summary
We're moving into the new normal. According to the Salesforce "State of the Connected Customer" report, 88% of customers expect companies to accelerate digital initiatives. It's good news for those who are going to present their innovative, functional, easy-to-use AppExchange apps.
Salesforce Accelerate Program is an excellent opportunity for you to increase your knowledge about Salesforce and AppExchange, meet subject matter experts and get powerful insights about building your app and seamlessly launching it on the AppExchange marketplace.