The Ultimate Guide to Salesforce AppExchange Pricing and Monetisation
Table of Contents
Getting Started on the AppExchange
The AppExchange market can be highly prolific and profitable if you set up your app correctly with the right pricing model. Whether you build your app with Force.com or an alternative platform, the Salesforce AppExchange is where you turn your personal solutions into commercial success.
Over 90%  of Salesforce customers use AppExchange apps, which range from cloud-computing solutions to consulting services, making it one of the most valuable considerations for any Salesforce project. For app-creators and app-seekers, the Salesforce App Exchange is a hub of valuable assets and information; it gives developers an opportunity to profit from their innovation and businesses the chance to upgrade their Salesforce org's functioning. Read our AppExchange 101 to find out more about how the service benefits app users.
The AppExchange is rich in diverse apps and supports over 7 million installs, and new products are launched all the time. Competing for the top spot in any category on AppExchange is almost impossible, and is likely to only become harder. Large companies pay for those top spots, making it hard for new apps to break through. It is important to remember, therefore, that the AppExchange functions as a delivery platform, simply making your applications available to potential consumers; it is not a marketing system. All the initial marketing to drive people to your app and build a user base will need to be done by you and linked through to your AppExchange download link.
If you have developed an app and would like to start monetising its use on the AppExchange, then this guide can help take you through the next steps. It's best to begin by deciding which type of app you are offering. This will give you some idea of how competitive your market is and how much extra marketing and research will be involved in getting it off the ground.
All apps and services are divided into a type, a product collection, an industry collection, and a category. The five types are Apps, Bolt Solutions, Flow Solutions, Lightning Data, and Components. Product collections include Sales Cloud, Service Cloud, Marketing Cloud, Commerce Cloud, and Platform. Industry collections include communications, education, government, media, and retail. Some top app categories include finance, human resources, enterprise resource planning, and sales.
Once you know where your app fits into the market, you can choose your ISV program and decide which monetisation model works best for you. This MagicFuse guide will help you make these important decisions and give you examples of how some of the most successful Salesforce apps made it work.
AppExchange Partner Programme Licences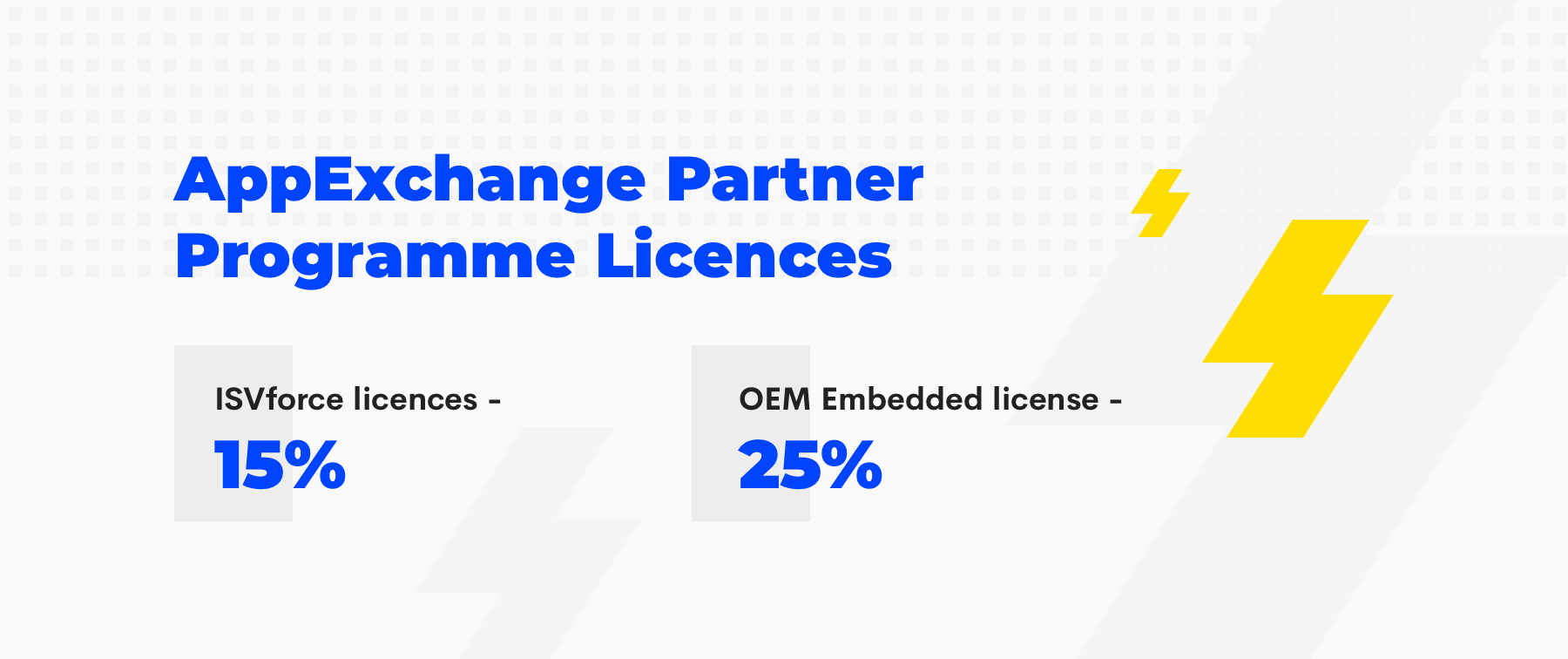 The first step in setting up your monetised app is to sign up to the Salesforce Partner Program. As a Salesforce Partner, you're agreeing to share your revenue with Salesforce, as explained below. There are two main types of partner licence to choose from, depending on what type of app you will be providing. By signing your chosen licence, you acknowledge your use of Salesforce technology for your business; and, while this ultimately will affect what your customers can use your apps for and its Salesforce pricing, it is also an agreement of fair terms of use between you and Salesforce.
ISVforce
ISV stands for Independent Software Vendor and refers to companies that produce software that functions on a specific platform for a specific application. This is the most common type of partnership chosen by businesses looking to monetise on the AppExchange by selling their app to existing Salesforce customers. Apps sold on this licence are typically add-ons to the Salesforce ecosystem to help customers increase functionality. Most of the time, these apps augment the Sales or Service Cloud and are a development that entrepreneurs or consultants have developed to fill a gap in the market and/or enhance CRM usability.
Customers who purchase an app licensed through ISVforce can add to the app, which adds potential value to your app and makes it more scalable for different business sizes.
ISVforce licences entitle Salesforce to a 15% share of your sales.
OEM Embedded
OEM stands for Original Equipment Manufacturer and, in this instance, refers to the necessity of having external hardware, software, or licences to fully use your app. OEM apps do not have to be Salesforce add-ons. One of the main benefits of using an OEM Embedded licence is that you are not limited to selling to Salesforce customers only. The apps that you produce on this licence must include a combination of the following licences for customers without a Salesforce org to enable them to use the service:
Lightning Platform Licence - This licence is always required as it allows your non-Salesforce customers to use the Force.com platform.
Customer Community Licence - This licence lets customers see and use their own data. This can be useful if your customers are likely to be working with external users.
Customer Community Plus Licence - As well as the above, this licence allows customers to have a more hands-on role in the app's development and access reports.
OEM Embedded license entitles Salesforce to a 25% share of your sales.
How much does it cost to sell on the AppExchange?
Once you have defined your app's purpose and place in the market and chosen the appropriate licence, it is important to be aware of the different costs that come into play before you can publish. Salesforce makes its money by taking a revenue share in your sales and charging for the expert support, security, and development tools that they offer. While external sales platforms might avoid these, they are unlikely to offer you the same quality of service and confidence.
New Marginal Royalty Bands (2020)
While historically the royalties paid by businesses for each licence type was set, with a 25% royalty paid on the OEM programme and 15% paid on the ISVforce programme, 2020 saw this change to benefit larger, more successful app-producers.
Now, for new businesses only, new revenue share thresholds have been set, and once they are met, the royalty rate paid to Salesforce goes down. For OEM, this means businesses with revenue shares of greater than $20 million pay just 15%, and for ISVforce, this is 10%. This change comes alongside an introduction of several new technologies and training options to benefit AppExchange Partners and marks Salesforce's newfound focus on recruiting talented new developers and innovative products.
AppExchange Mandatory Security Review
In order to keep your app protected and functioning throughout its lifetime, Salesforce has its own security system. Under Salesforce's Security Review, your app's vulnerability to common attacks will be assessed before it is published. This determines the threat your app might pose to others, as well as its robustness against threats. One of Salesforce's priorities is making sure that its customer's data is protected.
It's important to note that the Security Review is compulsory, and comes with an initial charge of $2,700 for the first year and $300 for subsequent years if you intend to charge customers for your app. If you are offering a completely free app, there is no charge for the Security Review.
For more details on how to pass the Salesforce Security Review, take a look at this article.

Choosing Your Business Model
The type of service that your app offers will determine which business model you choose. Your app may offer a one-off upgrade to the customer's Salesforce system, or may require monthly updates and insights. For add-ons built using the ISVforce model, you may find that monthly subscriptions work more effectively, and for more complete products built using OEM, a one-off payment may make sense.
You should also consider how many users are likely to need access to your app within each customer's business; if businesses are likely to experience greater benefits from your solution the more of their users have access to it, then it is worth considering issuing licences that are dependent on the number of users.
To protect its developers, the AppExchange gives you the right to revoke the license of anyone who has not or is refusing to pay the fee that you have determined.
Per-User Licences
With this licence, you can limit how many users within your customer's Salesforce org are able to use the app. It is up to you how many seats you offer in each package; but, when making this decision, consider the size of the business you are appealing to, the effects of more users on the community support you will be offering (if you have issued Community Licences), and how much the number of users can impact functionality. When a customer initially downloads your app, they will be given a licence for a default number of users, set by you.
Site/Per-Company Licences
This is the simplest form of licence, enabling all users within your customer's business access to your solution. This licence can be secured by a one-off payment or a monthly or yearly subscription (see monthly and yearly licences below).
Licences for Free Apps
Even if you are not intending to charge for your app, a licence is still required. In most cases, a standard Site Licence is issued, as it no longer makes a difference how many users are accessing your app.
The AppExchange is trying to get rid of apps that pose as free when really there are costs involved to achieve real functionality, as they devalue the platform and its purpose. Some free apps, however, serve the purpose of synchronising Salesforce systems with paid off-platform solutions. In these cases, a free licence will not be applicable as a purchase is still required off-site.
One of our clients, Elements.cloud, works in exactly this way. The app they offer on the AppExchange is free, but requires an Elements.cloud licence.
Free Trial Licences
For apps and businesses that are new to the AppExchange, it may be necessary to offer customers a free trial in which to test the benefits of your solution. After a set amount of time has elapsed, if a licence has not been cancelled by either you or your customer, a fee will either be incurred or their licence will expire. You are in control of how long your free trial lasts, depending on what you feel would be the most valuable given the nature of your solution. You can suspend such licences at any time.
Monthly Licence
If your app is likely to offer regular updates and/or continued support, a monthly rolling licence may be more suitable. This ensures that customers will continue to pay for your infrastructure and development after the initial cost. Monthly licences may also work best for products that are likely to deliver a quick return for your customers, providing them with benefits that can be measured on a monthly basis.
Annual Licence
For apps that will require ongoing support (perhaps less frequently) but are more likely to have a slower return for your customers, a yearly licence may be more appropriate.
Advice from the Experts
We asked the experts at ProvenWorks, who have successfully designed a number of profitable apps, for their advice on how you too can build an effective AppExchange pricing structure.
"Be public and transparent with your pricing" - Joel Mansford, Founder and Managing Director
"Our solution PhoneTools allows users to easily screen numbers against the UK TPS and CTPS databases to ensure legal compliance. Our original pricing model was 'per number of phone numbers', which suits the vendor, as you can ensure pricing is proportional to infrastructure. However, we found that the average Salesforce admin had no easy way to find out their quantity of phone numbers. So, instead, we switched to something that better suited our customers. Our pricing model is now based on the number of records, a figure that a Salesforce admin either knows or can easily determine, which improves our customer experience, increases price transparency, and shortens our deal close time. So ask yourself, is your pricing model customer-centric? Or is it just easier for you?"
"Have a support strategy" - Callum Hurry, Director of Product Engineering
"Before determining a final cost for the customer, think about how you do or don't offer support and why. We take a completely opposite approach to support compared to our competitors. Most companies don't offer support for their free products, so users rely on peer forum support. We decided to go the other way; we offer email support for both AddressTools Free and SimpleImport Free.
We use support as a mechanism for driving trust, and this is a form of ongoing investment. Don't believe us? Check our listings' reviews!"
How to Price Your Salesforce App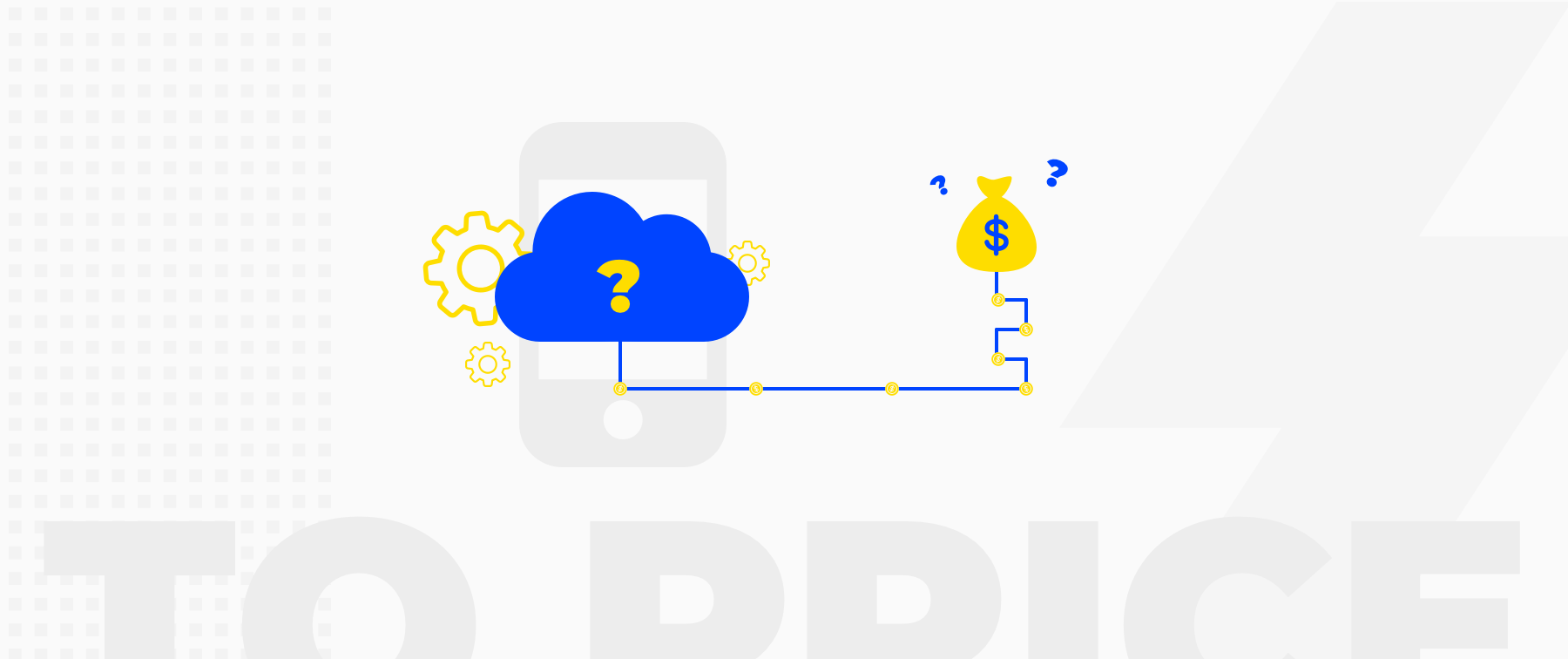 When determining an appropriate price for your app, ask yourself three questions:
Who wants your app and why?
What is the architecture of your app? Is it built for the Salesforce platform? Does it involve external licences and/or products? Which part of a business's Salesforce ecosystem does it affect?
Do you intend to make your app free or paid?
If you've followed through with this article so far, these questions may already have been answered, and you should have a good idea of the value of your solution. Determining your price then depends on three factors: supply and demand, your costs per user, and the price of your competition.
Supply and demand
This is the biggest factor in determining both the success of your app and its value. Without demand, there is no need for supply, as solutions require an initial problem to solve in order to be valuable. Explore the market and decide how saturated it is with solutions for the same problem. What makes your app unique? Investigate how many businesses would be interested in downloading your app and how quickly you would be able to offset the cost of setting it up (Security Review and revenue share).
Operational costs
Many app developers have discovered that selling your app too cheaply will, at first, gain you a lot of subscribers, but their subscription fees won't cover your operating costs. Making your app too expensive will drastically reduce your subscriber list, but each one will be more valuable to you and your operations will be cheaper. But, with too few subscribers, even an expensive app may struggle to remain profitable enough to continue development.
To determine your price, you need to set up a detailed model of how much each subscriber will cost you. Do you outsource any support, or will all customer requests be dealt with by you? How valuable is this time? How large is your sales team, and will they be focused on this one product? Being able to support, sustain, and develop your app business is essential, so your pricing model must reflect and account for these costs.
Check your competition
First and foremost, being aware of your competition will inform both of the above points. If the market is saturated, then there may not be too much demand for your app. If your larger competitors can offer the same service at a cheaper price than you can, because of reduced operational costs, they may price you out of the market before you have even begun.
If this is the case, offering a free trial, with a transparent monthly fee attached after, may be your best option for recruiting customers until your business has grown enough to reduce your operational costs. This will also give you the opportunity to adapt your product based on real customer feedback, making your product more attractive to customers once the beta period is over and potentially finding a niche that allows you to differ from your original competition. Any investments into your product made after this time, to upgrade operations, will be made with more confidence and lower risk.
Average app prices
In general, for a monthly subscription, app prices tend to range between $5 and $25 a month per user or between $50 and $100 per month for site licences. How your app fits within these ranges will be dependent on your own operational costs (how much you will need to spend per user on support, marketing, development, and distribution) and the potential benefits of your app.
Examples of Top AppExchange Pricing Models
Category: Finance
Description: Processing mobile payments, PCI-compliant credit card and ACH payments, and subscriptions via Stripe, Authorize.net, and Paypal
Pricing Model: Monthly subscription starting at $575 per Salesforce org
Category: Human Resources
Description: Tracking open job vacancies and candidate information
Pricing Model: Free from the outset, offering a simplistic system that fulfils basic needs
Category: Customer Service
Description: Sending, signing, tracking, and saving documents that require signatures
Pricing Model: 30-day free trial, followed by a monthly subscription starting at $30 per user
Category: IT and Administration
Description: Configuration Knowledge Platform, managing the entire lifecycle of Salesforce, from user stories and requirements, mapping business processes, and document and drive adoption for your Salesforce org
Pricing Model: Free, but must have a paid subscription to Elements.cloud
AddressTools: An In-Depth Pricing Example
Category: Administration
Description: AddressTools is made by the SaaS company ProvenWorks, and is the AppExchange's leading address validation solution.
Pricing Model: Customers can choose between AddressTools Free and AddressTools Premium. The free version offers introductory validation rules and standardisation additions to out-of-the-box Salesforce and the functionality is limited to certain standard objects. The premium version offers far greater customisable functionality, including premise-level address verification. Customers are given a 14-day free trial in which to decide whether they want the Premium version.
Pricing begins at $1,000 USD/org/year, to cover the first 10 users, paid annually. Additional users are $15 USD/year. Not-for-profit organisations also receive a discount. Users can then purchase look-up credits for global premise-level address verification at $750 USD for 5000, valid for one year. As the business grows, users often need to purchase more credits every year.
This freemium model allows customers to get acquainted with the service over a long-term period. ProvenWorks does reach out and offer support to Free customers to nurture the relationship and earn trust, helping them make sensible purchasing decisions should their requirements change.
Get Started With Your App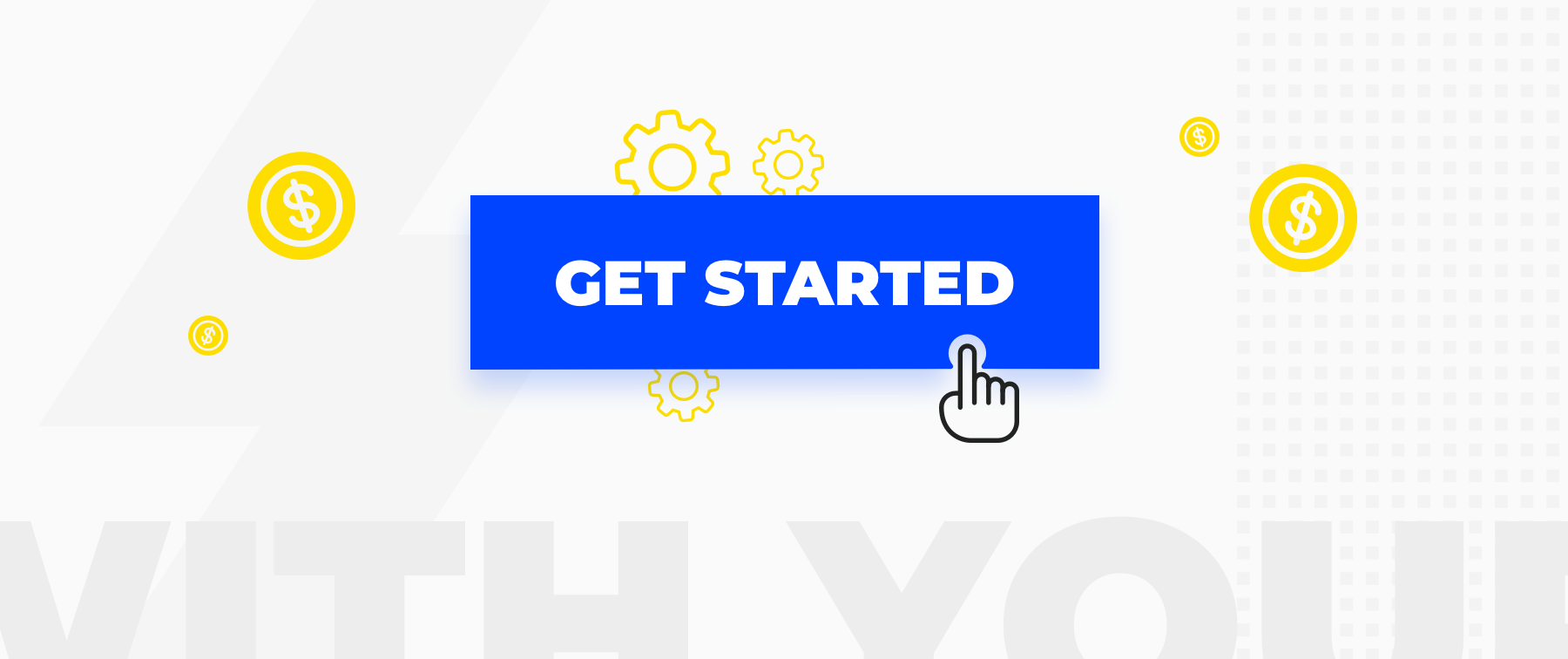 Here at MagicFuse, we can provide full-cycle service for app creators looking to sell their Salesforce apps on the AppExchange. If you're looking for help with the initial scope and market research, as a Salesforce AppExchange partner, we can help you find the right place in the market for your ideas and set you up with the right Partner Program. Our Salesforce development company can guide you through the process of publishing your app, determining a fair price scheme, and attracting the right customers to make sure your app venture is a success.
Speak to one of our advisors today to find out what support could be available for your business.
FAQ
What is the Salesforce AppExchange?

Salesforce AppExchange is the Salesforce's cloud marketplace, providing customer solutions fast to extend turnkey professional apps through every industry, department, and product, and enable them to reach measurable goals in the cloud. AppExchange Salesforce provides free and paid apps. In a paid app, you can manage the license, and the consumer will have to purchase the license to use the app. Free apps serve to synchronize Salesforce systems with paid-off-platform solutions. A free license will not be functional, as a purchase requires a license. Salesforce's security review won't cost you any money.




How do I publish an app on Salesforce AppExchange?

Here are the leading steps to post your AppExchange: 1) Connect a packaging organization to the publishing console 2) Log in to partner community 3) Create the profile and AppExchange listing, and add a business plan to listing 4) Click the organization tab and connect it 5) Choose installation button 6) Register your package and select a preferable license 7) Complete the Security Review cycle




What is the purpose of Salesforce AppExchange?

The main goal of using AppExchange is to build, sell, and grow a high-quality business in the rapidly growing cloud economy.