Salesforce Ventures Overview 2023
Table of Contents
Securing funding is key to startup success, particularly if you're in the cloud-based industry. There are various VCs and angel funding that's up for grab, but one that's making headlines is Salesforce Ventures. Its investment feats in 2020 have set the investor community abuzz, and there's more on the table for startups and tech companies.
In this article, you'll learn the funding opportunities offered by Salesforce Ventures and how it has built an impressive ecosystem of portfolio companies.
What Is Salesforce Ventures
Salesforce has built a global reputation for being a leader in CRM solutions. Salesforce Ventures is the company's investment arm that funds promising cloud-based startups. Salesforce Ventures aims to build the world's largest cloud ecosystem by investing in selected startups.
To date, Salesforce Ventures has made 527 investments, with Airkit, Forter, and Qualified.com amongst the startups receiving the latest rounds of funding. The company has also made a series of successful exits, including notable ones like Twilio, DocuSign, and HubSpot.
Since its inception in 2009, Salesforce Ventures has raised more than $1 billion across 13 funds. Its latest addition, Salesforce Impact Fund II, was launched in October 2020 with a sum of $100 million. The fund targets promising companies in the cloud industry and is also geared towards sustainability.
Salesforce Venture's made a few smart investment moves in 2020, as the world is hit hard by the pandemic. Its decision to offload Zoom shares in 2020 results in a return of more than three times the initial $100 million invested. The company's investment in Snowflake and nCino is rewarded with IPOs that went beyond expectation.
What is The Organisational Structure of Salesforce Ventures
Salesforce Ventures operates with a small team of 20+ employees. It is led by John Somorjai, who's the Executive Vice President, Corporate Development. The team consists of key stakeholders, including:
Biggest Investments & Acquisitions made by Salesforce Ventures
Investments Per Year
Salesforce Ventures started small but has seen its investment portfolio and acquisition grow dramatically over the years. It kicks off by investing in Tanium in 2007, marking its sole investment in 2007. The figure would soon grow as Salesforce seeks to increase the number of its portfolio companies. 2019 proves to be the busiest for the company as it made 73 investments.
Acquisitions Per Year
Salesforce Ventures made its first acquisition in 2003 by taking over Texas-based EXE technologies. For the next 7 years, it averaged 3 takeovers per year. It wasn't until 2011 that it picked up momentum. Salesforce Ventures participated in a record 34 takeovers in 2020, including a colossal $27.7 billion deal for Slack.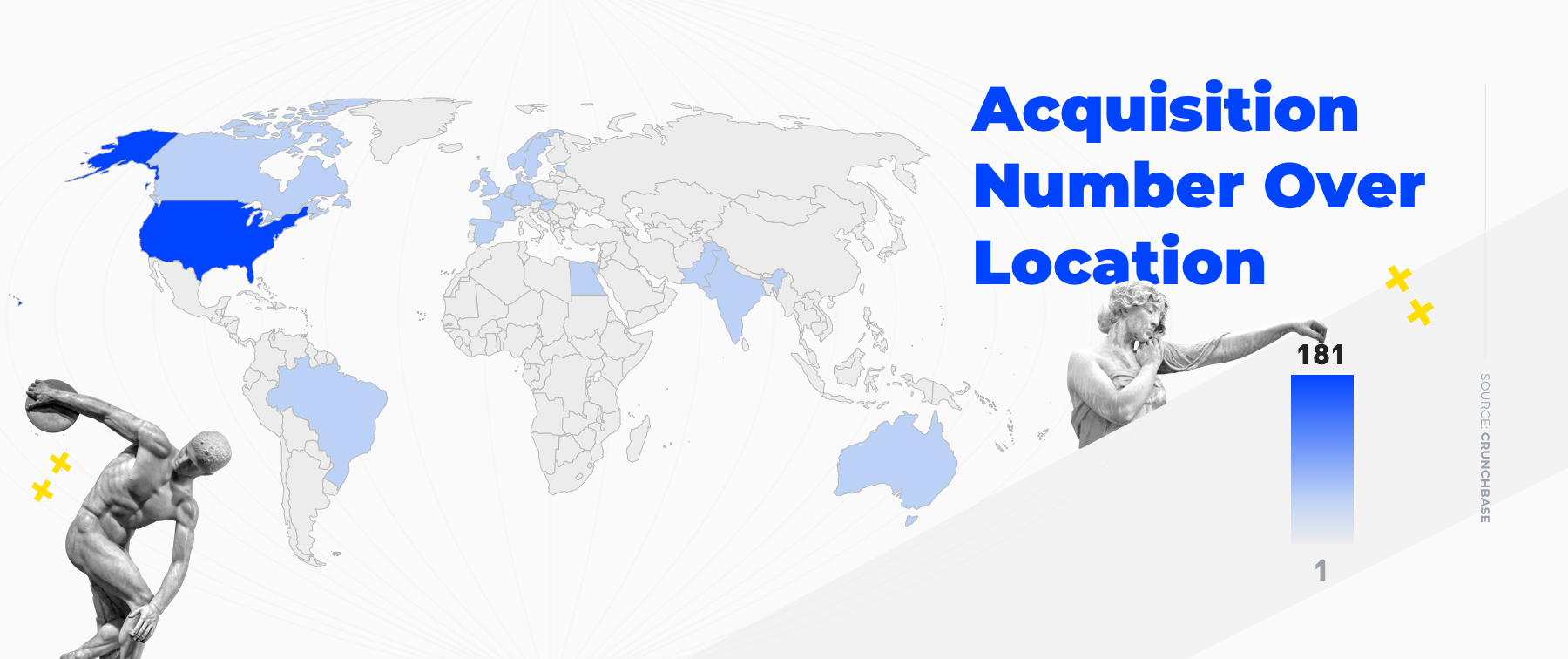 As of 2020, Salesforce Ventures has acquired 258 companies in 27 different countries. Of the total, 181 of the companies are in the United States. Acquisitions in Canada and the UK are a distant second and third.
Funding Types
While Salesforce Ventures was involved in various stages of funding, its primary interest is investing in early-stage startups. This is evident as Series A and Series B funding accounted for 44% of funding types ever made.
Biggest Investment
The largest Salesforce Ventures investment was secured by Snowflake in 2020, in a Series G funding co-led by Dragoneer Investment Group worth $479 million. Snowflake provides cloud data warehousing solutions, which aligns with Salesforce's portfolio of cloud solutions.
Biggest Acquisition
Salesforce Ventures has also acquired notable companies in the past. Its largest acquisition to date happened in late 2020, where it bought over Slack. The takeover costs $27.7 billion, which is almost double what Salesforce paid for Tableau in 2019.
What are the Most Popular Sectors Salesforce Invested in or Acquired
Salesforce Ventures' decisions on which company it funds or acquires is based on a strategic principle. It was primarily interested in startups in the cloud software space, particularly those that relate horizontally or vertically to its CRM solution.
It does, however, take a no-string-attach approach, according to managing partner Matt Garratt. What's important is for the venture to offer value to customers in the near term, and both parties stand to benefit from the partnership.
Invested
Most of the funding went to companies that are involved in the software or SaaS industry. They represent 42.58% of their investment portfolio. One of Salesforce Ventures' latest investments is in Tanium, which deals with endpoint security and risk management.
Salesforce Ventures' immediate interest is in workflow automation technology. It takes a deep interest in companies that enhance customer experience with software intelligence. Some of such recipients are Workato, Talkdesk, and Tact.ai.
Acquired
Salesforce Ventures' ambitious plan to expand its cloud footprint is also reflected by its acquisition exercises over the years. Similar to its investment approach, Salesforce Ventures bought companies that complement its primary solution.
Its latest acquisition, Slack, is seen as a move to strengthen its offering for a pandemic-driven work-from-home solution. The $6.5 billion takeovers of Mulesoft in 2018 allow Salesforce to tap into the enterprise market, mainly operating on legacy back-end systems.
Largest Funds Raised by Salesforce
Since 2014, Salesforce has launched 13 funds totalling $1.025 billion. Here are some of the largest funds.
As a continuation to its predecessors, the Salesforce Impact Fund II was launched in 2020. With a fund size of $100 million, the fund targets cloud companies that share Salesforce's values of diversity, sustainability, and responsibility. Through the Impact Fund II, Salesforce hopes to work with founders to empower educational and social transformation.
The Salesforce1 Fund was the first fund introduced by Salesforce Ventures. It was launched in 2014, with $100 million available for companies building mobile apps and connected devices. The fund's objective is to ensure the resulting solutions are built on Salesforce's ecosystem. DocuSign and InsideSales.com are some of the companies that benefit from this pioneering fund.
Salesforce Venture Fund: European Startups
Salesforce marks its first serious attempt to strengthen its European portfolio companies with this $100 million Salesforce Venture Fund: European Startups. The fund was launched in anticipation of the impending growth of the cloud-based industry in the region. Existing Salesforce-funded companies will benefit from the fund as long as new startups qualify for early fundings.
The Salesforce AppExchange partnership program went through a significant revamp in 2017. It is a move that aligns with the shift in AI, data intelligence, and IoT technologies, which redefine how development requirements on the Salesforce platform. Thus, the $100 million Salesforce Platform fund was created to encourage new developments on the revamped platform.
Salesforce's presence in Canada is strengthened by the announcement of the Canada Trailblazer Fund in 2018. The move is backed by a $100 million fund available for Canadian startups in the cloud computing business. It was well-received by the Canadian startup community, with Tier1CRM, Traction Guest, and Tulip amongst the early recipients of the fund.
With Japan's unique position in the fourth industrial revolution in mind, Salesforce Ventures launched the Japan Trailblazer Fund in 2018. The $100 million fund earmarked Salesforce's commitment in the country, where it has previously supported 40 tech companies. Startups developing on the Salesforce ecosystem stand to benefit from the financial backings.
In 2019, Salesforce Ventures gave its European investment a boost with the announcement of the Europe Trailblazer Fund. With a record $125 million fund size, Salesforce seeks to leverage the startup community that's growing at an unprecedented pace. It eyes startups that are building cutting-edge solutions that are relevant to the Salesforce cloud ecosystem.
IPOs with Salesforce
Salesforce's investment arm largely participates in funding and acquiring companies. However, it has a knack for making the right calls when it comes to IPO. Salesforce's recent success with Snowflake started with a co-funding with Berkshire Hathaway, each purchasing $250 million of shares. Snowflake went public with share prices that went beyond valuation, netting Salesforce a massive gain in the investment.
In 2020, the market was abuzz with how Salesforce tripled its earnings after selling off its stake in Zoom. The global CRM leader invested in Zoom's IPO the previous year. Salesforce's windfall is the combination of strategy and circumstances. It always shows interest in companies offering cloud solutions, and the pandemic sends the stock price sky-rocketing.
Salesforce backing of nCino IPO also pays off in 2020, with the US banking software company going public with $31 per share. It is a remarkable increase from an IPO offering of $22 to $24 per share. This marks another win for Salesforce Ventures' list of IPO backings.
What Is Salesforce Cloud 100
Cloud computing is no longer on the fringe of the industry. It is now a mainstream technology that is fuelled by the growth of numerous startups and enterprises. The Cloud 100 is a coveted list of the world's best 100 cloud companies. It was collaboratively created by Salesforce Ventures, Forbes, and Bessemer Venture Partners.
The list features cloud companies that excel in growth, sales, valuation, and culture, and 2021 marks the sixth consecutive year since it was created. In 2020, 20 of Salesforce Ventures portfolio companies made it to the list, with Snowflake taking the top spot. It's the cherry topping on top of Snowflake's huge IPO success that saw its share prices roaring.
Stripe, which entered into a partnership with Salesforce for its IPO, is a well-deserving runner-up. California-based endpoint security company Tanium, which also enjoys Salesforce financial backing, is 12th on the list. It was joined by Auth0, Zapier, and 15 other companies that are financially backed or acquired by Salesforce Ventures.
Summary
Salesforce Ventures has shown its commitment to extending financial backing for startups and companies that share its values. Through the years, it has invested primarily in cloud software companies and preferably those that extend its CRM platform. It has launched funds that target various regions in its bids to expand its global investment portfolio.
If your business shares Salesforce's ideals and is ready to leverage on its cloud ecosystem, you may just get your startup funded.
FAQ
What is Salesforce Ventures?

Salesforce Ventures is the venture capital arm of Salesforce that invests in growinf enterprise software startups. Salesforce Ventures provides funding, mentorship, and support to help startups grow and succeed. With Salesforce Ventures, you can access Salesforce's ecosystem of resources, including its technology, customers, and partners.




What is Salesforce Cloud 100?

Salesforce Cloud 100 is an annual list of the top private cloud companies in the world. The list is compiled by Forbes in partnership with Bessemer Venture Partners and Salesforce Ventures. The companies on the list are recognized for innovation, growth, and customer success in the cloud computing industry.




What does Salesforce Ventures invest in?

Salesforce Ventures invests in enterprise software startups that are developing innovative solutions for the Salesforce ecosystem. It invests in startups at all stages of growth, from seed funding to late-stage rounds, and has a particular focus on investing in startups that are developing solutions in the areas of artificial intelligence, mobile technology, and the Internet of Things.