LinkedIn and Salesforce Integration: Step-by-Step Guide
Table of Contents
It goes without saying that LinkedIn is remarkable among other social channels thanks to its extensive platform of industry professionals. It is an essential tool in any business marketing strategy, which helps generate sales-qualified leads and promote your brand. However, there is still more to discover about LinkedIn's full potential for Salesforce users.
Integrating LinkedIn with Salesforce CRM, the world's leading CRM provider, can bring numerous benefits to businesses, such as creating a seamless sales prospecting experience, generating leads, and accelerating deals. And while LinkedIn offers a general overview and limited connection options, Salesforce LinkedIn integration grants access to more detailed information about your target prospects, their organizations, industries, and services.
This post aims to provide a deep insight into Salesforce LinkedIn integration, its benefits, and the steps to initiate the integration process. So, let's dive in!
Salesforce and LinkedIn Integration Benefits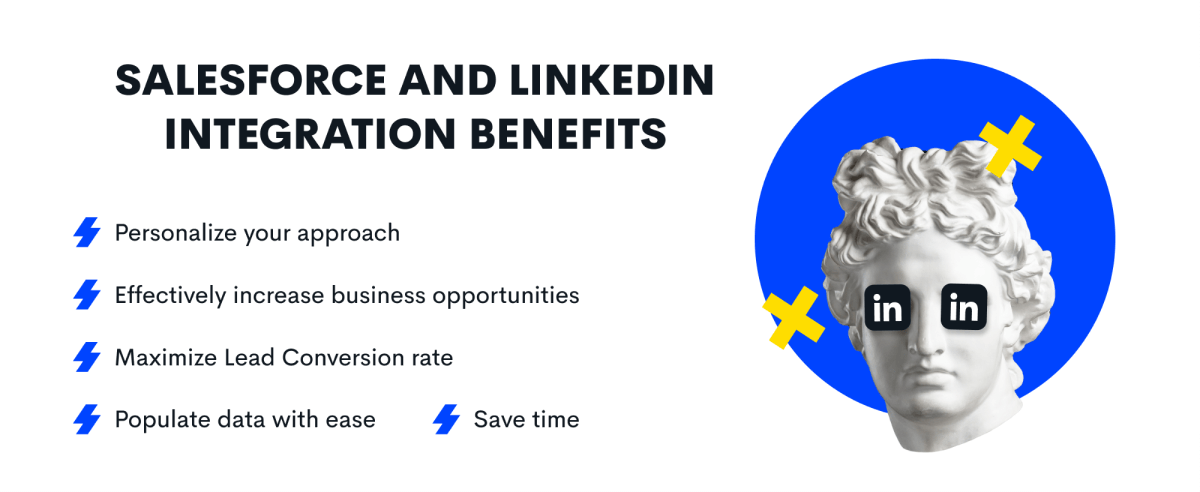 Salesforce is a feature-rich CRM system, while the LinkedIn company provides the world's largest business community network. Thus, when you integrate your Salesforce account with LinkedIn, you can do the following:
Personalize your approach based on your buyers' social profiles. It can help you better understand their value and connect with them in a more meaningful way.
Effectively increase business opportunities with reduced lead creation costs by leveraging multiple marketing tools on both platforms.
Save time ensuring every interaction counts by personalizing each sales outreach and tracking it accurately in Salesforce. This way, you make the most of every opportunity to connect with potential customers.
Maximize Lead Conversion rate by promptly pinpointing leads through LinkedIn's intricate tracking system to accumulate data on your website guests.
Populate data with ease and maximize the latest innovations for optimal results. Same data, double the efficiency.
As you can see, LinkedIn and Salesforce integration offers a combined power that helps businesses to enhance their CRM capabilities and leverage the vast professional network provided by LinkedIn.
Options for Salesforce LinkedIn Integration
Integrating LinkedIn with Salesforce can make the sales process smoother and more efficient for your team. There are a few ways to do this.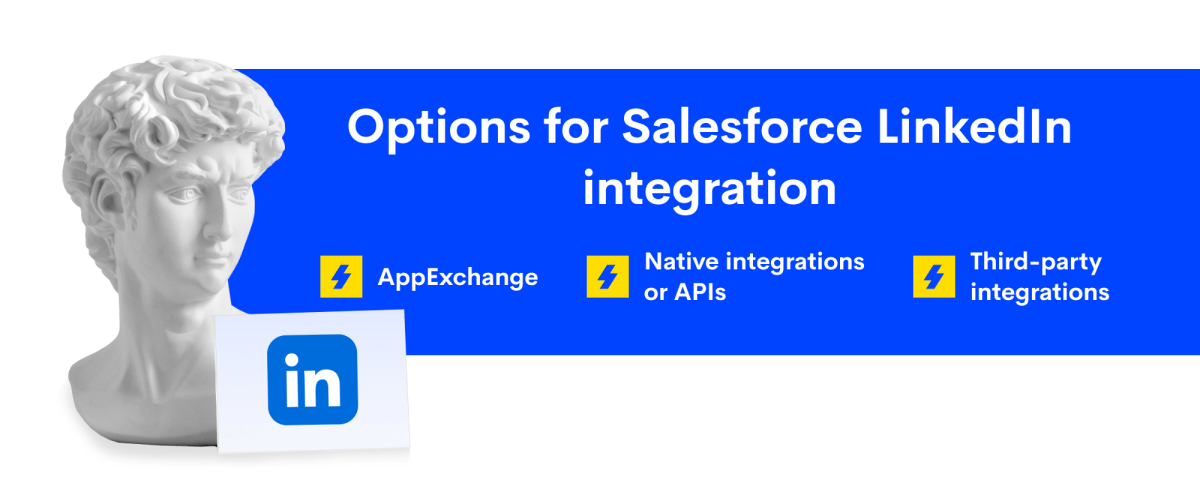 AppExchange
One option is to use the AppExchange for Salesforce LinkedIn integration. It lets reps automatically import any accounts, contacts, and lead records from Sales Navigator that the team is working on. They can also log Sales Navigator activities right into Salesforce, including InMail messages and notes.
Native integrations or APIs
Another option is native integrations or APIs, which can automatically import essential data associated with Open Opportunities from your Salesforce account to LinkedIn. Leads in Salesforce can also be imported to Sales Navigator and linked to the same user account. Lastly, Sales Navigator will recommend potential customers based on the data shared between Salesforce CRM and LinkedIn.
Third-party integrations
If these options don't work for you, third-party integrations such as Zapier or Workato can also connect social data like LinkedIn to your CRM. Just choose the best option for your company's specific needs and requirements.
Setting Up the Salesforce LinkedIn Integration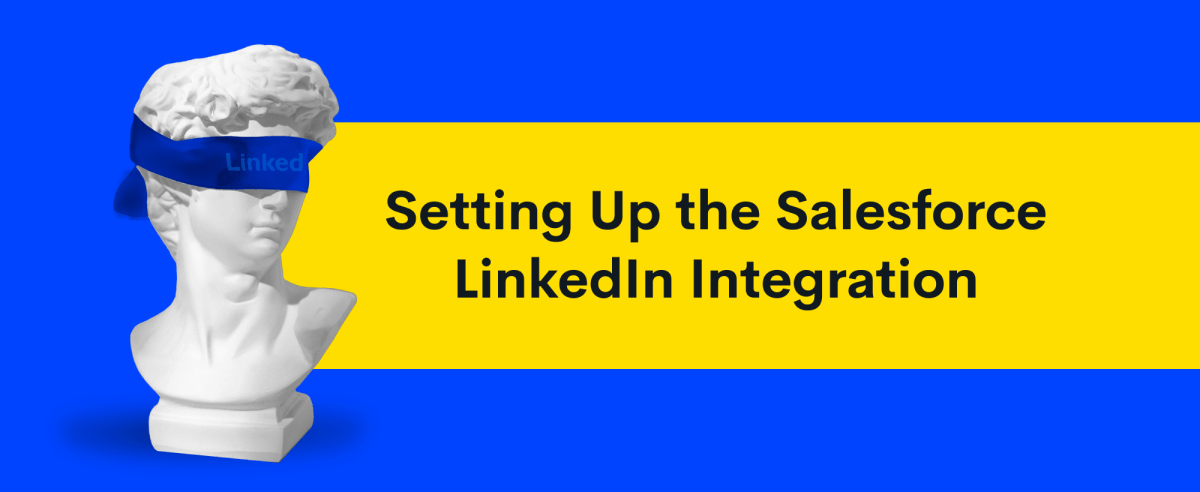 Salesforce LinkedIn integration is a breeze if you follow the step-by-step instructions we provide below. But before you start, make sure you're familiar with some prerequisites.
First, if you need complete administrative access to Salesforce, you should have Enterprise, Performance, Unlimited, or Developer edition. In case you have the Professional Edition, you'll need to enable API Access and Chatter, which may involve an additional fee.
Second, to fully enjoy the Sales Navigator embedded profile in Salesforce, it is necessary to have access to either a Sales Navigator Advanced Plus or a LinkedIn Sales Navigator Advanced license. Another option would be to have a Sales Navigator Team Member or Administrator + Team Member seat.
Finally, your browser must have JavaScript enabled.
Once you ensure all the prerequisites are in place, proceed to integrate Salesforce CRM with LinkedIn by following the steps below:
Enable your domain
Before you install Sales Navigator, ensure your domain is set up in Salesforce. If it's not, take the following steps:
Go to your main Salesforce page.
Click on Setup and then type My Domain in the search box.
Choose My Domain in the Company Settings.
Enter the desired name for your website in the Choose Your Domain Name section and check its availability.
If the domain you want is free, click Register Domain and wait until it is published.
Click the Login button to check your domain. After a while, you will get an email from support@salesforce.com with a link you should open to sign in and check your domain.
In the Navigate to this page window that appears, select Open.
After you finish testing, go back to the settings for My Domain and select Deploy to Users.
Click the OK button in the small box that pops up.
Note: The settings for the domain can be changed later if needed.
Install the LinkedIn Sales Navigator app
To set up the LinkedIn Sales Navigator app, do the following:
Type LinkedIn Sales Navigator in the Quick Find search box.
Note: You can use the Native Integration and the AppExchange Package to enable key CRM features. For optimal performance, it is advisable to install the AppExchange Package first. This package includes all the necessary features, such as Data Validation and support for Salesforce Classic.
To install the AppExchange Package, select the LinkedIn Sales Navigator AppExchange Package and choose Install.
A pop-up window will appear, and you should click Get it Now and possibly log in to your AppExchange account for verification.
Select Install Here under Install in This org.
Ensure you accept the terms and conditions before clicking Confirm and Install.
You can now decide whether to limit access to specific profiles and users by selecting Install for All Users or Install for Specific Profiles.
Click on Install. You can proceed to the next section if there is an Installation Complete screen. But in case a Processing screen appears, you will get an email when the installation is completed, after which you can proceed to the next section.
To activate the Native Integration, simply switch on the Sales Navigator Integration button and proceed with the instructions provided on the page to set up Lightning Page Layouts and enable integration with High-Velocity Sales. Keep in mind that certain components, like Data Validation or SFDC Classic Embedded Profile, will not be available.
Configure Sales Navigator
You can now finish configuring the App, which includes setting up Data Validation Settings (Only available for AppExchange Package). Follow these steps:
Click on the tile icon at the top left corner to arrive at App Launcher.
Choose LinkedIn Sales Navigator Assistant.
Follow the instructions in the guide to configure Sales Navigator Components.
To activate Data Validation, turn on Enable Enterprise Features and follow the prompts on the screen.
Test LinkedIn Sales Navigator
To test the app, do the following:
Go to your Contacts homepage and select Salesforce contact records with the embedded profile added to its page layout.
Verify that the embedded profile has been added correctly by testing your changes to the pages.
If you added the Sales Navigator profile to Leads, Accounts, and Opportunities, do Step 2 again for those pages.
Once you've completed the steps outlined above, you'll be ready to activate the CRM Sync feature in Sales Navigator Admin settings. With CRM Sync, you can seamlessly connect and exchange data between various platforms. This intelligent tool automatically captures essential Leads and Accounts and updates your CRM with any actions you take on Sales Navigator. Plus, it supports future features that rely on syncing to function optimally.
Mapping Data and Fields
LinkedIn Sales Navigator helps you create mapping by providing Custom Field Mapping Tool. It lets you connect standard fields in Sales Navigator with custom fields in your CRM. Thus, you can customize the mapping between your CRM and LinkedIn entities to suit your needs.
Importantly, mapping works for all features, such as writeback, contact, lead creation, and account. Changing the field mapping will launch a data ingestion process, usually taking up to 2 days.
Note: Only one custom CRM field can be mapped to one LinkedIn entity. It is not possible to map multiple CRM fields to the same standard LinkedIn entity, nor is it possible to map to multiple custom CRM fields with unique characteristics that do not align with standard LinkedIn entities.
Leveraging LinkedIn Lead Generation
Using Salesforce and LinkedIn Lead Gen Forms together can be highly beneficial for your business in generating leads.
Lead Gen Forms enables the pre-filled form in advertisements with information from the user's LinkedIn profile. This way, you can gather important client information and enhance the user experience by reducing the number of fields to be filled out manually.
By linking LinkedIn with Salesforce, a record of Linkedin leads can be automatically sent to Salesforce through the forms software. As a result, your business can always access the most up-to-date contact information.
Utilizing LinkedIn Insights in Salesforce
By integrating LinkedIn Sales Insights for Salesforce, your sales team can access reliable and trustworthy data from LinkedIn directly within your CRM system. Essentially, this integration enables you to include firmographic data, department or function, and custom LinkedIn attributes in your Salesforce CRM data. That can be done daily or as needed.
With the help of data from Sales Insights, your sales operations team can identify and prioritize potential opportunities for your sales team to pursue. This way, your sales team can focus on the most promising leads and, ultimately, close more deals.
Conclusion
With Salesforce LinkedIn integration, businesses can revolutionize customer relationship management and broaden their professional community. This dynamic duo enables tailored approaches grounded in buyers' social profiles, building stronger bonds and gaining valuable insights.