Is Salesforce Essentials Really for Small Businesses?
Table of Contents
Back in 2016, the then Prime Minister of Great Britain, Theresa May, described small businesses as the "backbone of Britain." Plenty has happened since then, not least two changes of personnel at the top of the British political ladder. But Mrs May's sentiment still holds true, and not just in the UK. World Trade Organization data shows that small businesses create more than 50 percent of GDP in developed economies and around two thirds of employment.
The message could not be clearer. Without small businesses, global economies would collapse. Yet still, when it comes to discussing enterprise software solutions, there is a perception that their rightful place is with multinational organizations, not SMEs. Salesforce is a case in point. One of the SaaS pioneers, Salesforce has been delivering CRM solutions since the turn of the millennium and dominates the market.
Is Salesforce Worth it for Small Business?
Clearly, there is a school of thought among some small business owners that the answer to this question is in the negative, as only about a third of small businesses use CRM software. Yet among that third, more than 90 percent say CRM is vital for achieving their revenue goals.
In other words, it might be more accurate to say that Salesforce is worth it for small businesses, but most small businesses don't know it or believe it. Here's the thing. Research carried out by Salesforce shows that small businesses devote as much as 23 percent of their available man hours to merely entering data.
That's an immense amount of time, and it is what managers need to consider when they are worrying about subscription costs and the hours dedicated to employee training if they transition to an automated alternative. We will analyse both of these areas in more detail in just a moment, but if you are looking at, let's say, a licence fee of $25 per person per month and training spread over a few weeks, it becomes clear that the investment is worthwhile.
If implementation can give back even half of those lost an hours so they can be devoted to revenue-generating activities, Salesforce is more than just worth it for small businesses. As those who have already taken the leap are discovering, it is little short of a miracle in today's marketplace that any small business can thrive without either Salesforce or something very similar.
How does Salesforce help small businesses?
Salesforce helps small business owners to run their operations more efficiently. It also opens up new ways to engage with clients, improving communications and increasing the likelihood of repeat business.
We tend to refer to Salesforce as if it was a single tool, but what is Salesforce essentials is that it actually encompasses a whole suite of cloud-based software solutions. For example, there are automation tools that can take care of tedious data processing tasks, freeing up time that can instead be devoted to activities that are both more valuable to the business and more interesting and rewarding for the individual.
These range from sales to marketing. For example, Salesforce Marketing Cloud includes functionality that automates much of your social media marketing, scheduling posts to be published with the regularity of clockwork.
By using Salesforce sales automation tools, on the other hand, sales staff can reduce the time they spend on routine administrative tasks and can dedicate more hours to what they do best - generating revenue for your small business.
Salesforce also provides custom workspaces where your sales and marketing staff can jointly engage with customers for closer cooperation on collaborative project work, and to more effectively satisfy their needs.
Salesforce has not been blind to the factors that have hitherto deterred small business customers. Salesforce Essentials is essentially a pared down platform that offers all the core functionality but at a reduced cost. It is an increasingly popular choice for small businesses.
10 Benefits of Salesforce for Small Business
Clearly, Salesforce can bring about positive changes and improvements for small businesses. Let's quickly run through 10 key benefits that small business owners derive from this software solution.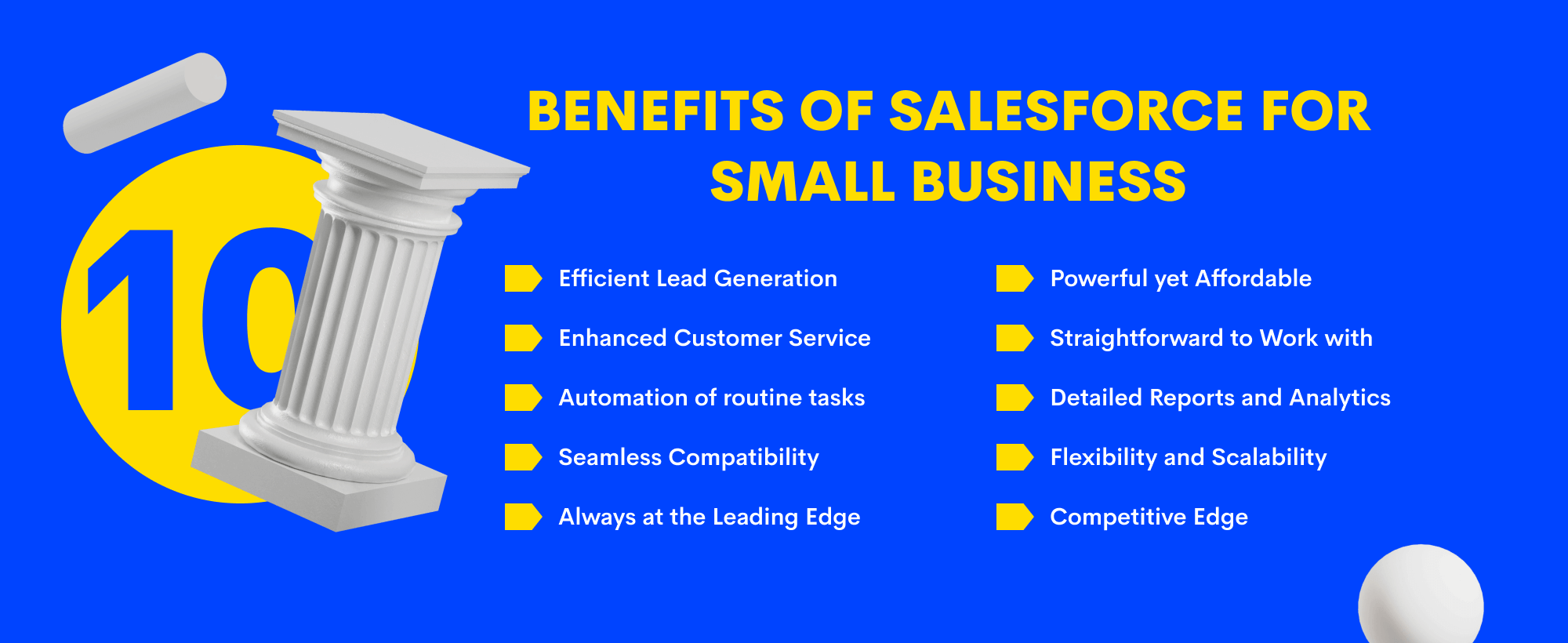 More efficient lead generation - Growth is a primary objective of almost every small business and better lead generation is core to making that happen. The Einstein Activity Capture AI tool provides better visibility of lead generation activities and also helps the sales team to coordinate their activities more effectively.
Enhanced customer service - Today, clients have more exacting expectations than ever from their service providers. Service Cloud provides for multi channel communication. That in itself delivers comfort to clients, but it also means better and faster discussion of their needs and closer customer relationships.  
Automation of routine tasks - issuing invoices, raising query tickets and similar tasks are repetitive and time-consuming. These can be automated through Salesforce, freeing up time for personnel to get on with something more beneficial to the business and rewarding for them.  
Seamless compatibility - Salesforce integrates with a number of common legacy software systems. So if, for example, you currently use G Suite from Google Cloud, integration is seamless and straightforward. With more specialist legacy systems, integration might require a little custom tweaking from the development team, but anything is possible.    
Always at the leading edge - Salesforce releases new updates to all its products every four months. Nothing needs to be done at the client end, all data remains intact, and as everything is cloud-based, there isn't even the distraction that you experience when installing the latest software update on your phone or laptop. This negates the common fear of a software system becoming obsolete within months - Salesforce is always at the leading edge.
Powerful yet affordable - small businesses can choose Salesforce Essential to keep subscription costs to a minimum. Yet this does not mean compromising on the power of its advanced technology in machine learning, AI, and cloud computing.
Straightforward to work with - Salesforce and in particular the Essentials suite, is intuitive for operators. You don't need hours upon hours of training to get up and running.
Detailed reports and analytics - business leaders cannot make the right strategic decisions without the right data. Sometimes this comes at a cost, and managers find themselves so busy preparing reports that they have little time for anything else, especially a month's end. Salesforce delivers detailed metrics on how different areas of the business are functioning and it delivers them on demand. That means managers can get involved in the more value-adding activity of analyzing them instead of preparing them.
Flexibility and scalability - We've focused primarily on Salesforce Essentials here as it is such a popular choice among small business owners. However, we have also hinted that many small businesses have significant growth aspirations. It is always possible to upgrade from Salesforce Essentials to a version with more features if that becomes desirable.  
Competitive edge - Across most industries, competition has increased over the past decade or so. At the same time, customer loyalty is no longer the given that it once was. Loyalty has to be earned and then constantly nurtured. If you sit back on your haunches, customers will be seduced away by a competitor's offer sooner or later. Salesforce gives you an edge over the rest with better communication channels, enhanced visibility across all functions, and more efficient internal processes.
Salesforce Pricing for Small Business
We mentioned earlier that cost is often the factor that holds small businesses back from installing their own CRM system. That is usually a decision they reach before actually checking the prices, so many are a little taken aback, to put it mildly, to learn that Salesforce subscription costs start at just $25 per user per month.
That is the price tag on Salesforce Essentials. The ideal starting point, it comes with a maximum of 10 user accounts and has all the features that a small business could conceivably need. These include lead management, web-to-lead capture, duplicate blocking, custom sales processes, email management including mass sending, mobile apps, custom reports, file sharing functionality, and case management. You can also create up to five automation workflows per organization.
For $75 per user per month, businesses can upgrade to either Sales Professional or Service Professional. Each of these has all the functionality of Essentials plus extra tools and capabilities. With Sales Professional you get an additional sales console and tools for contacts, quotes, invoicing, forecasting, and more. Service Professional records and stores service contracts, work order management, milestones tracking, entitlements, and other tools.
The top-level Marketing Cloud Account Engagement is priced slightly differently, calculated on the basis of how many accounts you manage, but it starts at $1,250 per month. That will buy you everything in Essentials plus as many as 10,000 contacts, Sales Cloud integration, automated workflows, email marketing, subscriber profiles, drag-and-drop content creation, segmentation tools, a range of reporting tools, A/B testing capabilities, personalized communications, and other functionality.
The beauty of Salesforce is its flexibility. While the above four basic tiers are offered, each of these can be modified or enhanced with specific tools. Delivering such a customizable product at off-the-shelf prices is one of the features that make Salesforce truly stand out from the rest.
FAQs
What is the best CRM for a small business?

Make no mistake, there are plenty of CRM solutions out there, some of which are well worth considering for small businesses. But ultimately, none offers the same convenience and flexibility as Salesforce. Being cloud-based there is no software to physically install, and with prices starting at just $25 per user per month, you really can't go wrong.




How many small business customers does Salesforce have?

Salesforce has a 41 per cent share of the global CRM market. That is not far short of all the other CRM providers put together! The company is justifiably proud of counting giants like Amazon, Toyota, Macy's and American Express within its client portfolio. But it is equally proud to point out that the majority of its 150,000 customers are small and medium-sized business owners.




Does Salesforce have a free version?

Both Service Professionals and Sales Professionals are available for a 30-day free trial. They don't even take credit card details so it is completely without obligation. However, at the end of the 30 days, you will need to sign up for a contract to keep receiving the service.




What are the limitations of Salesforce Essentials?

Functionally, Salesforce Essentials checks practically all the boxes you can think of, especially for a small business. Yes, there is extra functionality with more advanced products, but Essentials is nevertheless quite comprehensive in its own right. Probably the biggest constraint is the limited number of users. If your business is in the early stage of development, the maximum 10 users limit is unlikely to be problematic, however. If you decide to upgrade for any reason, doing so is a smooth process.