What is Salesforce Education Cloud?
Table of Contents
The world of education management has undergone a significant digital transformation thanks to technology. Schools, colleges, and universities have streamlined operations, communicated better with students and parents, and delivered educational content more efficiently. And with Salesforce Education Cloud, you can take your institution to the next level! So, learn how this effective tool can help you manage and facilitate your operations and get ready to take your institution to new heights!
Overview of Salesforce Education Cloud
Salesforce Education Cloud, also called Salesforce for Higher Education, is a powerful suite of solutions and objects built on Education Data Architecture (EDA) that streamlines workflows for higher education institutions. Specifically, it enables the education sector to manage its information from one location. As a result, teachers can support students, give proactive advice, deliver personalized engagements, and enhance their experiences by tailoring learning paths and prospects to individual learners.
Also, Education Cloud delivers a comprehensive overview of data about schools and students. In particular, staff can track the entire education journey, the employees they interact with, what they study and where, etc.
The value of this information lies in the fact that teachers can enhance their students' overall experience and broaden their horizons without a significant investment of time and money. Thus, teachers have more time for teaching and learning.
Generally, the solution includes the following features:
Admissions Connect: Admissions CRM technology combines admissions management and candidate engagement in one online space.
Student Success Hub: An online community where students, staff, and faculty can come together to help each other and collaborate effectively.
Accounting Subledger: It is a system containing accounting and fundraising information. It provides transparency between the non-profit sector and the education industry.
Experience Cloud: Together with Education Cloud, this Salesforce offering may create initiatives like an alumni resource center that connects graduates with postgraduate possibilities.
Elevate: Salesforce.org Elevate offers a suite of fundraising solutions. However, this is only available to US users. If outside the US, you can use the Salesforce ecosystem.
Components of Salesforce Education Cloud
Now we invite you to check the primary components of Salesforce Education Cloud crafted to offer all-inclusive solutions for education.
Student Relationship Management (SRM)
Schools can effortlessly manage student information while gathering valuable insights to enhance funding, boost community involvement, and track recruitment success. Moreover, by consolidating all their data into a single, comprehensive dashboard, schools can quickly identify trends in student experience and make well-informed decisions to serve their students better.
Recruitment and Admissions Management
Education Cloud's online portal is also the central hub for students to take the first step toward their academic journey. With the ability to request information, apply for admission, upload documents, and schedule meetings with support staff, prospective students can easily manage their admission process.
Salesforce Education Cloud offers recruiting and admission consoles that allow the education community to stay on top of their work and track progress in one convenient space, including creating appointments with students, responding to requests, and assigning lists of prospects.
Program Management
Salesforce CRM provides a comprehensive program management component that empowers education institutions to design, organize, and oversee courses, sessions, and the roster of teaching staff. This feature streamlines program administration and simplifies the application process for online and professional programs, allowing them to quickly create and adjust their program offerings and reach more students.
Advancement and Alumni Engagement
Affiliations can give valuable insight into a person's college experience and career connections after graduation, making them useful for advancement teams. By using Salesforce's education data architecture, you can gain a better understanding of a person's involvement in sports, groups, their current job, profession, and other activities. This knowledge can help connect students with internship opportunities and engage stakeholders more effectively on and off campus.
Analytics and Reporting
Finally, the analytics and reporting feature empowers schools to collect and evaluate critical student data to uncover valuable insights into performance, program efficacy, and overall student success. It presents customizable dashboards, reports, and data visualization tools, allowing the education industry to make informed decisions, recognize patterns, and continually enhance its educational offerings.
Benefits of Salesforce Education Cloud
The core Salesforce platform components provide higher education with the following outstanding benefits: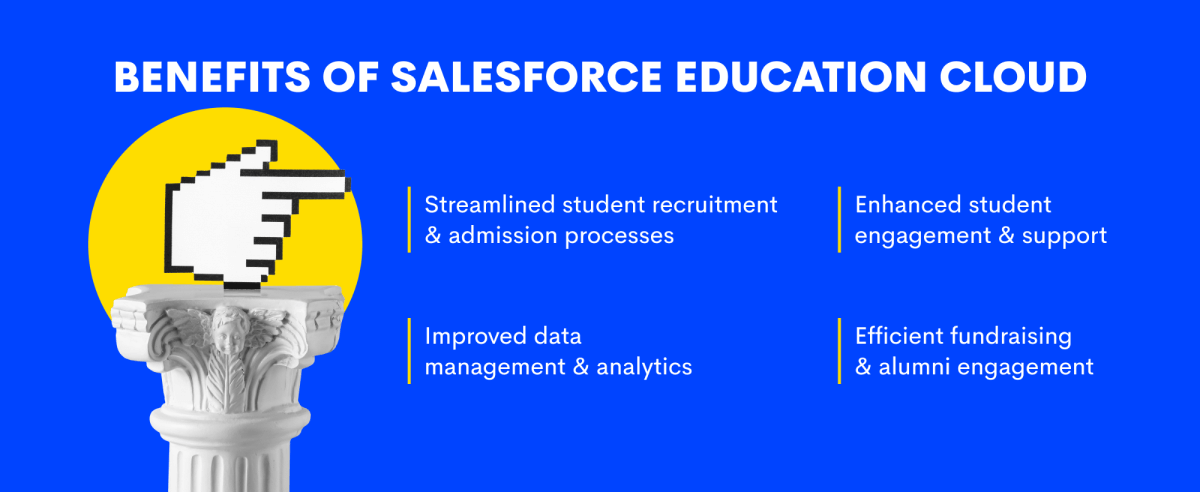 Streamlined student recruitment and admission processes
Salesforce Education Cloud simplifies the student recruitment and admission processes by providing a centralized system for managing inquiries, applications, and admissions. By automating workflows and offering personalized communication, you can efficiently engage with potential students, track their progress, and provide timely updates. All this ensures a hassle-free and seamless admission experience while reducing manual efforts and improving efficiency.
Enhanced student engagement and support
The platform enables users to enhance student engagement and support throughout the student lifecycle. It provides tools for personalized communication, allowing institutions to deliver targeted messages, notifications, and reminders to students.
Furthermore, Salesforce Education Cloud fosters a sense of belonging and helps students stay connected and engaged with their academic journey. Additionally, Education Cloud offers self-service portals and online communities where students can access resources, collaborate, and seek support, further enhancing their overall learning experience.
Improved data management and analytics
With the Salesforce platform, you can create custom objects and fields to store important information like contact details, academic history, and application status. This consolidation makes it easy to access information and eliminates the need for multiple systems and time-consuming manual data entry.
Additionally, Salesforce offers reporting and analytics tools that provide valuable insights into the application and admissions processes. Creating reports and dashboards allows you to analyze key metrics, measure conversion rates, track application trends, and identify problem areas. These insights can help with decision-making, highlight opportunities for improvement, and streamline resource allocation.
Efficient fundraising and alumni engagement
Salesforce Education Cloud empowers educational institutions to manage fundraising efforts and engage with alumni efficiently. Specifically, you can increase revenue with Salesforce giving pages, accept payments, grow recurring revenue, and increase conversion with donation pages.
Additionally, Education Cloud provides tools to engage and connect with alumni, enabling institutions to maintain lifelong learning relationships, leverage alumni networks, and support ongoing fundraising initiatives.
How to Use Salesforce Education Cloud
You should clearly understand how to organize Education Salesforce to get the maximum benefit properly. So, the following step-by-step instructions will guide you through the necessary steps.
Setting up the system and customizing it for your institution's needs
The first step involves defining roles and permissions, creating custom fields and objects, and setting up workflows and automation rules. By tailoring the platform to suit your needs, you ensure all the necessary information and functionalities are easily accessible and aligned with your processes.
Integrating existing data and systems into Salesforce Education Cloud
You may use various methods such as data imports, data migration tools, and APIs to integrate your documents and systems into the space. With all this in Salesforce Education Cloud, you can view your operations and make data-driven decisions.
Training staff and users on how to use the platform effectively
Training your staff and users ensures everyone is familiar with and can use the platform's functionalities effectively. Specifically, you can use online tutorials, documentation, and hands-on workshops to let them learn.
Implementing best practices for data management and security
Document management and security are of utmost importance when using Salesforce Education Cloud. Some best practices include regularly backing up your data, enforcing strong password policies, defining access controls, and auditing user access and permissions.
Challenges and Considerations
Salesforce Education Cloud offers a powerful solution tailored specifically for the education sector. However, there are several challenges and considerations that organizations need to address before adopting this platform.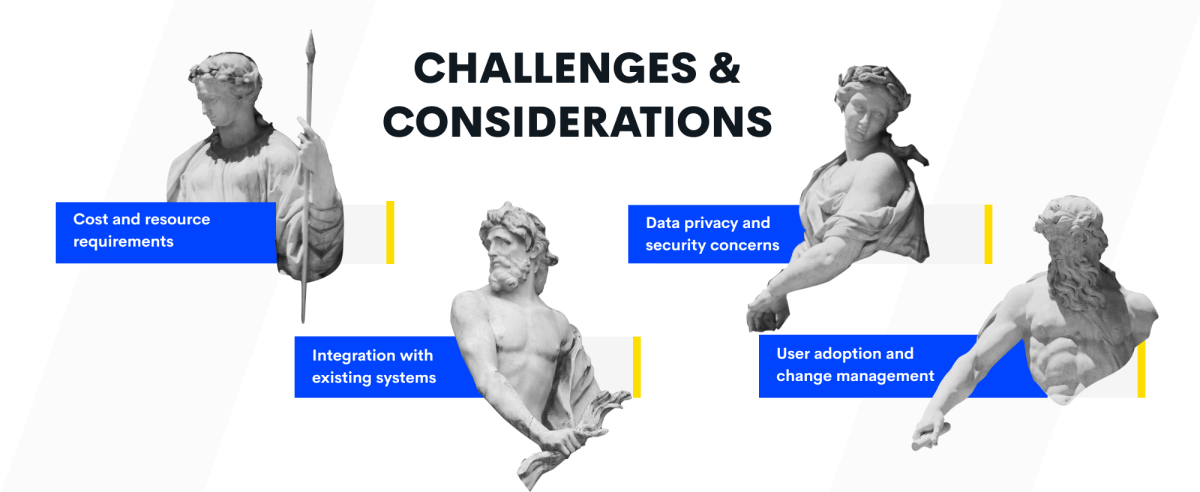 Cost and resource requirements
Implementing Salesforce involves upfront costs such as licensing fees, customization, and integration expenses. Additionally, organizations need to allocate resources for training staff and ongoing support. Conducting a thorough cost-benefit analysis and ensuring that the investment aligns with the institution's goals and budget is crucial.
Integration with existing systems is another critical consideration.
Integration with existing systems
Educational institutions often have multiple systems, such as learning management, financial, and HR systems. Seamless integration between Salesforce and these systems is essential for data consistency and streamlined operations. Organizations should assess the compatibility and interoperability of their current systems with Salesforce to avoid disruptions.
Data privacy and security concerns
Organizations must ensure that Salesforce Clouds comply with relevant data protection regulations, such as GDPR or FERPA. They should also assess the platform's security features, encryption capabilities, and access controls to safeguard student data.
User adoption and change management
User adoption and change management are crucial for successful implementation. However, educational institutions often face resistance from staff and students who are used to traditional systems. Therefore, a comprehensive change management strategy that includes training programs, communication plans, and user support is essential to drive user adoption and facilitate a smooth transition.
Conclusion
As you can see, Salesforce Education Cloud is a powerful tool that can revolutionize education management. By leveraging its features and capabilities, educational institutions can streamline operations, enhance communication, use data-driven insights, and deliver educational content more efficiently.